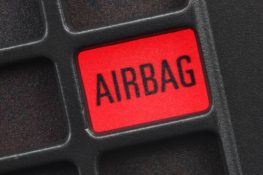 A new worry is confronting American car owners: Is their vehicle among the 4.7 million subject to a recall and urgent government warning concerning a defective airbag that could explode and seriously injure or kill them?
The National Highway Traffic Safety Administration issued a recall of airbags manufactured by Takata calling it "the largest and most complex safety recall in U.S. history." The NHTSA is urging owners of certain Toyota, Honda, Mazda, BMW, Nissan, and General Motors vehicles produced in multiple model years (2002-2015) to act immediately to have the airbag replaced.
The Takata airbags can malfunction and blow shrapnel into front-seat passengers' chests and faces. The problem is the airbag's inflator, a metal cartridge loaded with propellant wafers, which in some cases has ignited with explosive force. Metal shards from the airbag can be sprayed throughout the passenger cabin if the inflator housing was to rupture in a crash. Eleven deaths and approximately 180 injuries have been attributed to the faulty airbags, according to the NHTSA.
The potentially fatal malfunction is reportedly more likely in areas that have high humidity, certainly a concern for those living in Corpus Christi and other coastal areas. In its most recent recall notice, Toyota specifically addresses cars sold along the Gulf Coast.
Toyota, recalling some 778,000 vehicles, is warning owners not to allow front-seat passengers until the airbags are fixed. "In fact, Toyota considers the Takata passenger bags so dangerous that dealers are being told to shut off the passenger bags if an owner comes in for recall repairs but parts aren't yet available," USA Today says.
The NHTSA's recall list includes potentially affected vehicles manufactured by:
Toyota: 778,177, including one Lexus model
Honda: 2,803,214
Nissan: 437,712
Mazda: 18,050, including Infiniti models
BMW: 573,935
General Motors: 133,221, including models from:

Buick
Cadillac
Chevrolet
GMC
Oldsmobile
If you have been injured due to the negligence of a manufacturer, please call the personal injury law offices of Herrman & Herrman to speak with an experienced attorney. Call 361-882-4357 to schedule your free consultation today!