Corpus Christi Wrongful Death Lawyers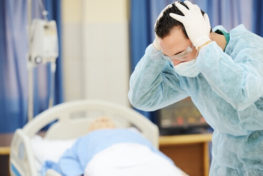 An Experienced and Compassionate Wrongful Death Lawyer Is Needed for Wrongful Death Claims
Wrongful death claims are emotionally charged and complex legal claims that require a compassionate and aggressive attorney. While our clients deal with the emotional grief and fallout, we focus on telling the story of their loss, and any pain and suffering prior to a death caused by negligence.
That road to recovery is difficult and legally complex. We remain at your side, fighting for the rights of your family during these difficult times. We can take legal action in a wrongful death claim filed on behalf of your deceased loved one. Damages can include past medical expenses, loss of companionship, funeral expenses, as well as pain and suffering and loss of future earning capacity.
Herrman & Herrman, P.L.L.C., Wrongful Death Law Firm
The Corpus Christi wrongful death attorneys at Herrman & Herrman, P.L.L.C., combine more than 70 years of experience in helping their clients get through difficult times following the death of a loved one due to a catastrophic accident from:
Negligent security
Slip and fall injury lawyers
While no amount of money can bring back your family member, we explore all avenues to ensure that justice is served and your financial future is more stable.
Need help in filing a wrongful death lawsuit? Contact our McAllen and Corpus Christi wrongful death attorney for a no obligation free consultation.
Our wrongful death attorneys can help you secure the justice you are seeking following the wrongful death of a family member.
Contact us at our Corpus Christi office at 361-792-2358 or our Rio Grande Valley office at 956-622-4200.