Corpus Christi Wrongful Death Lawyers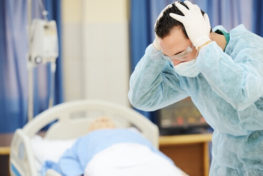 Losing a loved one in a preventable accident caused by someone's careless conduct or neglect causes lasting pain and anguish.
Your initial feelings of grief and sadness may be followed by anger about a preventable loss and the practical worries about how you will run your household and handle unanticipated expenses.
Your family may be facing large hospital bills, funeral expenses and the prospect of maintaining your household without the financial support of your lost loved one.
At Herrman & Herrman, P.L.L.C., our wrongful death attorneys understand the anguish and financial stress that the loss of a family member can cause. The road to recovery is complicated and difficult, but you do not have to go it alone. Let our experienced wrongful death attorneys offer guidance during this trying time.
Our compassionate attorneys will review the specifics of the fatal accident and discuss your legal options. Herrman & Herrman, P.L.L.C. is an established law firm that has helped thousands of people in Corpus Christi, McAllen and throughout the Rio Grande Valley recover after serious losses.
If we handle your case, we will do so on a contingency fee basis so you will not pay any upfront costs. You will not owe us a legal fee unless we obtain compensation for you. Call Herrman & Herrman, P.L.L.C. to obtain a free review of your case and learn how we can assist you.
Legal Options for Surviving Family Members
The immediate family of a person who is killed as a result of another's negligence has a legal right in Texas to file a wrongful death lawsuit to recover compensation for their loved one's losses.
Texas law allows a spouse, child or parent to file a wrongful death lawsuit after someone causes the death of their loved one. A spouse includes both married and common law spouses, and those who are legally separated.
A wide range of accidents causing fatal injuries may be the basis of a wrongful death claim in Texas including:
At Herrman & Herrman, P.L.L.C, we will carefully investigate the circumstances of your loved one's death and determine the legal options that are available to your family to recover compensation and move forward. We bring more than 100 years of experience to each case we handle.
In some workplace accidents, a subcontractor or manufacturer of a piece of defective equipment or machinery may be potentially liable for a death. The family of the deceased worker may collect death benefits through the employer's worker's compensation insurance and have a right to file a wrongful death lawsuit against the at-fault third party who caused the death.
Our experienced attorneys can investigate all the factors contributing to the accident and identify all the potentially responsible parties and the sources of insurance available to provide compensation.
While it may be difficult under the circumstances, it is important to seek legal advice as soon as possible after the loss of a loved one in a preventable accident. Texas allows two years from the date of death to file a wrongful death lawsuit in most circumstances. Talking with a knowledgeable attorney will allow you to make well-informed decisions with your family's future in mind.
Wrongful death claims can involve significant sums of money. Insurance companies will try to pay out the least amount possible to increase their profits. When the stakes are high, you will need help in dealing with the insurance company.
You will want an experienced attorney representing you and advocating for your interests to have the best chance of being treated fairly.  Our attorneys will explore all options to help provide your family a secure future.
What Compensation May Be Sought in a Wrongful Death Lawsuit?
A spouse, parent, or child who proves a wrongful death claim may recover compensation for:
Financial losses such as medical expenses and funeral costs;
Loss of the deceased person's future earning capacity, services and household support;
Loss of parental guidance, counsel and instruction that a parent would have provided a child;
Pain and suffering;
Exemplary damages in certain instances when a death is caused by a willful act such as a violent assault or grossly negligent conduct.
The types of compensation available in each case depend on the specific facts of the case. We can review the circumstances of your loved one's death and explain the types of compensation that your family would be entitled to seek.
How can I afford a wrongful death lawyer?
At Herrman & Herrman, we understand your family may be experiencing financial stress after a fatal accident, particularly if your lost loved one's income provided support. A personal injury attorney at Herrman & Herrman will represent you on a contingency fee basis. That allows you to obtain high-quality legal representation without having to pay money up front.
You will not have to pay any money unless we are successful in obtaining a settlement or a jury verdict on your behalf. It is our way of putting your family's interests first. If we do obtain money for you, then we receive an agreed portion of the settlement as payment for our legal services and expenses.
Contact Our Attorney for a Free Review of Your Wrongful Death Case
If you have lost a loved one in South Texas through the negligence of others, call Herrman & Herrman P.L.L.C. to discuss the way to move forward. We handle wrongful death cases involving car accidents, truck accidents, construction accidents, slip and fall accidents, and other acts of negligence.
Herrman & Herrman, P.L.L.C. has offices in Corpus Christi and McAllen to assist clients throughout the Rio Grande Valley and South Texas.