Corpus Christi, Texas Bicycle Accident Law Firm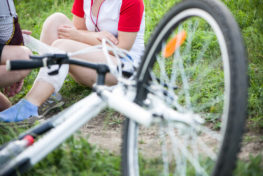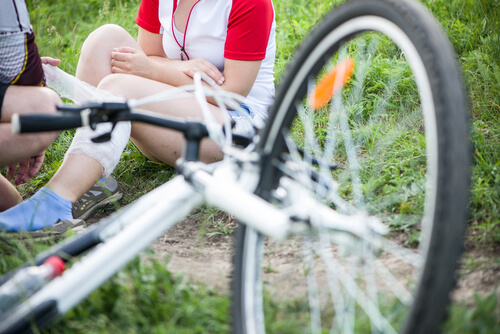 Corpus Christi Bicycle Accident Lawyer
Bicyclists are becoming more common on the roads of Texas. Cyclists have the same rights and responsibilities as other road users in the Lone Star State. But for cyclists, sharing the roads with larger vehicles is a challenge, especially when drivers of cars and pickups do not remain alert for bicycles on the road. Cyclists are at a greater risk of injuries in accidents with larger vehicles. Bicycles provide little protection in a crash. In a split second, a bicyclist can sustain serious or fatal injuries if struck by a car or pickup. It can take a lot of time and energy to recover from these injuries.
At Herrman & Herrman, P.L.L.C., we help bicycle enthusiasts get back on the road to recovery after accidents caused by other drivers. When a rider is killed in a wrongful death accident caused by another motorist, we stand up for the rider's family throughout the entire legal process and fight aggressively for the best outcome.
Corpus Christi Bicycle Accident Statistics
At a national level, as reported by the National Highway Traffic Safety Administration (NHTSA), in 2012, 726 individuals were killed in bicycle/motor vehicle crashes. Additionally, the number of bicyclist injuries was estimated at 49,000. Bicycle accident statistics, in particular, are difficult to calculate or track, and most experts believe that the statistics themselves are low because only a fraction of bicycle crashes causing an injury are recorded by law enforcement. Typically, as in states like Texas, only bicycle accidents involving a fatality are reported. Given the increase of cyclists taking to the streets of large Texas cities, it can be assumed that more cyclists are injured in an accident involving another vehicle, such as a car.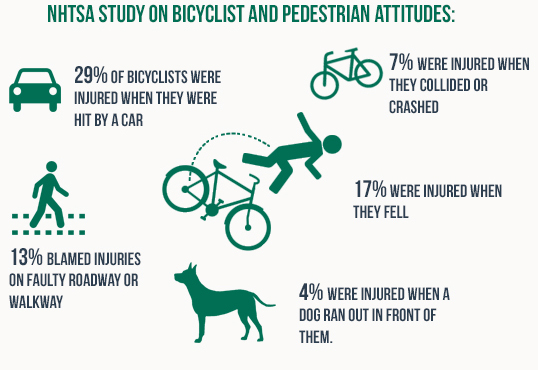 DON'T BECOME A STATISTIC
As a bicyclist, you are not completely safe or immune from being struck by another car. Sometimes an accident occurs due to the condition of the roadway, while other incidents are related to a collision with another vehicle. In a 2012 national survey conducted by NHTSA on "Bicyclist and Pedestrian Attitudes," findings revealed that 29% of bicyclists were injured when they were hit by a car, 17% were injured when they fell, 13% blamed injuries on faulty roadway or walkway, 7% were injured when they collided or crashed, 4% were injured when a dog ran out in front of them.
To avoid becoming injured or killed while riding your bicycle, the Texas Department of Transportation reminds bicyclists and drivers to follow all the road rules, including proper signaling and stopping for lights. Bicyclists should always wear visible attire, in addition to a helmet, and drivers should make a greater effort to pay attention to bicyclists and make room on the road.
If you've been injured in a Corpus Christi Bicycling Accident, Follow these steps:
Seek Medical Attention – It is important not to miss any symptoms and rule out any life-threatening injuries. Going to see a doctor right away not only protects your well-being but also documents medical records that are critical and necessary should you decide to hire a personal injury attorney.
Do not attempt to toss out your bike or repair it – When involved in a bicycling accident, your bicycle becomes evidence detrimental to your case. You should keep your bicycle in a safe space so that your bicycle will remain untouched or tampered with.
Be Careful when talking to insurance companies – It is a difficult and emotionally taxing experience to speak with an insurance company after sustaining injuries or a tragic loss in an accident. If you need to talk with an agent from your insurance provider, it is best to keep the conversation brief and only provide facts about the accident.
Seek Legal Counsel – If you were not at fault for the accident, it is important to contact a personal injury attorney. You may be eligible to recover some of the financial damages you incurred from your injury with the help of a lawyer.
In the instance a representative or adjuster from another insurance company contacts you. In that case, it is important to use caution and handle the situation carefully, and It is best to decline the call and immediately refer it to your attorney. Cyclists involved in an accident must know the tactics of representatives or adjusters from other insurance companies.
TYPES OF INJURIES CAUSED BY BICYCLING ACCIDENTS
As a result of the lack of protection surrounding bicyclists, bicycle accidents are harsher than car accidents. Also, bicycle accidents frequently render grave injuries across one place of the body. The most common injuries include but are not limited to:
Traumatic Brain Injuries
Head or Neck injuries
Spinal cord injuries
Broken or fractured bones
Internal organ damage
About 60% of all bicycle rider fatalities are from head injuries. Excluding the question, the superior protection against head injuries is a properly fitted bike helmet. Wearing a helmet will decrease head injury risk by 85 %and could preserve your life.
CORPUS CHRISTI BICYCLE ACCIDENT SAFETY RIDING TIPS
Before using your bicycle, make sure it is safe to ride. You should always inspect your bike to ensure all parts are secure and working properly.
Remember to:
Wear a Properly Fitted Helmet – Protect your head. A helmet is the best protection and could potentially save your life. 
Adjust Your Bicycle to your size – Get on your bicycle and stand over it. There should be 1-2 inches between you and the bar i

f you use

a road bike and 3-4 inches if

you use a mountain bicycle.

The seat should be

level.

The seat height should be adjusted to allow a slight bend at the knee when the leg is extended. It is recommended to have the handlebars at the same height as the seat. 
Check Equipment – Before riding, ensure the air in your tires and check that your brakes work.
Make Yourself Noticeable and Be Aware of Your Surroundings  – Whatever the time, you need to be seen by others. It has not been proven that wearing white clothes will make you stand out. Instead, always wear neon, neon, or bright colors when driving day or night. Also, wear something that reflects light.  Remember that just because you can see the driver doesn't mean he's looking at you.
Be in Control – Never ride without your hands on the handlebars. Make sure to ride with at least one hand on the handlebars at all times. Carry books and other items in a bicycle carrier or backpack.
Watch and Avoid your Path for Hazards – Look for potholes, broken glass, gravel, puddles, leaves, and dogs. Anything that can cause a crash. If you are riding with friends in the lead, yell out and point to the hazard to alert the riders behind you.
Avoid Riding when Dark –  It is far more dangerous to ride at night than during the day because you are harder for others to see. If you have to ride at night, wear something that makes you more easily seen by others. Make sure you have reflectors on the front and rear of your bicycle (white lights on the front and red rear reflectors are required by law in many States), in addition to reflectors on your tires so that others can see you.
Many bicycle-related crashes resulting in injury or death are associated with the bicyclist's behavior, including such things as not wearing a bicycle helmet, riding into a street without stopping, turning left or swerving into traffic that is coming from behind, running a stop sign, and riding the wrong way in traffic. To maximize your safety, always wear a helmet AND follow the rules of the road.
CORPUS CHRISTI BICYCLE ACCIDENT RULES OF THE ROAD
Bicycles in many States are considered vehicles, and cyclists have the same rights and responsibilities to follow the rules of the road as motorists. When riding, always:
Go With the Traffic Flow – Trek 

on

 

the

 

right

 

in

a 

similar

 

direction

 

as

 

other

 

vehicles.

 

Go

 

with

 

the

flow

–

 

not

 

against

 it.
Obey All Traffic Laws – A 

bicycle

 

is

 

a

 

vehicle,

 

and

 

you're

 

a

 

driver.

 

When

 

you

 

travel

 

in

 

the

 

street,

 

abide by

 

all

 

traffic

 

signs,

 

signals,

 

and

 

lane

 markings.
Yield to Traffic When Appropriate – Almost 

always,

 

drivers

 

on

 

a

 

smaller

 

road

 

must

wait for

traffic

 

on

 

a

 

primary

 

or

 

bigger

 

road.

 

If

 

there's

 

no

 

cease

 

brand

 

or

 

traffic

 

sign

 

and

 

you're

 

approaching

 

from

 

a

 

smaller

 

roadway(out

 

of

 

a

 

driveway,

sidewalk,

 

a

 

bike

 

path,

 

etc.)

, you

must slow down a

nd

 

turn

 

to

 

see

 

if

 

the

 

way

 

is

 

crystal-clear

 

in

 

advance

 

of

 

proceeding.

 

This

 

additionally

 

intends

to yield 

to

 

pedestrians

 

who

 

have

 

already

 

entered

 

a

 crosswalk.
Be Predictable –  Ride in a straight line, not in and out of cars. Signal your moves to others.
Stay Alert at All Times – observe and listen carefully. Watch for potholes, cracks, wet leaves, storm grates, railroad tracks, and anything else that might cause you to lose control. When you ride, you should keep your ears open to hear traffic and avoid dangerous situations. Do not wear a headset while you ride.
Look Before Turning – When turning left or right, always look behind you for a break in traffic, then signal before making the turn. Be aware of traffic turning left or right.
Watch for Parked Cars – Avoid the unexpected from parked cars (such as doors opening and cars pulling away) by riding far enough from the curb.
Sidewalk versus Street 
Our Bicycle Accident Law Firm Fights for Bike Accidents Victims
Bicyclists in Texas are required to obey traffic laws, stop at stop signs and red lights and ride with the flow of traffic. A bicycle moving at a slower speed than other traffic on the road should ride as near as possible to the right edge of the payment or right curb. Bicyclists should wear brightly colored clothing to make themselves as visible as possible.
Drivers of cars and trucks are required to share the road with bicyclists. Motorists should allow several feet of clearance when passing bicyclists on the road. But many motorists do not respect bicyclists' rights. In our experience, motorists speeding, intoxicated, or not paying enough attention to the traffic around them cause many serious bicycle accidents.
Many motorists involved in crashes with cyclists say they did not see the bicycle on the road. Bicycles have a narrow profile and may disappear in the blind spots on either side of a vehicle. If the driver fails to yield the right-of-way as required and pulls out in front of an oncoming cyclist, the driver may be held responsible for the injuries caused. Yet, insurance adjusters often try to claim that the collision was somehow the rider's fault to avoid paying a settlement.
Our bicycle accident lawyerare ready to conduct a thorough investigation of a crash involving a motor vehicle and a bicycle in which the rider was seriously injured. It is important to speak with a knowledgeable bicycle accident lawyer to understand your rights if you have been hit too.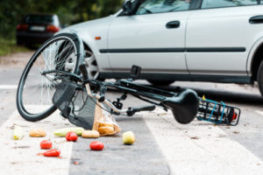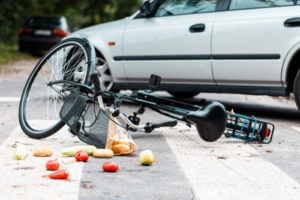 Approximately 50 bicyclists are killed each year in traffic accidents in Texas, and hundreds more sustain serious injuries, according to the National Highway Traffic Safety Administration (NHTSA). That makes Texas one of the states with the highest bicycle accident fatalities. Most bicycle accidents occur in urban areas and at non-intersection locations, the NHTSA says. Adolescents and young adults aged 15 to 19 and riders over age 40 have the highest rates of fatal accidents.
Nationally, about 40 percent of fatal bicycle accidents occur between 6 p.m. and midnight when bicyclists are much harder to see. Texas law requires that bicycles ridden at night must be outfitted with a white headlight visible at least 500 feet in front of the bicycle and a red reflector on the rear visible at least 50 feet.
Not seeing a bicyclist is not a valid excuse, yet it is a common contributing factor to many traffic accidents involving bicycles in Texas. Our attorneys will get to work investigating the accident and developing a strong claim for compensation if you have been injured due to another motorist's negligence. We interview witnesses and may use accident reconstruction experts to identify precisely how an accident occurred. Attending to all the details and aggressively pursuing justice can make a difference in maximizing the compensation you receive as a bicycle accident victim.
CONTACT HERRMAN & HERRMAN P.L.L.C. AT 361.882.4357
Our firm has over 100 years of combined experience handling personal injury cases across Texas. Our outstanding record of favorable settlements and verdicts includes over 20,000 successfully resolved cases. Once we take on a case, we are relentless, and you can rely on us to pursue full compensation for you.
You can trust our attorneys to be compassionate and professional.
We will fight hard to obtain a fair settlement for you.
Our firm represents the injured and families who have lost a loved one due to the negligent acts of others.
We serve as counsel in various injury cases – including car, truck, motorcycle, bicycle, and pedestrian accidents, premises liability cases, product liability cases, and medical malpractice claims.
We can dispatch the Herrman & Herrman Accident Investigative Team to the crash scene to start an investigation and preserve critical evidence.