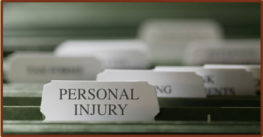 In typical lawyer fashion, I will answer this important question with: "it depends." Every case is its own entity and carries with it its own shelf-life. The question that really should be asked is 'how long will my medical treatment last,' because the law firm cannot begin to negotiate with the insurance company until the client is done with treatment.
The attorney cannot settle or attempt to settle the personal injury claim until the attorney knows the FULL extent of the injuries. In other words, Herrman & Herrman, P.L.L.C., will not know what to demand from the insurance company if we do not know the full injuries. And the attorney would be doing a bad job if he or she negotiated and settled your claim while you were still treating for the collision. The injuries that you get in a car crash are often tied to how severe the collision was.
If the impact was minor, it is very likely that your treatment will be shorter than that of a very serious collision, and as a result, a minor impact claim might take slightly less time than a major impact claim. However, there have been many instances where a client was severely injured from a moderate or minor impact claim. If that is the case, the claim will take longer as it is often difficult to prove big injuries from a small collision.
At Herrman & Herrman, P.L.L.C., I strive to get the claims settled efficiently. The average length of a claim on my docket varies, but generally, the claim is wrapped up and the clients are disbursed with settlement funds within TWO (2) months after completion of treatment. That time taken includes: drafting and preparing the demand packet, negotiating on your claim, settling the claim, attempting to achieve reductions on the medical bills, satisfying any outstanding liens, gathering the settlement funds, and disbursing the client.
If you have been hurt due to the negligence of someone else, please call Herrman & Herrman, P.L.L.C., first!.