Corpus Christi Fire Accident Lawyers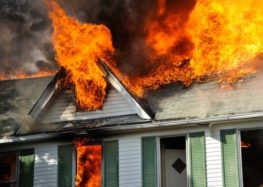 Accidents involving fire that result in burn injuries often require extensive medical treatment, painful procedures, and a lengthy recovery process.
At the law firm of Herrman & Herrman, P.L.L.C., we represent people and their families after they are injured or killed as a result of fire.
Our firm has handled personal injury and wrongful death claims arising out of vehicle fires, industrial fires, building fires and fires on oil rigs and oil fields near Eagle Ford Shale, Texas, as well as others. We fully understand the critical need for recovering compensation for our clients.
Fires Have Many Sources, Resulting in Complex Litigation Proceedings
Personal injury claims arising out of fire accidents are often complex, since there may be multiple responsible parties. Negligent property owners, construction forepersons, contractors and manufacturers may all be held accountable under certain circumstances.
In order to accurately determine the proper sources of compensation, it is important to work with a law firm that has the skill and resources to pursue the best possible result.
Experienced Fire Lawyer Who Knows the Fire Accident Law Very Well
Our burn attorneys never hesitate to visit burn and explosion injury victims and their family members in the hospital. While we fight for the rights of the victims, competency issues may arise. Surgeries that require lengthy recoveries may affect a client's ability to make decisions.
In those claims, we have the spouse or parent lookout for the victim's best interests and serve as temporary decision-makers.
Contact our Corpus Christi fire accident lawyers for a no-obligation-free consultation.
From our offices in Corpus Christi, Texas, we represent people who have been injured or killed as the result of fires throughout Texas' Gulf Region.
If you have been injured in a fire or lost a loved one as the result of a fire, our burn injury law firm can assist you. The lawyers at Herrman and Herrman are here to hold the negligent parties responsible and alleviate the financial stress that you're under, allowing you to focus on your recovery.  Contact a Texas fire accident attorney today to discuss your legal remedies.