Corpus Christi F.E.L.A. Attorney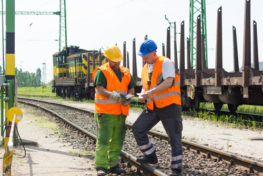 The Federal Employer's Liability Act (F.E.L.A.) protects and compensates individuals who have been injured while working on a railroad. If you were injured on a railroad due to the negligence of your employer, you may have the right to recover compensation for your injuries.
At Herrman & Herrman, P.L.L.C., our workplace injury attorneys can explain the law, help you understand your rights and advise you as to your best available options.
Causes of Railroad Accidents
Railroad injuries can have exposure to a range of causes. Inadequate safety features, poor supervision, a lack of training, exposure to hazardous materials, equipment failure and other human error are often to blame. Unfortunately, these accidents and injuries can be catastrophic, including:
Head injuries
Back injuries
Spinal cord injuries, including paraplegia or quadriplegia
Broken bones and fractures
Lost limbs or amputations
Repetitive stress injuries
Wrongful death
F.E.L.A. is a unique, and often confusing law that applies to railroad workers and Jones Act workers in certain circumstances. Under certain circumstances, F.E.L.A. holds the employer strictly liable. It is important to work with a lawyer who understands the refinement of this federal law.
Experienced F.E.L.A. Representation in Corpus Christi
If you are a railroad worker who has suffered an on-the-job injury, set up a free initial consultation with one of our Corpus Christi F.E.L.A. lawyers by contacting us online. We will explain to you how the workplace injury law works.
Our firm has offices in the following locations: Corpus Christi, Corpus Christi South Side, Brownsville, McAllen, San Antonio, Houston, and Ft. Worth , TX.