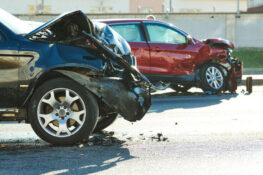 In the aftermath of an auto accident, it can be difficult to process what happened, much less remember all of the follow-up steps you should take. This is especially true if you or someone close to you was hurt in the crash. An experienced car accident lawyer can guide you through the claims process.
If you were involved in a motor vehicle accident in McAllen, Texas, you should turn to an experienced McAllen car accident lawyer like those at Herrman & Herrman, P.L.L.C. We have the experience necessary to help you seek full compensation for your injuries. Herrman & Herrman has been recognized by prestigious organizations such as the American Institute of Personal Injury Attorneys and the Multi-Million Dollar Advocates Forum.
Our legal team is ready to assist you in both English and Spanish. Call us at (361) 882-4357 or contact us online today.
10 Things You Should Do After a Motor-Vehicle Accident
When you are involved in a car accident, it is easy to feel overwhelmed. To help you take the appropriate steps, we have listed ten things you should do after an accident to protect your health and your rights:
Check everyone's condition – Check if you or your passengers have injuries and need emergency medical treatment. Protect those present by turning on your hazard lights to warn approaching traffic.
Call the police – Contact 9-1-1 to report the accident. If anyone is injured and in need of medical help, ask for an ambulance. If there are two or more people seriously injured, request an ambulance for each injured person. Remain at the scene of the accident until the police arrive.
Exchange information – Exchange the following information with the others involved in the accident:
Name
Address
Phone number
Driver's license number
License plate number
Insurance company
Policy number
If the other motorist refuses to share information, wait for the police to arrive. The officer will obtain the other driver's insurance information and share it with all those involved.
Gather information from the accident scene – Take down the contact information of any eyewitnesses. In addition, write down all that you can remember about the accident. Be sure to include the time it occurred, road conditions, and the weather.
Take photos – Take as many photos of the accident as possible. If possible, take pictures of the vehicles from various angles, road debris, skid marks, and the paint transfer and damage on the vehicles. Take close-up pictures of the damage to your vehicle, as well as your injuries and injuries to your passengers. Do this as soon as possible.
Cooperate with police – When the police arrive, answer the officer's questions factually and provide a straightforward account of what happened. Stick to the facts and do not give any opinion of who is to blame. Do not blame yourself, because you may not have all the facts. Be sure to point out any possible eyewitnesses to the accident.
Call the insurance company – Contact your insurance company as soon as you can. Most policies require prompt notification of an accident. Report the facts. Refrain from providing information that will prematurely lay blame. This will be determined during the investigation.
Seek medical attention – If you are not taken directly to the hospital from the accident scene, you should go to a doctor for a medical examination as soon as possible. This must be done within 24 to 72 hours of the accident. The doctor will assess your condition and diagnose any injuries that may not have been apparent at the time of the accident. A medical report will be written, which will be important in the event that you have to file an insurance claim or lawsuit seeking compensation for your injuries.
Keep a file of all accident-related documentation – Keep all the bills associated with the accident, including your medical bills, therapy, medication, medical exams, hospital stay, vehicle repairs, car rental, police records, and days missed from work. To find out how to obtain a police report in McAllen, Texas, go to this link. Keep a journal of how the accident has affected your daily life.
Call a lawyer – Consult with a knowledgeable personal injury lawyer to understand your legal options. If you have a valid car accident injury claim, an attorney can conduct a thorough investigation of the accident and determine the compensation that you may seek. An experienced attorney can negotiate with the insurance companies on your behalf and seek a settlement that reflects the seriousness of your injuries and related losses.
Contact a McAllen Car Accident Lawyer Today
If you have been injured in a car accident caused by another motorist in McAllen, a McAllen car accident lawyer at Herrman & Herrman, P.L.L.C., is available to help. We can answer all your questions and explain what your legal options are. Call us now at (361) 882-4357 or contact us online for a free no-obligation consultation today.