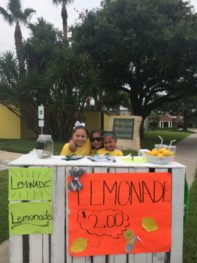 When life gives you lemons, develop a business plan, establish a budget, find investors and provide healthy refreshing lemonade to local residents. Over 2,000 children took part in the program 'Lemonade Day' which teaches children to start, own, and operate their own business while providing customer service to the community. Herrman and Herrman, P.L.L.C., is proud to have been a sponsor of the Coastal Bend's 4th annual Lemonade Day and enjoyed seeing the youth of the community go out of their way to set goals for themselves and in turn learn the values of financial literacy, economics, and personal development. Preparing the youth for life through fun, proactive and experimental programs helps to infuse life skills, character education, and entrepreneurship.
This nationwide program originated as an after-school program in Houston, Texas back in 2005 and was formally launched in 2007. Since then, Lemonade Day has spread to the Coastal Bend and cities across the nation. It has seen a number of children participate, an astounding 800,000, and an overwhelming support from their communities.
Children who register for Lemonade Day receive educational material or either gain access to an online interactive workbook which teaches them the basic steps in creating a profitable business. They are able to work through their 14 lessons with a parent, volunteer, or youth organization leader to help prepare them open their first business. The best part, each youth gets to keep the money they earn and are able to decide what they want to do with it, be it on something they have saved up for, a local charity, or their local church.
Youths of all ages can register. To register, visit LemonadeDay.org and pick your city from the national map. Follow the link for online registration or refer to the city website for registration events. Everyone in the community is invited to participate! They always need volunteers, mentors, businesses to provide safe stand locations, and customers to buy lemonade from the young entrepreneurs.