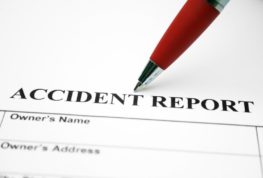 Anyone involved in a car accident should notify police right away. In Texas, a law enforcement officer investigating a car crash that occurs in traffic is required to file a report if the crash caused injury or death or if apparent damage is worth $1,000 or more.
You also should report the accident if:
the vehicles involved in the crash cannot be moved off the highway

a driver leaves the scene of the accident

you suspect a driver is intoxicated.
Reporting a car accident to police makes a record of the accident and documents who was involved. A police report will be essential if you need to file an insurance claim later regarding the collision. If the crash involved a hit-and-run driver, uninsured motorist insurance should pay for damages if the accident is reported to a law enforcement agency.
Police reports are particularly important when seeking compensation from another party's insurance, such as liability coverage held by the driver who caused the accident. With an experienced car accident lawyer's help, the at-fault driver's auto insurer may be compelled to pay for your medical expenses, car repairs or replacement, and more. 
In McAllen, TX, as in other Texas cities, police may not be able to respond to every parking lot fender bender that happens. But McAllen police do follow the law and will respond to the car accidents they are responsible for reporting. The legal requirement for reporting accidents with $1,000 worth of damage to the vehicle(s) is actually quite a low bar. 
The personal injury attorneys of Herrmann & Herman in McAllen, Texas, recommend dialing 911 to contact McAllen police after any car accident in McAllen, even if there is only minor damage. Don't let another driver talk you out of reporting an accident by promising to pay you directly for your medical bills or car damage. The driver may change his or her mind after leaving the scene of the accident. Without a police report documenting the accident, it will simply be your word against that of the other driver. You will have difficulty receiving compensation from an insurance company.
Filing a Car Accident Report in McAllen, Texas
If you are involved in a car accident in McAllen or elsewhere in Texas that results in injury, death or damage to vehicles exceeding $1,000 that no Texas law enforcement investigates, you are required to file a written report with the Texas Department of Transportation (TxDOT), according to the Texas Driver's Handbook. The report must be on a TxDOT specified form.
Under Texas law, you have 10 days from the date of the car accident to do it.
You, your insurance agent, the owner of the vehicle or your car accident attorney may file the accident report with the TxDOT.
The crash report is known as the Texas Peace Officer's Crash Report, Form CR‐3 (available here). It requires the following information:
Place and time of accident, including road name and nearest intersecting road

Name, address, and date of birth of each driver involved in the accident

Name and address of all registered owners of motor vehicles involved in the accident

Driver license information (issuing state, license number) for each driver involved in the accident

License plate number and state from all motor vehicles involved in the accident

Name and address of all auto insurance policy holders and the name of their insurance companies

A summary of what happened during the motor vehicle accident

Weather and road conditions at the time of the accident.
If you were provided a CR-2 form or similar local law enforcement form copy of this report, you should retain the information for your records. 
If a Texas police officer has already filed a report about an accident you were in, there is no requirement for you to file a car crash report with the state. If a McAllen police officer responds to the accident you were in, ask if he or she will be filing a report with TxDOT.
Getting a Copy of the Police Report After a Car Accident in McAllen
After an accident in McAllen, you can go directly to the McAllen Police Department to obtain a copy of the report. 
Request a copy of an accident report by completing the McAllen Police Department's Accident Report Request Form (PDF) and submitting it via mail to:
McAllen Police Department – Crime Records Office
PO Box 220
McAllen, TX 78505-0220
The request form asks for: 
Requester's name, address, telephone number and email address

Requester's relationship to the accident, i.e., driver; parent of driver; vehicle owner; vehicle occupant, pedestrian or cyclist injured in the accident; insurance company; attorney; etc.

Date and time of accident

Location of accident

Name of person involved in the accident

Case number
McAllen Police have 10 days after receiving the request to release the accident report or to notify you that they have reason to withhold the report and request a ruling from the state Office of the Attorney General. Requests are to be answered in writing and would include an invoice indicating any charges incurred.
It costs $8 for a certified copy of the report, which is preferable because certification makes it an official document, which is necessary for legal proceedings. It's $6 otherwise. Copies of any photos made at the crash scene are 75 cents each, with no enlargements available. Make the check/money order payable to the City of McAllen. Do not send cash.
Reports will be mailed; they will not be faxed.
Contact a Car Accident Attorney in McAllen, TX
McAllen police will respond to almost all car accident calls in the city and file the necessary report. When you need to obtain a report for an insurance claim over a fender-bender that just tops the $1,000 property damage requirement, your insurance company will probably retrieve the police report to process your claim.
After a serious accident, with a death or catastrophic injuries, insurance companies can quickly become a lot less helpful.
If you have a significant insurance claim due to serious injuries or the loss of a loved one in a car accident in McAllen, you need to speak to an experienced McAllen car accident attorney at Herrman & Herrman, PLLC. Our attorneys can investigate your accident to identify the at-fault parties and determine the amount of compensation you deserve for your losses. Then we will press insurers aggressively to pay the claim.
A police report is a significant part of a car accident claim. If you've been seriously injured or lost a family member in a McAllen car accident, contact Herrman & Herrman today for a free review of your case and how we would seek maximum compensation for your losses.