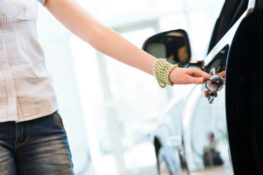 Ford is recalling 389,585 Ford Fiestas, Fusions and Lincoln MKZ sedans, the majority of which were sold in the U.S. The recall is associated with the potential danger of a faulty door latch that can allow the doors to open while the vehicle is in motion.
The vehicles recalled include:
Some 2012 – 2014 Ford Fiestas built in Mexico
Some 2013 – 2014 Ford Fusions built in Mexico
Some 2013 – 2014 Lincoln MKZ built in Mexico
The faulty door latch poses real dangers to drivers and passengers, as well as pedestrians or bicyclists who may be walking or riding adjacent to a vehicle with a faulty door latch. The essential problem is that the door latch spring assembly can break, allowing the door to swing open while the vehicle is in motion, which has already occurred on several occasions.
USA Today reports that there have been 207 complaints about faulty door latches, including 65 reports of the door flying open while the vehicle is in motion. Ford acknowledges that has received 451 reports and 1,079 warranty claims to date.
The National Highway Traffic Safety Administration (NHTSA) is conducting an investigation of the safety hazard. The agency reports two injuries, both caused by a rebounding door striking a consumer after they attempted to close the door after it had swung open.
All vehicle owners will be contacted so that the problem can be resolved by replacing the door latch at no cost to the owners.
If you own one of these vehicles and have been injured due to the failure of the door latch, connect with a lawyer for car recall at Herrman & Herrman in Corpus Christi, TX for assistance.
Sources: