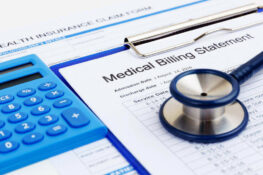 If you were involved in a car accident in McAllen, you might be dealing with painful injuries and wondering how your treatment expenses will be paid. If you did not cause the collision, you shouldn't have to worry about who pays medical bills in a car accident.
Texas law allows you to seek compensation for your injuries from the motorist who caused the crash. By filing an injury claim or lawsuit, you may seek compensation for your medical bills, rehabilitation, medication, and more. However, proving that another driver was responsible and holding them accountable can be challenging.
The Texas injury lawyers of Herrman & Herrman, P.L.L.C. have decades of experience helping accident victims recover the compensation needed to pay their medical bills and move on with their lives. Contact us for a free consultation to learn about how we may help you.
Is Texas a No-Fault State?
The majority of states, including Texas, follow the fault system when determining liability for auto insurance claims. This means if another driver is at fault for an accident in Texas, you'll primarily rely on their liability insurance to pay for your injuries and vehicle damages.
Most drivers carry the minimum liability insurance coverage required in Texas, which includes:
$30,000 per person in bodily injury liability coverage
$60,000 per accident in bodily injury liability coverage
$25,000 per accident in property damage liability coverage
By law, all Texas auto policies must also contain personal injury protection (PIP) coverage. This type of insurance pays for your medical bills, lost wages, and other injury-related costs after a crash, no matter who was at fault. You can decline PIP coverage, but you must do so by notifying your insurance company in writing.
In general, it's usually best to purchase as much PIP coverage and other optional insurance as you can afford. PIP coverage, medical payments (MedPay) insurance, and uninsured motorist (UM) coverage can all help cover your medical expenses if you are at fault or the other driver lacks sufficient insurance.
To claim compensation from another driver after a car accident, you must be able to demonstrate that the driver was mostly or fully at fault for the wreck. Under Texas' comparative negligence laws, you can only recover money for your injuries if you were less than 51 percent responsible for the accident.
One of the most important components of any successful injury claim is proof of who was responsible for the accident. An attorney at Herrman & Herrman can help you gather evidence demonstrating the other driver's liability, such as:
Accident reports – Police accident reports typically contain information that can support your claim. These reports often include accident diagrams, identifying information about anyone involved, and official determinations regarding who was at fault.
Photos and video footage – Photos of the accident scene, skid marks on the road, and vehicle damage can document conditions at the time of the crash. Video footage from traffic and security cameras can show precisely how, when, and where the crash occurred.
Cell phone and GPS records – If you suspect the at-fault driver may have been texting, talking on the phone, or otherwise distracted at the time of the crash, you can work with an attorney to request their cell phone or GPS records.
Eyewitness statements – Statements provided by passengers and other eyewitnesses who saw the crash can be very useful. If you speak with any witnesses after a crash, be sure to ask for their contact information in case you need to get a statement from them later.
Expert witness testimony – Lawyers frequently work with expert witnesses such as accident reconstruction specialists, who can model the conditions of a crash to identify potential contributing factors.
Who Pays for My Medical Bills After a McAllen Car Accident?
If you were injured in a McAllen car accident that wasn't your fault, you have the right to recover money for your medical costs. You may be able to seek reimbursement for your medical bills from one of the following:
The at-fault driver – In Texas, you are entitled to claim car accident compensation from the liability insurance provider of the at-fault driver. If the other driver is properly insured, you should have access to at least $30,000 in liability benefits for bodily injury.
The owner of the car – If the other driver was not the owner of the car involved in the crash, you may need to file a claim against the vehicle owner or his or her auto insurance provider.
The driver's employer – If the accident was caused by someone driving a commercial vehicle or traveling for work-related purposes, their employer may be liable for your injuries.
A negligent manufacturer – Some accidents are caused by defective vehicle components. If you sustain injuries in a crash due to an unsafe product, you may be entitled to compensation from a negligent manufacturer.
A government agency – Local governments are typically responsible for maintaining roads and keeping them safe. When government negligence leads to accidents, victims may have grounds for a special type of government claim under the Texas Tort Claims Act.
Your MedPay provider – If you carry MedPay insurance, you may claim compensation from your provider for reasonable medical expenses and reimbursement for your health insurance deductibles and copays.
Your PIP provider – If you don't opt out of the minimum recommended PIP insurance, you should have at least $2,500 in coverage available per person for accident-related medical expenses, lost wages, and essential services.
Your UM provider – Uninsured (UM) and underinsured motorist (UIM) coverage is also included in most Texas insurance policies. If you have UM or UIM bodily injury coverage, you can file a claim for your medical expenses if the other driver has no auto insurance or insufficient coverage to cover your expenses.
Medical Expenses You May Have to Pay After a Car Accident
In any personal injury case, it takes time to recover compensation from the party at fault for the car accident and your injuries.
Some of the most common medical expenses accident victims incur include:
Ambulance transportation fees
Emergency room treatment
Hospital stays
Diagnostic tests
X-rays and MRIs
Doctor and specialist visits
Physical rehabilitation
Psychological therapy
Prescription medications
Durable medical equipment
In-home assistance
Accessibility modifications
You might have multiple coverage options available to pay for your medical care, such as PIP or UM/UIM insurance policies. You can also turn to your own health insurance, though you may have copays and there could be treatment options your health insurance doesn't cover.
If you do recover car accident compensation from the at-fault party, your health insurance provider may demand to be repaid for any costs it covered for medical care related to the car accident. Your attorney may be able to negotiate to minimize the amount paid to the insurance company.
The McAllen personal injury attorneys at Herrman & Herrman will explore all possible avenues for your to seek compensation for your medical bills.
Can I Seek Compensation After a Car Accident If I'm an Undocumented Immigrant?
According to data from Pew Research, Texas was home to more than one in ten immigrants in the United States in 2018. Many of these immigrants are undocumented workers who may be afraid to seek car accident compensation due to their legal status.
If you are an undocumented immigrant, you should know that you have a right to file an injury claim in Texas. If you were injured in a McAllen car accident, you have the right to file a claim against the at-fault driver.
Your legal status cannot be used against you in a claim. Filing an injury claim should not affect your immigration status. Insurance companies cannot refuse to negotiate a car accident settlement just because you are undocumented.
How Can Our McAllen Car Accident Attorneys Help You Recover the Compensation You Deserve?
At Herrman & Herrman, our McAllen car accident lawyers can support your crash injury claim by:
Explaining your rights – Our attorneys can listen to your story, evaluate the details of your claim, and explain your legal options in a free case review.
Estimating the value of your claim – We can review your accident-related injuries and calculate a reasonable estimate of your losses.
Conducting an investigation – When you hire our team, we can launch an immediate investigation into the accident to identify and preserve valuable supporting evidence.
Managing documents and deadlines – We can manage the paperwork and deadlines on your behalf while you focus on your health.
Communicating with others on your behalf – The lawyers of Herrman & Herrman can communicate with insurance providers on your behalf so you avoid common statements and mistakes that could damage your case.
Negotiating to maximize your settlement – Our attorneys are professional negotiators who will negotiate aggressively on your behalf.
Representing you in court – If an insurance provider refuses to provide a fair settlement offer, we can discuss with you whether to take your case to court.
Contact us anytime for a free case review with one of our compassionate McAllen personal injury attorneys. We're ready to listen and help you understand your best options for financial recovery.