Bicycle Accident Lawyers in Brownsville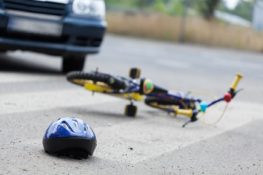 Bicycle accidents are, unfortunately, a common occurrence in Brownsville and throughout Texas. There were 69 bicycle accident fatalities in Texas in 2018, the highest number in the last decade. In Cameron County over the last five years, there have been seven bicycle accident deaths and many serious injuries.
If you have been injured in a bicycle accident caused by another person's negligence, you may be entitled to claim compensation for your injuries and accident-related losses. A Brownsville bicycle accident lawyer at Herrman & Herrman can help you pursue full and fair compensation after a serious bicycle accident. Our attorneys understand Texas bicycle laws and how they apply to bicycle injuries.
We will fight for you and help you rebuild your life following a severe bicycle accident.
The aggressive trial lawyers of Herrman & Herrman have recovered millions of dollars on behalf of clients. Our knowledgeable lawyers are ready to guide you through every step of the process as we seek the maximum compensation for your medical bills and related losses.
Our bike accident lawyers have the skill and resources to take on those responsible for your accident, whether it is an at-fault driver, his or her insurance provider or another negligent party.
If you have been struck by a motorist while riding a bicycle in Cameron County, the insurance company will likely try to place some of the blame on you for the accident. The insurer may make a lowball settlement offer to resolve the case.
Never accept at face value the insurance company's assessment of your bike accident. Herrman & Herrman's bike accident attorneys in Brownsville, Texas will investigate the accident and negotiate aggressively with the insurer for a fair settlement that covers all of your losses and expenses. Call today at (361) 882-4357 to schedule a free and confidential consultation with one of our bike accident lawyers.
Texas Bicycle Laws
In Texas, bicyclists have a right to use the roads except where specifically prohibited. Motorists have an obligation to share the road with bicyclists. Like motorists, bicycle riders have a duty to obey all traffic laws, observe safety tips and ride on the right side of the road moving with the flow of traffic.
Below is a summary of Texas bicycle laws:
Use appropriate hand and arm signals when stopping and turning. Extend your left hand out to the left for left turns. Extend your arm up at a 90-degree angle from the elbow for right turns and down at a 90-degree angle when decelerating or stopping.
Obey stop signs, red lights, and other signals
Bicyclists moving slower than other traffic should ride as close to the edge of pavement or curb as practical and travel in the same direction as other traffic. Bicyclists are permitted to ride, stop, or park on a sidewalk as long as the activity does not interfere with pedestrians or other traffic.
Cyclists are not required to use the bike lane, provided that they follow all the rules of the road that also apply to motorists. If it's possible and practical, ride in the bike lane.
Keep at least one hand on the handlebars at all times. Two hands provide the most stability.
When riding at night, you must have a white reflector in the front and a red reflector in the back.
Don't carry more people than what the bike is designed to carry.
Use common sense while riding, and always try to make eye contact with drivers to make sure they see you. Wear bright-colored clothing to make yourself more visible during the daytime and wear reflective clothing if riding at night. Watch for hazards, such as drivers in parked vehicles who are about to open car doors. Riding defensively can help you avoid an accident with a motorist. Although Texas doesn't have a helmet law for cyclists, it is recommended that cyclists wear a helmet to reduce the chances of a head injury.
Under Texas law, those injured in a bike accident may seek financial compensation from the liable party for both economic and noneconomic damages. Getting compensation after a bike accident can be challenging.
At Herrman & Herrman, our Brownsville bike lawyers know what to do after a bike accident to help bicycle accident victims hold an at-fault driver accountable.
Our skilled attorneys can help you recover financial compensation for damages, including:
Past and future medical expenses
Rehabilitation expenses
Lost wages
Loss of earning capacity
Pain and suffering
Disfigurement
Loss of quality of life
Wrongful death damages
Our bike accident lawyers will take the time to understand how your bicycle accident has affected you physically, emotionally, and financially. Then we will seek to recover the maximum compensation available.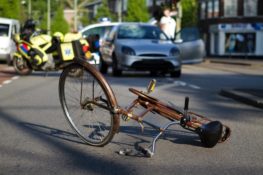 Causes of Bicycle Injuries in Brownsville
The majority of bicycle accidents are the fault of the motorist who struck the cyclist. Unfortunately, many Brownsville drivers do not expect to see bicyclists on the road and do look for approaching bicyclists. At Herrman & Herrman, we are dedicated to holding negligent motorists accountable when they cause a bicycle accident.
Bicycle accident injuries are commonly caused by drivers:
Failing to yield when turning left – A motorist may not notice an oncoming cyclist when making a left turn. This can cause a severe crash when the bicycle collides with the turning vehicle or if the vehicle strikes the cyclist.
Not fully stopping at a stop sign – Many motorists don't come to a complete stop at stop signs and red lights. A serious bike accident can happen if a cyclist enters an intersection as a motorist rolls through a stop sign or red light.
Drifting into a bicycle lane – The City of Brownsville has designated bike lanes on some roads that are intended to reduce accidents. Yet many drivers fail to respect these designated lanes. A motor vehicle that crosses into a bike lane can crash into a cyclist.
Speeding and reckless driving – Cyclists are vulnerable to Brownsville drivers who speed and drive carelessly.
Following too closely – Following a bicyclist too closely is very dangerous. When a motorist does not allow enough space to stop behind a bicycle, it can have devastating consequences if the cyclist brakes suddenly.
Side swiping – Side swipes happen when a driver does not allow enough room while passing a cyclist. Motorists should maintain a safe distance when overtaking a bicycle.
Cutting off a cyclist when turning – Negligent drivers may not check their blind spots before making a right-hand turn and cause a right hook accident. The cyclist may not have time to stop before crashing into the turning vehicle.
Pulling out – It is very important that motorists check for cyclists when pulling out of a driveway, alley or side street. When a motorist pulls out of a driveway without checking for approaching cyclists, it can cause a collision.
Dooring – This occurs when a bicyclist runs into a car door that has been suddenly opened as the bicycle is passing. These accidents are common on busy streets where cars parallel park and bicyclists ride closer than normal to lanes of parked cars.
Distracted driving – A distracted motorist poses danger to bicyclists and everyone else on the road. Bicycles are less visible than many other vehicles, so cyclists are more vulnerable to accidents caused by distracted drivers.
Drunk or drugged driving – Driving under the influence of drugs or alcohol is the cause of one out of every three auto-related fatalities. Bicyclists are at an even greater risk because of the limited protection they have. Drivers who drink and drive should be held accountable for their reckless actions.
What To Do After a Bicycle Accident
The steps you take after a bike accident can affect the outcome of your case. If you are injured in a bicycle accident, it is recommended you follow the following steps:
Seek medical attention even if you don't think you were injured. In many cases, accident victims do not begin to feel pain until hours or days after the accident. A doctor's report describing your injuries in relation to the accident is important if you need to file a claim.
Call the police. It's important that you wait for the police to arrive at the scene of the accident so that the police can file an accident report.
Don't try to negotiate with the driver or discuss the details of the accident with the other driver. Some drivers may accept the blame only to recant later to the insurance company.
Collect the contact information from eyewitnesses.
Use your smartphone to take photos and videos of the scene, your bicycle, the other vehicle and any injuries you suffered.
Contact a Brownsville Bike Accident Lawyer
The Brownsville personal injury attorneys at Herrman & Herrman have extensive experience in bicycle accident cases. We are proud of our record of success in helping injured victims in Brownsville and throughout Texas.
Our personal injury attorneys have successfully handled more than 20,000 cases in Texas, and we have more than 100 years of collective legal experience.
If you or a loved one is involved in a bicycle accident and has sustained an injury in Cameron County, speak with one of our compassionate and knowledgeable bike injury lawyers as soon as possible.
Our bike accident attorneys will fight for full and fair compensation for you. Call us now at (361) 882-4357 to schedule a free, no-obligation consultation so we can discuss your legal options.
Our firm has offices in the following locations: Corpus Christi, Corpus Christi South Side, Brownsville, McAllen, San Antonio, Houston, and Ft. Worth , TX.