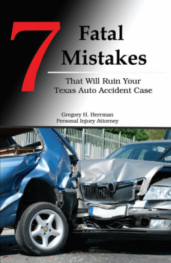 7 Fatal Mistakes That Will Ruin Your Texas Auto Accident Case
"I believe people deserve to have good, accurate information about the claims process, legal process and how to deal with insurance adjusters."
Gregory Herrman built Herrman & Herrman, P.L.L.C., on a solid foundation of honesty, integrity and dedication, protecting the rights of injured accident victims. He is committed to providing thorough and effective representation for injured victims and families of wrongful death and accidents. Although he cannot erase the devastation caused by negligent wrongdoers, he makes it his personal mission every day, to help these victims.
Exclusively for Texas residents, we are offering a free copy of our book written by Gregory Herrman, 7 Fatal Mistakes That Will Ruin Your Texas Auto Accident Case. Complete the form to have a paperback copy sent to you, or enter your email address to download the eBook and start reading now!
Download Your eBook Now
Do you want an ebook version of the book? Fill in your email address to download a copy.
Request Your Free Paperback Copy
Do you want a paperback copy of the book mailed to you? Fill out the form below. *Texas residents only.
Your Privacy Matters to Us.
All of the information you provide will be kept strictly confidential.