San Antonio Motorcycle Accident Lawyer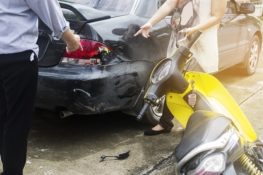 One type of personal injury lawsuit that we see a lot of here at the law offices of Herrman & Herrman is motorcycle accident injury cases. Motorcycle accidents can be devastating as they usually involve riders who don't wear helmets and other protective gear. This means that when an accident occurs, motorcycle riders often suffer serious injuries.
With serious injuries, it doesn't take long before medical bills and other expenses start piling up faster than people and their families can handle. If you're unable to work during treatment or recovery, or if you can't return to your job because of injury, you may be worried about how you'll ever get back on your financial feet.
Texas law allows injured motorcyclists to recover compensation for these and other related expenses from the driver(s) responsible for causing the accident if the crash was caused by negligence or recklessness.
If you were hurt in a motorcycle accident caused by a negligent or reckless driver near San Antonio, TX the experienced motorcycle injury lawyer of Herrman & Herrman are here to help you recover the compensation that you are legally entitled to. Call us today at (361) 882-4357 or contact us online to set up a free initial consultation.
How We Help Motorcycle Accident Victims
Anyone who has been seriously injured in a motorcycle accident should seriously consider hiring a personal injury lawyer. Our lawyers are here to represent your best interests and help ensure you recover from your injuries and move on with your life.
When the stakes are high, it is critical to have an experienced professional in your corner who has the skill and know-how necessary to secure the best possible outcome to your case. Our lawyer will be able to help you in all of the following ways:
Assess the facts of your case and determine whether or not you are entitled to collect compensation under Texas law,
Explain how personal injury lawsuits work in Texas and walk you through every step of the process,
Gather evidence that supports your claim and bolsters your case,
Calculate the total extent of your losses and seek the full amount of damages allowed by law,
Expertly negotiate with insurance providers on your behalf,
File your personal injury claim with the court,
Negotiate for a fair settlement from the at-fault party's insurance company
If necessary, aggressively represent you in court.
Retaining a competent motorcycle lawyer not only takes the tasks listed above off your plate, but also enables you to focus on your recovery rather than your lawsuit. When you hire Herrman & Herrman you can rest assured that your personal injury claim is in good hands, that we know what we're doing, and that we will do everything in our power to win your case.
Common Causes of Motorcycle Accidents
Many motorcycle collisions occur because a driver was negligent who fail to respect the rights of bikers to share the road. Crashes can be caused by drivers who are distracted, overly aggressive, drowsy, under the influence of alcohol or drugs, or other factors. Many of the motorcycle accident cases that we see here at Herrman & Herrman are caused by:
Failure to see the biker in the lane next to the vehicle
Speeding
Tailgating
Unsafe lane changes
Distracted driving
Drowsy driving
Drunk or drugged driving
Road rage
When a driver's negligent or reckless behavior causes a motorcycle accident in Texas that driver can be held legally responsible for any resulting injury/losses because each driver out on the road is legally obligated to operate their vehicle in a safe and responsible manner.
When this duty of care is breached, and as a result someone else is harmed, that harmed individual can collect compensation for their losses from the driver who injured them. Most motorcycle cycle personal injury accidents in Texas follow this pattern and name the driver (or drivers) who caused the accident as defendants. However, it should be noted that in some circumstances other parties can also be held at fault.
For example, if the driver who caused the accident was driving for their employer at the time of the accident (perhaps a long-haul trucker, courier, mailman, etc.) then the employer can sometimes be held responsible for the actions of their driver.
Additionally, if the accident was caused by a defective or malfunctioning part on the motorcycle or on another vehicle the maker/manufacturer of the faulty party can sometimes be held liable for causing the accident. Furthermore, if the accident was caused by a poorly maintained roadway or inadequate signage then the city within which the accident occurred can sometimes be held at fault.
Common Injuries Due to Motorcycle Accidents
Motorcycle accidents can cause pretty much any injury imaginable, but some of the most commonly sustained injuries include:
Road rash
Fractured and broken bones
Nerve damage
Amputated limbs
Paralysis
Traumatic brain injuries
Spinal cord injuries
Compensation Available for Motorcycle Claims
The amount of compensation available for motorcycle personal injury claims in Texas varies from case to case, but generally speaking damages (aka the money awarded to the victim) often includes compensation for the following:
Medical expenses (both past and expected),
Lost earnings (both past and expected),
Pain and suffering,
Mental anguish, and
Loss of enjoyment of life (if a permanent disability was suffered).
As you may have guested, calculating damages in a personal injury lawsuit can sometimes be quite tricky. For instance, how much money is a person's pain and suffering worth? Clearly a person's pain is not quantifiable in a dollar amount, but in the interest of justice the court tries to assign a monetary figure anyway.
To make this determination, the court will listen to arguments from both sides, so it is important that you have a knowledgeable lawyer advocating on your behalf who will persuade the court to award all that you deserve.
What to Do After a Motorcycle Wreck In San Antonio, TX
The aftermath of a motorcycle wreck can be a stressful blur, but if you are able to take the following steps you can rest assured that your legal rights have been protected and that you are in the best possible position.
Watch What You Say: Accident victims often experience a rush of adrenaline directly after the wreck which can cause them not to think clearly and, as a result, blurt out statements that they don't necessary mean. For example, accident victims sometimes say things like "I'm sorry" immediately after the crash as a sort of reflex response to the stress of the situation. Although this may seem like an innocuous statement it can harm your resulting personal injury case because others may have taken your statement as an admission that the crash was your fault.
Document the Scene of the Accident: If possible, document the scene of the accident as thoroughly as you can. Take photos and videos of where the accident occurred, the extent of all visible injuries, and any resulting property damage. Fully documenting the scene of an accident also includes filing a police report, so be sure to call 911 and file an official report, as well as taking down the names and contact information of any eyewitnesses who saw what happened.
Contact Your Insurance Provider: Be sure to contact your insurance providers and let them know about the accident as soon as you can. Pretty much all insurance policies require that you promptly notify the provider that an accident has occurred, so make sure that you remember to call them directly. However, keep in mind that your insurance provider is incentivized to pay out as little as possible when a claim is made. Therefore, if you have been seriously injured make sure to consult with a personal injury lawyer about your legal options before agreeing to any settlement proposed by your insurance provider.
Document Your Recovery: Take care to thoroughly document not only the extent of your injuries but also your recovery process and the impact that your injuries have had on your life. Ideally you should continue to take photos of your visible injuries while they heal in order to document your recovery, write down notes about each doctor visit that you have, keep track of all recovery-related expenses that you incur, and keep a diary documenting how the injuries have impacted your ability to work/conduct daily activities.
Consult with a Local Attorney: Lastly, the absolute best step that you can take to protect your legal rights is to consult with a local accident lawyer straight away. An accident lawyer will be able to evaluate the facts of your case, inform you of your legal options, and advise the best course of action given your unique circumstances.
We're Here to Help, Schedule a Free Case Consultation at Herrman & Herrman Today!
If you've been injured in a motorcycle accident in San Antonio, we are here to help. To set up a free case review with one of our outstanding attorneys, simply fill out our online contact form or call us at (361) 882-4357. We have both Spanish and English-speaking staff, and we are available 24 hours a day, 7 days a week. Find out what we can do for you today!
Our San Antonio office is located at 8122 Datapoint Dr Suite 816, San Antonio, TX 78229.