Austin Teen Driver Accident Lawyers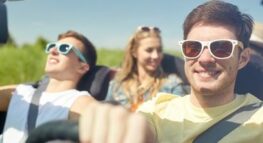 Car accidents are the leading cause of death for teenagers in the United States, according to the Centers for Disease Control and Prevention (CDC). Teen drivers aged 16 to 19 are nearly three times more likely than drivers aged 20 and older to be in a fatal crash. The risk of a car accident is particularly high during the first months a teenager has a driver's license.

Common Reasons Teen Drivers Cause More Car Accidents Than Adults in Austin
Inexperience and immaturity are contributing factors in many crashes. Because of inexperienced, newly licensed drivers make mistakes in their judgment and execution of driving maneuvers, such as oversteering in a curve or overreacting to slipping off the edge of the road.
Teenage drivers, particularly male teens, are more likely to engage in reckless behavior such as distracted driving, speeding, drinking and driving, tailgating, and other forms of aggressive driving.
Innocent people who have suffered serious or permanent injuries due to another driver's carelessness or disregard for safety have a right to demand full compensation for their harm, regardless of the at-fault driver's age. Often the people injured in a teenage driving accident are other teens riding with the inexperienced driver.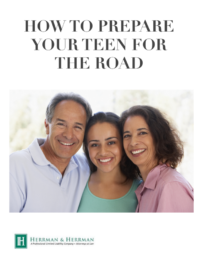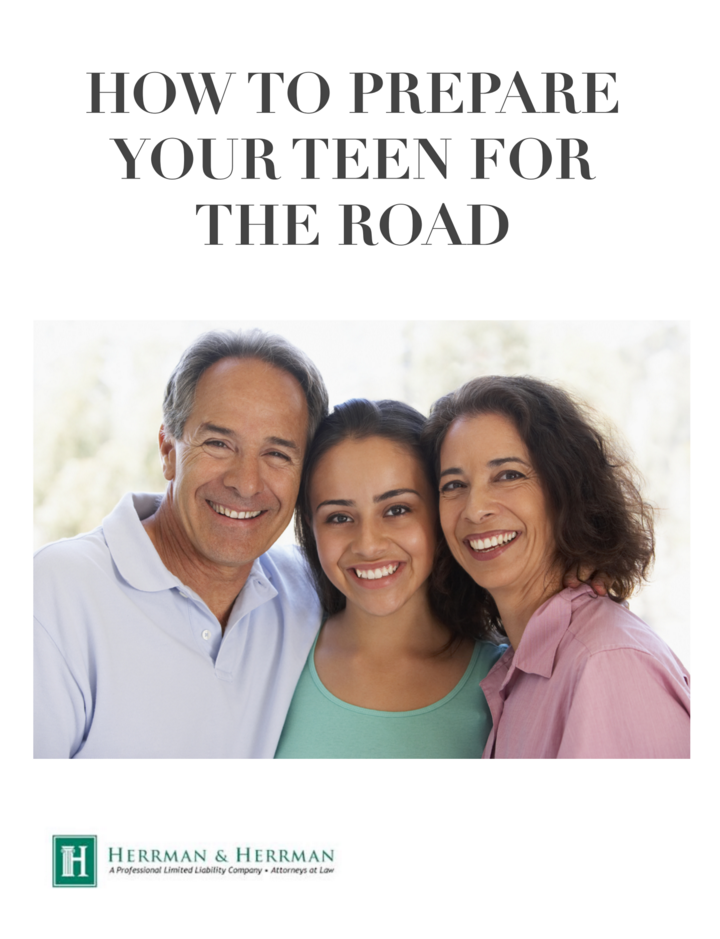 At Herrman & Herrman, P.L.L.C., our inexperienced driver car accident attorneys can help you obtain compensation for your losses if the negligence of a teenage driver has led to a crash that seriously injured you in Corpus Christi or the Rio Grande Valley. Our attorneys have successfully resolved more than 20,000 car accident cases.
Together, we offer you more than 100 years of combined legal experience. We take seriously our duty to provide personalized legal representation to people who have been unjustly injured in the Corpus Christi, Corpus Christi South Side, Brownsville, McAllen, San Antonio, Houston, Ft. Worth, and areas of Texas.
Our attorneys also believe in the importance of education to prevent teen driving accidents. Download our book on How To Prepare Your Teen for the Road to help your teen learn good driving habits and avoid behaviors that can lead to dangerous crashes.
Are Teenagers Dangerous Drivers?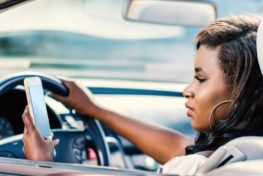 Young, inexperienced drivers have higher crash rates than older, more experienced drivers in the United States, the National Highway Traffic Safety Administration (NHTSA) says.
There were 225.3 million licensed drivers in the United States in 2017. Young drivers – defined by the NHTSA as 15 to 20 – accounted for 5.4 percent (12.1 million) of all licensed drivers in 2017. However, young drivers are overrepresented in deadly accidents. Eight percent of all drivers involved in fatal crashes in 2017 were 15 to 20 years old.
Of the passengers who died in crashes with young people driving in 2017, 66 percent were also 15 to 20 years old.
The AAA Foundation for Traffic Safety, which has conducted multiple studies of teenage driving habits, captioned one of its studies: "Teen Drivers Put Everyone at Risk." It said nearly two-thirds of people injured or killed in a crash involving a teen driver are people other than the teen behind the wheel.
Teen driver fatalities spike in the 100 days of summer between Memorial Day and Labor Day.
The major factors contributing to fatal teen crashes include:
Speeding: Half (49.7 percent) of teen drivers the AAA Foundation surveyed reported speeding on a residential street in the previous 30 days.
Drinking and Driving: In 2017, according to NHTSA, 20 percent of 15- to 20-year-olds killed in crashes had blood-alcohol concentrations (BACs) of .08 or higher.
Distracted Driving: More than half of teen drivers reported to the AAA Foundation that they had read a text message or email while driving in the prior 30 days and nearly 40 percent had sent a text or email. Using in-vehicle videos of teen driver crashes, AAA Foundation researchers found distracted driving in 58 percent of teen crashes, approximately four times as many as federal estimates. NHTSA says dialing a phone number while driving increases a teen's risk of crashing by six times, and texting while driving increases the crash risk by 23 times.
The AAA Foundation found that a single teen passenger increases a teen driver's crash risk by 44 percent if there is no older person in the vehicle. The risk doubles with two passengers and quadruples when carrying three or more passengers younger than 21 and no older passenger.
In addition to the age-related reasons that teenage drivers are more likely to cause a car accident, keep in mind that teens also can cause crashes for all the reasons that an adult can cause a crash. When teen drivers cause accidents resulting in injuries, their insurers may be held responsible for the harm caused.
Texas Teens and the TX Graduated Driver License Program
The high rate of teen driving accidents persists even though Texas has a three-stage graduated driver's license (GDL) program that is meant to give new drivers the chance to develop their driving skills over time in lower-risk situations.
The Texas program requires a new driver younger than 18 to hold a learner's license for at least six months before moving on to the second phase. A learner's license requires a licensed adult in the car with the teen driver. After passing a skills test, drivers may obtain a provisional license, restricting driving privileges for drivers under 18.
A driver younger than 18 with a provisional license has certain restrictions. The driver may not:
Drive with more than one passenger under age 21 who is not a family member.
Drive between midnight and 5 a.m., unless driving to go to work or a school function or for an emergency.
Use a wireless communications device, even hands-free.
At age 18, an individual's license to drive in Texas is no longer restricted. However, if a teen younger than 18 is in violation of GDL restrictions at the time of a crash that injures others, their violation of the law may be held against them in a legal claim.
Can Parents Be Sued for Their Child's Car Accident in Austin?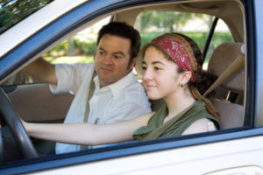 Teen drivers in Texas may be held responsible for deliberate violations of the Safety Responsibility Act, which requires drivers to have auto liability insurance, and their parents can be legally responsible for paying court fines and court costs if their teen doesn't have the financial resources to satisfy the penalty.
All cars registered with the Texas Department of Motor Vehicles must have certain required levels of insurance coverage. Texas law doesn't require that teen drivers with a learner's permit have their own insurance. But once the teen obtains a driver's license, he or she is subject to the same minimum automobile insurance requirements as an adult driver.
Many parents in Texas have their teenage drivers listed on their auto insurance policies or pay for auto liability insurance on vehicles that teens drive on their own. In the event a teen causes an accident, their parents can expect anyone injured to seek compensation through their liability insurance.
However, Texas civil law does not address parental liability for a child's accidental damage to another party's property or for inflicting personal injury on another person. Texas Family Code Chapter 41 describes parental liability for a child's conduct but only refers to property damage caused by willful and malicious conduct.
In such a case, the statute limits liability for property damage to the true value of the harm done up to $25,000 per occurrence, plus court costs and reasonable attorney's fees.
A claim for accidental personal injury (including property damage) against a child's parents would have to cite parental negligence. The claim would assert that the parents knew of their child's propensity to do harm and failed to take reasonable steps to correct or arrest (stop) the behavior, such as by not letting them have the keys to the car or asserting that they were negligent in trusting them with the car.
Such a claim would be supported by evidence of the teen's prior negligent or reckless driving, such as a previous speeding ticket, DWI charge, or accident. A parent who allowed a child younger than 18 to drive in violation of Texas GDL Phase Two restrictions may be held liable, as well.
The compensation available if you have suffered an injury caused by a teenage driver could include payment for your:
Medical expenses
Vehicle repair/replacement cost
Physical pain
Mental anguish
Disfigurement caused by scarring or loss of limbs
Reduced ability to earn income
Loss of quality of life.
Contact Our Austin Teenage Car Accident Attorneys
If a teenage driver caused a car accident in Texas that left you or your loved one seriously injured, the teenage car accident attorneys of Herrman & Herrman are here to help. We can assess your case and explain your legal options at no charge. We will not charge you for additional legal work unless we recover compensation for you.
For more information or to schedule an appointment with one of our experienced attorneys, please contact us online or by phone at (361)-882-4357.
Our firm has offices in the following locations: Corpus Christi, Corpus Christi South Side, Brownsville, McAllen, San Antonio, Houston, and Ft. Worth, TX.