Beeville Drunk Driving Accident Lawyer
Our Beeville Drunk Driving Lawyer Fights for Victims of Drunk Driving Accidents
At Herrman & Herrman, P.L.L.C., we help people who have been injured by drunk drivers to obtain full and fair compensation for their medical expenses, lost wages, property damage, and pain and suffering.
If you have been involved in an accident caused by a drunk driver, our experienced drunk driving
accident lawyers in Beeville, TX
, are committed to helping you pursue justice. We believe that drivers who cause injuries to others by drinking and driving must be held accountable for their actions. With more than
20,000 successfully resolved cases
, our legal team has the skill and experience to help you pursue full compensation in cases involving alcohol-impaired drivers. Our experience in this area of the law can be of great benefit to you, and our cases are taken on a contingency fee basis. Let us help you.
Our Beeville Drunk Driving Accident Attorneys Establish Negligence Claims in Drunk Driving Accidents
If you have been injured or lost a loved one in a car crash with a drunk driver, you have enough to do in dealing with the tragic consequences of the accident, or the medical care and treatment needed. When you work with our firm, our seasoned car accident lawyers will engage with the insurance company or file a lawsuit when the insurance company fails to make a fair offer within a reasonable period.
We investigate the accident and obtain documentation, including witness statements and police reports. We work with experts who are respected in their fields to build a strong, fact-based case for an out-of-court settlement or take the case to trial when necessary.
Drunk Driving Statistics in The United States

Alcohol-impaired drivers accounted for 32.2 percent of all 2013 traffic deaths in Texas. The Texas Department of Transportation reports that more drunk driving crashes occurred between 2:00-3:00 a.m. than any other hour of the day, and more occurred on Saturday than any other day of the week.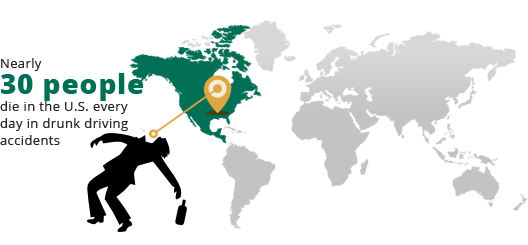 Across the nation, 10,322 people were killed in 8,364 alcohol-impaired fatal crashes in 2012. Nearly 30 people die in the U.S. every day in drunk driving accidents, which amounts to a death every 51 minutes, according to the Centers for Disease Control and Prevention (CDC). The annual cost is more than $59 billion for alcohol-related automobile accidents.

Among the 3,398 traffic fatalities in Texas in 2012, 1,296 (38 percent) occurred in accidents involving drivers with blood alcohol content (BAC) of .08 percent or higher. Drivers with a BAC of .15% or higher were involved in accidents that caused 901 (27 percent) of the 2012 vehicle crash fatalities.

The Consequences of Drunk Driving In Beeville
The consequences of drunk driving are serious and long-lasting. In many countries, impaired driving can lead to fines, revocation or suspension, and even jail time. Everyone needs to understand the law in their area and the potential consequences they can face.
When it comes to drunk driving, the law is clear: if you are found operating a vehicle with a blood alcohol content (BAC) over the legal limit, you will be charged and given serious penalties. Depending on the severity of your BAC level, your punishment may range from losing your license for a certain time, to a hefty fine, to even jail time.
If you are caught operating a vehicle with a BAC of over 0.08% – the legal limit in most areas – you can face up to 1 year in prison per offense due to the danger impaired driving presents on the roads. Additionally, those convicted of drunk driving may be required to attend mandatory alcohol education classes, install an ignition interlock device in their car, or perform community service.
It's important to remember that there are no shortcuts when it comes to drinking and driving – the risks are just too great. Taking public transportation, calling a taxi, or getting a designated driver is always the safest option if you plan on consuming alcohol. Don't risk jail time for drunk driving – make the right decision and stay safe.
The laws surrounding impaired driving are only getting stricter, so staying informed on your local laws is important. Educating yourself on the consequences of drinking and driving will help you make the right decisions regarding alcohol consumption while behind the wheel. And if you know someone drinking, don't let them get behind the wheel. By being responsible citizens and making the right decisions, we can all help reduce impaired driving on our roads.
A first offense results in 3 to 180 days in jail.
A second offense results in 1 month to 1 year in jail.
A third offense results in 2 to 10 years in prison. Third offense DWI is a felony in Texas, even if your first two DUIs occurred in other states.
It's never worth risking your safety or freedom by drinking and driving – take the time to ensure you have a plan before getting behind the wheel.
At the end of the day, the best way to avoid facing jail time for drunk driving is to not do it in the first place. Take a few extra minutes and make sure you have a plan to get around without putting yourself or others at risk. Stay safe!
Injured in a Beeville Drunk Driving Accident? Call Our Drunk Driving Accident Lawyers
We treat our clients with compassion and put their minds at ease by answering their car accident questions. We handle all aspects of their claims, including legal, medical, and financial needs. Our drunk driving accident lawyers in Houston, Corpus Christi, McAllen, Brownsville, and San Antonio have more than 100 years of combined experience. We consider it an honor to fight for clients who have been victimized by the wrongdoing of others.
Don't delay. Contact us to schedule a free initial consultation about your legal rights.
Our firm has offices in the following locations: Corpus Christi, Corpus Christi South Side, Brownsville, McAllen, San Antonio, Houston, and Ft. Worth, TX.
Sources:
CONTACT HERRMAN & HERRMAN P.L.L.C. AT 361.882.4357
Our firm has over 100 years of combined experience handling personal injury cases across Texas. Our outstanding record of favorable settlements and verdicts includes over 20,000 successfully resolved cases. Once we take on a case, we are relentless, and you can rely on us to pursue total compensation for you.
You can trust our attorneys to be compassionate and professional.
We will fight hard to obtain a fair settlement for you.
Our firm represents the injured and families who have lost a loved one due to the negligent acts of others.
We serve as counsel in various injury cases – including car, truck, motorcycle, bicycle, and pedestrian accidents, premises liability cases, product liability cases, and medical malpractice claims.
We can dispatch the Herrman & Herrman Accident Investigative Team to the crash scene to start an investigation and preserve critical evidence.