Motor Vehicle Accidents on I-45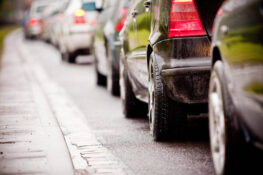 Residents of Harris County and other areas between Houston and Dallas know how dangerous it can be to drive on Interstate 45. In fact, I-45 is considered the most dangerous highway in Texas and one of the most dangerous highways in the country. 
If you have been injured in an accident on I-45 and someone else was at fault, our compassionate attorneys understand the ordeal you are experiencing. You may have a legal right to seek compensation from the at-fault driver's insurance. You should not be responsible for medical bills resulting from an interstate crash caused by another motorist. But you'll need legal help to pursue full compensation.
It's important to understand your legal options after a serious accident and whether you have a valid injury claim. Discuss the situation free of charge with an I-45 accident lawyer at Herrman & Herrman, P.L.L.C. At our law firm, we have the knowledge and skills to help you pursue full compensation for your losses. Get in touch with us today for a courtesy consultation. 
About I-45 in Texas
I-45 is an interstate that runs from Dallas through Houston to Galveston and the Gulf of Mexico. The stretch of highway between Houston and Galveston is commonly referred to as the Gulf Freeway. Despite being designated an interstate, the entire length of I-45 is located within Texas. I-45 is approximately 284 miles long.
I-45 passes through numerous small Texas towns on the route from Houston to Dallas. These towns and suburbs include Conroe, The Woodlands, League City, Huntsville, Spring, Madisonville, Centerville, Fairfield, Ennis, and Corsicana. The speed limit on I-45 is typically 70 miles per hour, but the Texas Transportation Commission has set a speed limit of 75 mph on certain rural sections of the highway.
Major junctions along I-45 include Beltway 8 and Sam Houston Tollway, I-10 in Houston, SH-99 Toll near Houston, Hardy Toll Road in Spring, US-190 in Huntsville, I-20 in Dallas, and I-30 in Dallas, where the highway officially ends. 
I-45 Ranks Among the Most Dangerous Roads in TX
According to reports, I-45 is both the most dangerous road in Texas and the second most dangerous highway in America. The most dangerous stretch of I-45 runs through Houston. In one recent year, there were 73 traffic-related deaths on I-45 in Houston alone. 
Some of the most common causes of accidents along I-45 include: 
Traffic congestion

– Anyone who has driven through Houston knows how congested Houston highways can be, particularly at rush hour. During Hurricane Rita, the road became so congested that traffic stood still for hours. People were forced to sleep in their vehicles overnight. 

Distracted driving

– Drivers generally need about 1.5 seconds to react to changing traffic conditions or road obstructions. Distracted drivers may not recognize potential hazards and react in time to avoid a collision. Unfortunately, distracted driving is rampant on I-45. Common driving distractions include texting, talking on the phone, adjusting a GPS, and other activities that take a driver's focus off the road. 

Impaired driving

– Drunk driving is a common cause of accidents on I-45, especially at night. Alcohol and drugs can impair a driver's judgment and slow their reflexes. Impaired drivers are especially dangerous on highways with heavy traffic such as I-45. 

Speeding

– Many drivers exceed the posted speed limit or drive too fast for traffic conditions on I-45. Speeding can be particularly dangerous on congested highways such as I-45. The faster a vehicle travels, the more distance it needs to stop safely. Drivers who speed on this highway often don't have sufficient time to stop safely and avoid a collision. If you have been injured by a speeding motorist, the at-fault driver should pay your medical bills. 

Highway construction zones

—Areas of the highway under construction or repair often require motorists to slow down, merge lanes or make detours. Heavy equipment and road workers on foot may be working in close proximity to passing vehicles. Drivers who do not slow down in highway work zones or remain alert for stopped vehicles or other traffic hazards often cause I-45 construction zone crashes.
I-45 Expansion Project and Construction Accidents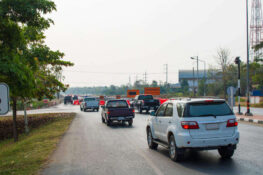 TxDOT has plans to widen I-45 and make other updates to increase safety and mobility. The planned expansion of I-45 would stretch from Downtown Houston to Beltway 8 North.
Known as the North Houston Highway Improvement Project, the planned expansion includes widening the interstate with the addition of four managed express lanes and rerouting the interstate to be parallel with Interstate 10 north of downtown. Many of the main lanes and frontage roads running alongside I-45 would be reconstructed as part of the project. 
Some in the community believe that widening the highway would not solve Houston's traffic problems. Indeed, there is evidence to suggest that expanding highways does not reduce congestion. Many Houston residents have emphasized the need for more public transportation rather than more roadways. 
However, the expansion project appears to be tentatively moving forward. The Texas Transportation Commission voted unanimously in 2021 to continue the project. 
While construction work is underway, I-45 is sure to be even more dangerous than it currently is. Houston residents may be used to road construction, but these zones can present numerous hazards to drivers.
Common causes of work zone accidents include: 
Work zone vehicles, barricades, and other equipment that juts out into the road

Loose gravel, uneven pavement, or unmarked lanes

Distracted driving

Speeding through construction zones

Aggressive or reckless driving 

Dust and debris that lower visibility

Badly marked lanes
According to the National Work Zone Safety Information Clearinghouse and National Highway Traffic Safety Administration (NHTSA) data, most of the fatalities that occur in work zone car accidents are drivers and passengers.
Tragically, more than 3,300 people were killed in road construction zones across the United States in a recent five-year period. Road construction zone accidents are a constant hazard. Motorists using I-45 in the coming months and years will need to exercise caution. 
Major Accidents on I-45
I-45 has been the site of many major accidents. Below are some of the accidents that recently occurred on this highway:
In May 2021, two police officers were

injured

in a major accident on I-45 in southeast Houston. The crash occurred on the Gulf Freeway and forced authorities to shut down parts of the highway. Two civilians were also injured in the crash. All four accident victims had to be hospitalized. 

On September 11, 2021, an

18-wheeler overturned

on I-45 in Houston. Although no one was seriously injured or killed in the accident, the overturned truck blocked multiple lanes of traffic and caused significant traffic delays. Another major

accident

involving an overturned 18-wheeler occurred in February 2021. 

On December 2, 2021, a 21-year old driver was

traveling the wrong way

in the southbound lanes of I-45 in Montgomery County when the driver crashed head-on into an 18-wheeler and was killed. 

On December 19, 2021, a woman traveling the wrong way on I-45 just after midnight struck two vehicles near the White Oak exit in Houston. The woman and a male passenger were killed in the wrong-way collision and two people in other vehicles were hospitalized.
If you have been injured in an accident on I-45 or elsewhere in southeast Texas, then you may be entitled to seek compensation for your medical expenses, lost wages, vehicle damage, pain and suffering, and more.
A seasoned I-45 accident attorney at Herrman & Herrman can help you understand your options and pursue an injury claim against the at-fault driver. In multi-vehicle accidents on I-45, more than one insurance company may have financial liability for your injuries. You need a determined I-45 crash lawyer to stand up for your rights.
Learn how our law firm can help you if your life has been disrupted by a serious accident. Don't settle for less than full compensation.
Contact Herrman & Herrman Today!
Our law firm has extensive experience in personal injury law, having handled more than 20,000 cases. We have office locations in Ft. Worth, Brownsville, McAllen, Corpus Christi, Corpus Christi South Side, San Antonio, and Houston. Herrman & Herrman has Spanish-speaking and English-speaking staff so you can discuss your legal matter in the language that you feel most comfortable speaking.
Contact us today at (361) 882-4357 for a free, no-risk consultation to find out how our team can help you with your car accident case.