Houston Trench Collapse Lawyer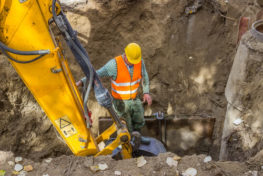 Construction workers often have to dig large trenches in the earth in order to lay down pipes. One of the dangers of working in a trench is becoming trapped underneath tons of earth, debris and construction materials during a collapse. A trench collapse often results in serious injuries and sometimes death.
It is important for injured construction workers and the families of those who have been killed in trench collapse accidents to speak with an experienced lawyer regarding your legal rights. At the law firm of Herrman & Herrman, P.L.L.C., our Houston attorneys work to make sure that our clients receive the compensation necessary to pay for the financial burdens associated with such accidents.
Houston Trench Accidents and the Causes of Trench Collapses
There are strict safety regulations that are designed to keep construction workers safe. Unfortunately, when these regulations are disregarded or ignored, and when other missteps are made, it can result in highly dangerous conditions for those working in trenches. Additionally, the poor manufacturing or design of construction machinery used in trenches and other construction projects can also result in serious accidents.
People who are injured or have loved ones who have been injured are entitled to receive compensation for medical bills, lost wages, damages and related expenses. Our attorneys can provide clear guidance and honest advice both inside and outside of the courtroom. We will also keep you informed every step of the way.
Contact our Houston trench collapse attorneys for a no obligation free consultation.
Contact us at Herrman & Herrman, P.L.L.C., for more information and to schedule a free initial consultation with one of our experienced Houston attorneys.
Our firm has offices in the following locations: Corpus Christi, Corpus Christi South Side, Brownsville, McAllen, San Antonio, Houston, and Ft. Worth, TX.