Houston Jack-Up Rig Accidents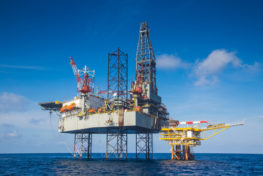 A jack-up rig is a type of mobile oil platform that uses supporting legs to balance the rig on the seafloor. These legs may be raised or lowered in order to maneuver the rig. Typically used in shallow waters, jack-up rigs continue to be built around the world for oil and natural gas drilling. Jack-up rig workers face a number of hazardous conditions when working on these platforms.
At Herrman & Herrman, P.L.L.C., our Houston offshore injury lawyers represent individuals who work on jack-up rigs and other drilling rigs throughout Texas and the Gulf Coast. For nearly two decades, our attorneys have helped injured workers and their families with personal injury claims. We have a thorough understanding of the laws involved with these claims and how to pursue the appropriate compensation for our clients.
Oil Drilling Accident Liability with the Help of Our Houston Oil Rig Accident Lawyer
Accidents on jack-up rigs can result in very serious and sometimes life-threatening injuries to the head, neck, back, and limbs. Adequate steps need to be taken in order to protect workers in these types of conditions. Negligence of employees, managers, oil rig operators, property owners, and others can cause injuries from falls from heights, explosions, fires, exposure to chemicals, and electrocution.
We work to identify fault, evaluate liability and determine whether regulations have been broken in the process. Our firm is also able to handle the complexities of litigation following a jack-up rig and other drilling accidents.
Contact our Houston jack-up rig accident attorney for a no obligation free consultation.
For more information regarding our offshore worker representation in Texas, schedule an appointment with our experienced lawyers. Contact us at one of our offices in Corpus Christi, Corpus Christi South Side, Brownsville, McAllen, San Antonio, Houston, and Ft. Worth at 844-426-3000.