Houston Oil Platform Construction Accidents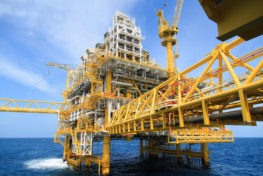 The construction of oil platforms and oil rigs is often a dangerous task for workers on the project, particularly when proper safety measures are not taken during the process. The negligence of construction supervisors, co-workers, manufacturers, and other third parties can often contribute to accidents during oil platform construction that results in serious injuries.
At Herrman & Herrman, P.L.L.C., we pride ourselves in aggressively representing oil platform construction workers and their family members following a serious accident. Our firm has significant experience and legal knowledge, in addition to a network of industry experts, which helps us thoroughly investigate accident cases in Texas. We will use our resources to assist clients and their families throughout the process.
Our Work Accident Law Firm and Offshore Worker Accident Lawyers Have Been Helping Injured Oil Workers in Houston
While there are many risks involved for workers while extracting oil and gas on an offshore platform, there are also many risks involved with the construction of those platforms, given the volatile and hostile environments in which these construction projects take place. While there are safety regulations in place that are designed to promote worker safety, these regulations are sometimes disregarded in the name of greater profits.
Our attorneys have been helping injured oil workers for nearly two decades with their personal injury and offshore worker claims, including claims under the Jones Act. They have a comprehensive knowledge of the laws that impact these claims and the complexities of cases that involve injured or killed workers in oil drilling accidents.
Were you injured in oil platform construction accidents? Our Houston oil platform construction accident attorney can help.
For more information regarding your legal rights after an accident, talk with an experienced Texas oil refinery accidents attorney who will focus on fighting for you. Contact us at our Houston, Corpus Christi, Corpus Christi South Side, Brownsville, McAllen, San Antonio,  and Ft. Worth office toll-free at 844-426-3000.