Houston Oil Refinery Accident Law Firm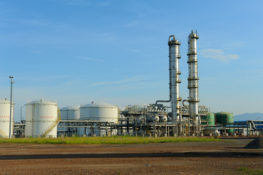 Hardworking Houston residents take great risks every day when working in an oil refinery. However, that does not excuse the negligence of refinery owners and managers that leads to serious, career-ending injuries.
Our Houston oil refinery accident law firm has the experience in handling complex injury claims such as oil refinery accidents.
At Herrman & Herrman, P.L.L.C., our oil rig injury attorneys bring a combined 100 years of experience in handling complex injury claims. Injuries from fires and explosions can be catastrophic and sometimes fatal. We attend to every detail of a claim, from investigating the circumstances that led to an injury, to fighting for the best resolution on behalf of our clients.
If you have been injured or a loved one has been killed in an oil refinery accident in Houston, contact us at our Houston office at (713) 565-1899 for a free consultation and review of your case.
Act fast when oil refinery disasters happen such as Houston oil refinery explosion.
Cases that involve fires and explosions at oil refineries result in not only workers' compensation claims, but also third-party lawsuits. We take immediate action upon representing a case. Refinery owners may cover their tracks when a worker gets injured. Our work injury lawyers move quickly to secure a restraining order to prevent the refinery from making repairs or modifications. We want to stop the company from destroying evidence and cleaning up the mess that left the employee injured.
Investigators visit the accident site to help us build a fact-based claim. Upon filing a lawsuit, we identify fault through discovery, OSHA reports, interrogatories and depositions. Because of our past experience litigating refinery explosions that caused burns and toxic emissions, we can handle the complexities and overcome the hurdles that the opposing side often presents in these types of cases.
Speak with our Houston oil refinery accident attorney today for a no obligation free consultation.
For more information or to schedule an appointment with an experienced lawyer, please contact us first!
Our firm has offices in the following locations: Corpus Christi, Corpus Christi South Side, Brownsville, McAllen, San Antonio, Houston, and Ft. Worth, TX.