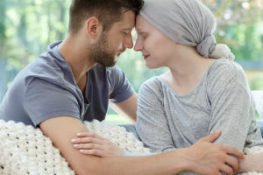 Are you among the thousands of women who have developed ovarian cancer after regular use of talcum powder such as Johnson's Baby Powder? Our attorneys share your outrage at the manufacturer's refusal to warn consumers of the possible cancer risk associated with products containing talcum powder.
The attorneys at Herrman & Herrman, P.L.L.C. are ready to fight for you if you have been diagnosed with ovarian cancer after regular use of talcum powder. Our compassionate product liability attorneys recognize that you are going through a difficult time if you are undergoing treatment for ovarian cancer.
You need compassion, support, and trusted guidance. Our talcum powder cancer attorneys are committed to the principle that manufacturers should be held accountable when they produce unsafe products and when they fail to warn of known dangers.
Manufacturers that fail to provide adequate warnings of the risks of using their product can be held accountable through product liability lawsuits.
Herrman & Herrman PLLC is currently accepting clients who have been diagnosed with ovarian cancer after regular use of baby powder and talcum powder products.
Filing a lawsuit against the manufacturer of a defective product may provide you compensation to pay for your medical bills and relieve financial distress.
We can handle the legal issues while you focus on your cancer treatment and recovery.  A lawsuit also can draw attention to a public safety concern and prevent others in Corpus Christi, Corpus Christi South Side, Brownsville, McAllen, San Antonio, Houston, Ft. Worth and the Rio Grande Valley from suffering similar harm.  If we represent you, we will handle your case on a contingency fee basis, so you will not have any upfront costs.
Does Talcum Powder Cause Ovarian Cancer?
Talc is a clay-like mineral that is used as a drying agent. When ground into fine white particles, talcum powder may be used to absorb moisture and keep skin dry, reducing friction and preventing skin rashes. It is used in cosmetics and personal hygiene products.
The primary talc products used for personal hygiene are Johnson's Baby Power by Johnson & Johnson, Shower to Shower by Valeant Pharmaceuticals, and Baby Magic baby powder by Naterra International.
According to medical research published in the International Journal of Gynecological Cancer, regular use of talcum powder products in the genital area for feminine hygiene raises the risk of ovarian cancer by 30 to 60 percent.
A study published in 2014 in Cancer Prevention Research found that the use of genital talcum powder is linked to "a 20 to 30 percent increase in the risk of developing epithelial ovarian cancer."
The cancer association with talc was first theorized in a 1971 article published in The Journal of Obstetrics and Gynaecology of the British Commonwealth.
In the article, a group of gynecologic oncologists observed that 75 percent of the ovarian and cervical tumors they removed from 13 women contained particles of talc.
Since that time, multiple studies have suggested an increased ovarian cancer risk among women who used talc products for personal hygiene. The issue remains the subject of ongoing medical research.
The American Cancer Society says there is "some suggestion of a possible increase in ovarian cancer risk" from using consumer products containing talc, but that the studies of personal use of talcum powder have produced mixed results.
Some Manufacturers Add Warnings of Cancer Risk of Talcum Powder
Some manufacturers of baby powder products have added warning labels to their personal hygiene products, permitting consumers to make an informed choice about whether to use the product.
Angel of Mine Baby Powder has a warning stating: "Frequent application of baby powder in the female genital area may increase the risk of ovarian cancer."
Spring Fresh Powder, which is available at Walmart, contains the warning: "Medical evidence suggests that women who use talcum powder as a feminine hygiene product run a greater risk of developing ovarian cancer."
Other manufacturers such as Johnson & Johnson have declined to add warnings to their products or to change the ingredients in the product despite multiple published studies suggesting a possible cancer risk.
In 1994, the Cancer Prevention Coalition wrote to Johnson & Johnson and urged the company to remove its talc products from the markets, use safer cornstarch powders instead or at least add warning labels about the risk of ovarian cancer. The company declined the request.
Talcum Powder Cancer Lawsuits
More than 6,000 lawsuits have been filed alleging that Johnson & Johnson has failed to warn consumers of the cancer risk linked to using talc powder.
A manufacturer has a legal obligation to warn users of any known hazards associated with the product unless the risk is so plain that a warning should not be needed.
Presented with cases of women struggling to survive ovarian cancer, several juries have strongly agreed that Johnson & Johnson should have added warning labels to its products.
The juries have delivered resounding verdicts in favor of women harmed by talc products and ordered Johnson & Johnson to pay tens of millions of dollars of compensation to the victims.
If you are dealing with ovarian cancer and have used baby powder or talcum powder as part of your daily hygiene, you and your loved ones should understand your rights to demand compensation for your medical bills, pain, and suffering, and the other effects cancer has had on you and your family.
Contact Texas Attorneys Investigating Talcum Powder Cancer Cases
If you have questions about whether a product containing talcum powder caused your ovarian cancer, call us for a free initial consultation and explanation of your legal rights.
The attorneys at Herrman & Herrman P.L.L.C. offer more than 100 years of legal experience in representing people who have been harmed by unsafe products. Our legal team is ready to fight hard for the full compensation that you will need after an ovarian cancer diagnosis.
Our firm has offices in the following locations: Corpus Christi, Corpus Christi South Side, Brownsville, McAllen, San Antonio, Houston, and Ft. Worth, TX.