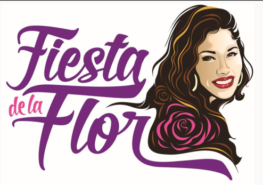 It's finally time to pop in your favorite Selena CD you've kept over the years, put it into your car and drive down Ocean drive to the second annual Fiesta de la Flor! Many events have been added this year as the festival has almost doubled in size and expanded from downtown's North Bayfront Park to include the American Bank Center and the Art Museum of South Texas. Added attractions will be the silent disco located in the Upper Gallery, an expanded kids' zone, a booth hosted by the Texas State Aquarium and games provided by the Museum of Science and History. Another added attraction will be the McDonald's Fiesta Tour bus. The bus hosts a Latin Grammy experience as a museum on wheels. It will start its tour here in Corpus Christi at the Fiesta de la Flor and travel to 19 other cities across the United States. It includes a recording studio photo booth, memorabilia displays, and trivia games.
The El Mercado section, sponsored by Herrman and Herrman, has nearly doubled in size hosting an astounding 75 artisans expected to come from Mexico, Central America, South America, and from across the United States. This year the market will be located inside the American Bank Center to make room for all the vendors. Be sure to swing by the Herrman and Herrman booth and enter for your chance to win a T.V, iPad Air, Xbox One, PS4, and many other prizes!
Another festival favorite are the food trucks! Nearly 45 food trucks are estimated to attend this year with some hailing from cities such as Austin, Houston, and San Antonio. For those seeking to kick back and enjoy a nice flick, the Selena Auditorium will be playing the movie "Selena" throughout the weekend. Times are at 11 a.m., 2 p.m., 5 p.m., and 8 p.m.
There will be a solo center stage where fans will be able to see their favorite performers live, as well as multiple big screens displayed around the festival to ensure everyone is able to see and enjoy performances.
On Friday, May 6, performers include up-and-coming artist Isabel Marie, Pete Astudillo, Erick y Su Grupo Massore and multi-Grammy Award winner and the King of the Accordion, Ramon Ayala.
Saturday, May 7, entertainment will once again include artist Isabel Marie, Corpus Christi favorite Clarissa Serna, Tejano artist from California Jorge Moreno, Grammy-Award winner Chris Perez, Tejano great David Lee Garza, multi-Grammy Award winner Elida Reyna y Avante, legendary artists Fito Olivares and Ruben Ramos and four-time Grammy winners La Mafia.
This year is expected to draw more than 70,000 fans to the festival, a stunning 20,000 more than last year's turnout which left a $13 million impact on the city of Corpus Christi. Don't be left out of this budding Corpus Christi tradition and come and enjoy an array of music, artists, great food, and beautiful scenery. After all, "Anything for Selenas!"