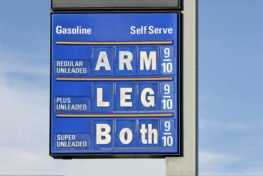 If you have turned on the TV in the last two weeks, you would have almost certainly seen coverage on Hurricane Harvey. "[Harvey] is an active tropical cyclone that is causing unprecedented and catastrophic flooding in southeastern Texas. It is the first major hurricane to make landfall in the United States since Wilma in 2005, ending a record 12-year period with no major hurricanes making landfall in the United States. Harvey is also the first hurricane to hit the state of Texas since Ike in 2008, and the strongest to hit the state since Carla in 1961. In addition, it is the strongest hurricane in the Gulf of Mexico since Hurricane Rita in 2005 and the strongest to make landfall in the United States since Hurricane Charley in 2004. It joined Matthew as one of only two U.S. hurricanes to cause an extreme wind warning to be issued, indicating "tornado-like winds" within the storm including isolated tornadoes.
The eighth named storm, third hurricane, and the first major hurricane of the 2017 Atlantic hurricane season, Harvey developed from a tropical wave to the east of the Lesser Antilles, reaching tropical storm status on August 17. The storm crossed through the Windward Islands on the following day, passing just south of Barbados and later near Saint Vincent. Upon entering the Caribbean Sea, Harvey began to weaken due to moderate wind shear and degenerated into a tropical wave north of Colombia early on August 19. The remnants were monitored for regeneration as it continued west-northwestward across the Caribbean and the Yucatán Peninsula, before redeveloping over the Bay of Campeche on August 23. Harvey then began to rapidly intensify on August 24, regaining tropical storm status and becoming a hurricane later that day. While the storm moved generally northwestwards, Harvey's intensification phase stalled slightly overnight from August 24–25, however, Harvey soon resumed strengthening and became a category 4 hurricane late on August 25. Hours later, Harvey made landfall near Rockport, Texas, at peak intensity.[1]"
There have been reports that Store Owners in Corpus Christi, TX and other hurricane-affected areas have been gouging prices on survival essential items, like canned food and water. Texas law prohibits businesses from charging exorbitant prices for gasoline, food, water, clothing, and lodging during declared disasters. The Texas Governor declared a disaster early in the Hurricane Harvey Destruction.
Attorney General Ken Paxton's office received more than 75 consumer grievances related to Hurricane Harvey price gouging from Thursday to Friday, as reported by the Houston Chronicle Friday.
There were photos taken of the Academy Sports and Outdoors in Corpus Christi, TX that was trying to sell cases of water for $42/ case. If you have evidence of a store committing the crime of price gouging, please report the crime to AG Ken Paxton's office.
[1] https://en.wikipedia.org/wiki/Hurricane_Harvey