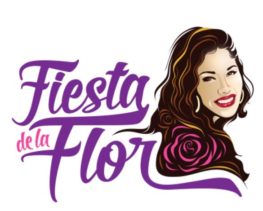 Congratulations to our ticket winners for Fiesta de la Flor 2017! We hope you enjoy the food, concerts, and the many other festivities that will be offered this weekend. If you didn't win any tickets, we still hope to see you there. We will be giving away other prizes at the festival. This is the festival's third anniversary and will showcase an abundance of food trucks, a spectacular line-up for both days, and numerous vendors from around the world.
Be sure to swing by our table inside El Mercado and sign up for a chance to win our Fiesta Prize Giveaway! We will be giving away a brand new flat screen tv, a Selena goodie bag filled with Selena essentials such as a poster, the Selena movie, a Selena hat, Selena greatest hits cd, and much more. We will be there all night Friday, and all day Saturday. Can't wait to see you all there!
IF YOU GO
When: 5:30 p.m. to midnight Friday and noon to midnight Saturday
Where: North Bayfront Park, 1500 block of Shoreline Boulevard
Cost: $10, one-day advance tickets, $15, two-day pass, free for children 7 and under. Ticket prices increase to $15 per day on festival days.
The fun doesn't stop at the festival. The Outlets at Corpus Christi Bay is encouraging fans to share their best Selena looks and their most fashionable festival looks at Fiesta de la Flor. You can share by uploading your pictures and tagging @ShopOCCB and @FiestaFlorCC and with the hashtag #FDLF. Two winners will be selected from photos uploaded during the festival. On Sunday, shoppers can meet Tejano artists Ricardo Castillon, AJ Castillo, Shelly Lares, and Stefanie Montiel. They will be signing autographs from 1 pm to 3 pm at the outlets in Robstown.
IF YOU GO
When: Sunday, 1 p.m. to 3 p.m.
Where: Outlets at Corpus Christi Bay, 500 N. Highway 77, Robstown
Cost: FREE