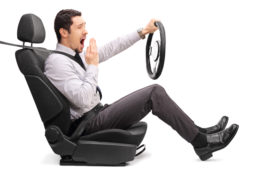 Most motorists do not intentionally put themselves, their passengers or their fellow travelers in danger. However, motorists become a moving hazard when they doze off behind the wheel. Unfortunately, car accidents caused by drowsy drivers occur all too often. According to a recent study released by the Centers for Disease Control and Prevention (CDC), drivers engage in the drowsy operation of their vehicles more frequently than Americans might generally suspect.
The CDC's study was based on a survey in which one in 24 American adults admitted to falling asleep at the wheel in the previous month alone. Experts suggest that the real number of adults who have fallen asleep at the wheel at any given time is far higher than the statistic produced by voluntary admission. First, because adults do not generally care to admit to destructive behaviors. Second, because many adults are unaware that they are nodding off when the behavior only occurs for an instant.
Some drivers are more prone to engage in drowsy driving behavior. Specifically, those who live in Texas, individuals aged 25 to 34, men and those who average fewer than six hours of sleep nightly all statistically engage in drowsy driving more frequently than the general population.
As if that wasn't surprising enough, as many as one-third of fatal car wrecks are caused by drowsy drivers. Yet, the public is not as educated about this issue as it is about drunk or distracted driving. For the benefit of yourself and everyone else on the road, please make sure that you catch an appropriate amount of Zzzs before you place a key in your ignition.
If you have been injured due to the negligence of another, please contact the personal injury law office of Herrman & Herrman, P.L.L.C. to speak with an experienced lawyer. Call 361-882-4357 to schedule your free consultation today!