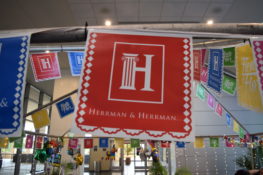 Herrman & Herrman. P.L.L.C. is proud to announce that the law firm will be the Presenting Sponsor of the sixth annual Fiesta de la Flor, scheduled for April 17-18, 2020, in Corpus Christi.
Each spring, the two-day event at North Bayfront Park attracts thousands of fans of all ages to celebrate the music and legacy of Tejano music superstar Selena Quintanilla, the Queen of Tejano. The festival showcases Tejano culture and the cultural contributions of Mexican Americans to Texas.
"Selena is loved by millions of fans and Fiesta de la Flor is one of the signature cultural events in our community," said Greg Herrman, managing partner of Herrman & Herrman, P.L.L.C. "We wanted to ensure through our participation as the Presenting Sponsor that the festival remains in Corpus Christi in 2020."
Herrman and Herrman's support of community events such as Fiesta de la Flor, the Beach to Bay Relay Marathon and the Making Strides Against Breast Cancer fundraiser walk reflects the firm's commitment to being a civic leader and giving back to the communities in the Coastal Bend and the Rio Grande Valley.
With the departure of the former Presenting Sponsor of Fiesta de la Flor, Herrman & Herrman decided to step forward and increase its financial support to ensure the festival's continuing vitality and success in 2020.
During her lifetime, Selena created a lasting musical legacy. She remains an inspiration to many people in her hometown of Corpus Christi, and the festival honoring her brings the whole community together.
"We are proud of our law firm's legacy of community support and involvement with many worthwhile charitable groups and community events over the years," Herrman said. "Looking ahead, we are proud to be the Presenting Sponsor of Fiesta de la Flor in 2020."
Greg Herrman leads a team of dedicated attorneys and staff who help individuals and families who have sustained serious personal injuries and need a strong legal advocate. The law firm serves Corpus Christi, McAllen, and the Rio Grande Valley and handles all kinds of injury cases. The attorneys and staff at Herrman and Herrman care about the South Texas communities where we live and work and recognize the importance of giving back to them.