Construction Injury Lawyer in Brownsville, TX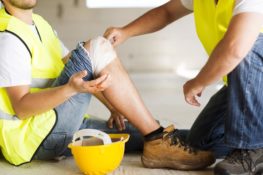 From maintenance on local highways to erecting new buildings to numerous projects at the Port of Brownsville, the construction industry is a major employer in the Brownsville area. While these types of jobs often provide workers with fair wages that allow them to provide for their families, the work is grueling and sometimes dangerous.
The Bureau of Labor Statistics (BLS) reported that there were 138 fatal injuries among construction and extraction occupations in Texas in 2017, 129 specifically in construction. Construction injuries included 30 transportation accidents, 44 falls, slips, or trips, 23 exposure to harmful substances, and 23 contact with objects or equipment injuries.
Construction accidents can include a variety of different types of incidents, and some accidents, unfortunately, result in severe or possibly even fatal injuries. Accidents involving heavy equipment, in particular, can cause catastrophic injuries, and victims could require several weeks, months, or even years of medical care.
Construction accident cases can be complicated because injured workers are not allowed to file lawsuits against their employers when the company carries workers' compensation insurance. Workers' compensation is intended to provide injury benefits to an injured worker and protect the employer from claims, but the protection is not afforded to employers without this coverage or any negligent third parties.
If you suffered serious injuries or your loved one was killed in a construction accident in Brownsville, you could be entitled to compensation through either your employer's workers' compensation coverage, a personal injury claim, or in some instances, both.  If you've been hurt on a construction site in Brownsville, you will want to be sure that you are working with an experienced construction accident attorney to make sure that you get the maximum amount of compensation that you are owed.
Herrman & Herrman, P.L.L.C., has successfully resolved more than 20,000 cases, and we have achieved multiple six- and seven-figure verdicts and settlements. We protect injured workers and others in the Brownsville area, and we're ready to stand up for you. Have us review your case and answer all of your legal questions when you call (361) 882-4357 or contact us online to set up a free consultation.
When to hire an injury lawyer in Brownsville
If you've been hurt in a construction accident in Brownsville, you should contact an attorney as soon as possible to discuss your rights and protect any workers' compensation or injury claim that you might have to file. There are a few other steps that you should take immediately as well, which we'll discuss here.
After you have been hurt in a construction accident, your first priority must always be to protect your health by seeking medical attention. If you've been severely injured, make sure that someone calls for emergency medical services. If your injury seems less severe, make an appointment with a doctor as soon as possible.
You should also report any accident to your employer. When it is possible, try to take as many pictures as you can of everything involved in your accident. Remember that this vital evidence could be cleaned up or disappear, so take multiple pictures from several different angles and distances.
After reporting the accident and receiving medical care, make sure to consult with a construction accident lawyer as soon as you can. An attorney will be able to assist you in multiple ways, including investigating the accident, informing you of your rights to compensation, ensuring that your employer provides you with the full benefits you are owed, and identifying if any third party (like a contractor, equipment manufacturer, or property owner) was negligent and contributed to your accident.
Difference between personal injury and bodily injury
Personal injury and bodily injury are often used interchangeably, but the two phrases have separate and distinct definitions when it comes to insurance coverage. If you have bodily injury coverage and are involved in, for example, a vehicle collision, the bodily injury coverage portion of your insurance policy will pay for the other person's injuries or funeral expenses but will not pay you for any of the injuries you suffer. This coverage exists to protect you from injury lawsuits filed against you by other injured parties.
The personal injury protection (PIP) portion of your insurance policy will reimburse you for medical expenses for yourself, any passengers in your vehicle, and any pedestrians you have hit. In the tragic event of a fatal crash, this coverage will also pay for funeral expenses. If you were at fault for the accident, this coverage will still be available to you.
How do construction accidents happen?
An injury claim could stem from any one of a number of possible construction accidents, including but not limited to:
Burn injuries
Motor vehicle accidents
Explosions
Defective machinery or equipment
Operator negligence
Crane accidents
Scaffolding collapses
Elevator accidents
Falling objects
Structure collapses
Exposure to harmful substances
Chemical spills
Electrocutions
Fires
Trench collapse
Repetitive motion injuries
Lead poisoning
Heat stroke
Respiratory diseases
Demolition accidents
Welding accidents
The Occupational Safety and Health Administration (OSHA) refers to the four leading causes of fatal injuries in the construction industry as the "Fatal Four." The Fatal Four includes falls, struck by an object, electrocution, and caught-in/between accidents.
Spanish accident attorney near me in Brownsville
The BLS reported that 27.3 percent of workers in construction were of Hispanic or Latino ethnicity in 2014, and many workers reported having limited or no fluency in English. This can create significant problems when a person who speaks Spanish cannot accurately convey their condition to first responders or communicate with other representatives at the scene of a construction accident.
While courts often provide translators for individuals who speak Spanish, there are still numerous other aspects of a construction accident workers' compensation or personal injury claim that can be confusing and overwhelming for people whose first language is not English. You need to be able to communicate comfortably with the lawyer who is handling your case so you can be confident that you are getting the best possible legal representation.
Herrman & Herrman, P.L.L.C., is a bilingual firm with both Spanish and English-speaking staff. We understand that many construction accident victims have never had to deal with an injury claim before, and our team will take the time to make sure that you understand everything that is happening in the language you are most comfortable with.
Construction accident victims who speak Spanish must be especially cautious in their dealings with insurance companies, as many insurers routinely pressure victims into accepting settlements that they mistakenly believe are their only chances are recovering compensation. When you work with Herrman & Herrman, P.L.L.C., we will be sure to fight to make sure that you recover every last dollar of compensation you need and deserve.
Why choose Herrman & Herrman for your construction accident claim
Herrman & Herrman, P.L.L.C. has more than 100 years of combined experience handling personal injury claims. As soon as you contact us, we can dispatch our construction accident law firm investigative team to the scene to start an investigation.
Our attorneys will be able to evaluate and determine the real value of your claim, and we will know what steps must be taken to make sure that you can recover as much compensation as possible. We can negotiate with an insurance company for a just settlement, but we will still prepare your case for trial and will not be afraid to file a lawsuit when such action is necessary to recover an appropriate amount.
Herrman & Herrman, P.L.L.C. sponsors the Lucha Kaboom event at the Dia de Los Muertos festival in Corpus Christi and has an annual Innovation Scholarship essay contest that gave $5,000 in prizes to young people to further their educations.
Our firm also presented the 3rd Annual Texas Body Paint Festival in McAllen, sponsored Fiesta de la Flor in McAllen, and donated $1,000 and collected toys for foster children to the Open Arms Agency. We also participated in Lemonade Day festivities in both McAllen and Corpus Christi.
Our firm also handles every case on a contingency fee basis. This means that you will not have to pay any upfront legal fees, as we only collect a portion of your monetary award.
Herrman & Herrman, P.L.L.C. has an office in Brownsville as well as locations in Corpus Christi, Corpus Christi South Side,  McAllen, San Antonio, Houston and Ft. Worth. Call (361) 882-4357 or contact us online to take advantage of a free consultation.