Spinal Cord Injury Attorneys in Brownsville, TX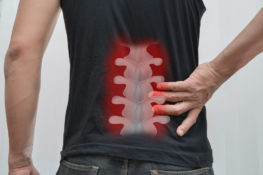 Did you or your loved one suffer a spinal cord injury in a car wreck, slip and fall, work accident, or another traumatic event caused by someone else's negligence? Are you struggling to pay for medical bills and other expenses? You may be entitled to seek compensation.
At Herrman & Herrman, our spinal cord injury lawyers are dedicated to helping people whose lives have been turned upside down by other people's reckless acts.
As demonstrated by our reviews from former clients, case results, and deep commitment to community service, our Brownsville injury lawyers care about helping our neighbors and friends across Texas rebuild their lives after a serious setback.
If you or your loved one is suffering from a spinal cord injury caused by someone else's fault, you need compassion and dependable legal advice. Our attorneys want to help you get the full compensation available by law. We know that you are going through a difficult time.
With more than 100 years of combined legal experience, a dedicated accident investigation team, and four offices across Texas, we have the resources and skill to tackle complex catastrophic injury cases.
Contact a Brownsville spinal cord injury lawyer at Herrman & Herrman for a free case review. We have English- and Spanish-speaking attorneys and staff available to speak with you. Call us at 361-882-4357 or chat live to discuss your claim.
Most Common Causes of Spinal Cord Injury
A spinal cord injury is a potentially life-altering injury and can happen in lots of ways.
Some of the most common causes of spinal cord injuries include:
Slip and fall accidents. A devastating fall can occur anywhere and at any time. These are most common with people over 65.
Car wrecks, truck collisions, and other motor vehicle accidents. Crashes like these are responsible for around half of spinal cord injuries.
Gunshot wounds, knife attacks, military combat, and other violent assaults.
High-impact sports. Injuries from hits in football, diving accidents, and other contact sports cause about 10% of spinal cord injuries.
Types of Spinal Cord Injury
Accidents can cause a wide range of spinal cord injuries, with some having more long-term impacts. Common types of spinal cord injuries include:
 Slipped or ruptured disks. When an accident dislocates the pads between vertebrae, a victim can experience debilitating pain, weakness, and difficulty using arms and legs.
 Spinal fractures. Fractures may include dislocation, compression, bursts, or other vertebrae injuries that affect the spine and bodily functions that depend on the spine.
 Injuries to soft tissue. The muscles, ligaments, and tendons surrounding the spinal cord are incredibly sensitive, and any injury can cause excruciating pain.
How Much is a Back Injury Claim Worth?
A spinal cord injury may cause lifelong complications. Any settlement needs to cover both immediate costs and future expenses such as the costs of remodeling a home to make it wheelchair accessible and hiring an assistant to help with daily tasks, if needed.
At Herrman & Herrman, we help clients seek settlements that reflect the seriousness of their injuries. Each spinal injury different, so it's impossible to know exactly how much your back injury claim is worth. However, a spinal injury claim may seek compensation for:
Medical bills for surgery, hospital stays, doctor visits and rehabilitation
Future medical expenses, including physical and occupational therapy and long-term care
Disability accommodations, such as changes to your home or vehicle
Income lost during recovery, including wages, vacation, and sick time
Loss of future income
Pain and suffering
Loss of consortium, companionship, or ability to participate in activities you used to enjoy
Emotional distress
Insurance companies and the courts take many factors into account when they decide how much a case is worth. One factor is who was responsible. If you were partially responsible for your accident, you may still be eligible to seek compensation for your injuries. However, the amount may be reduced, depending on how much you were at fault for the injury.
If you think your accident was caused by someone else's negligence, it's important to seek the help of a qualified spinal cord injury lawyer who can help prove who was responsible and fight for the money you're owed.
What Can I Do If I Suffer a Back Injury at Work?
A work-related back injury can cost you tens of thousands of dollars in medical expenses and time away from work. If you have suffered a back injury from a fall, lifting, or other accident at work, you might be able to claim worker's compensation to help cover the costs of your injuries.
If you were injured on the job, the first priority is your health. If you didn't see a doctor when the accident happened, visit a medical professional as soon as possible to have your injuries evaluated. The medical report will be a critical piece of evidence if you need to file for worker's comp. The report can help you prove that a work-related accident caused your injuries.
Before you file a worker's comp claim, tell your employer about your injuries. In Texas, you must notify them within 30 days of the accident, or you will typically lose your rights to get anything from worker's compensation. The state of Texas does not require employers to have workers' compensation insurance to cover workplace accidents.
A knowledgeable Brownsville lawyer can help you determine whether your employer has workers' compensation to cover work-related spinal cord injuries. To make a worker's compensation claim, you must be able to prove that the injury happened at work or at a work-sponsored event while you were doing something within the scope of your employment.
If you are required to drive as part of your job, injuries that occur in a traffic accident while you were working may be covered as well, depending on the circumstances.
An experienced Brownsville back injury lawyer at Herrman & Herrman can help you understand your legal options and negotiate with the insurance company on your behalf for a full settlement. If workers' compensation is not available, you may have a right to file a personal injury claim seeking to recover damages.
What Can I Do If I Suffer a Back Injury In a Car Accident?
If you think you have suffered a back injury in a car accident, see a doctor as soon as possible to have your injuries evaluated. Some of the impacts of back injuries may not be obvious immediately after the accident. The physician's medical records documenting your injuries will also be a critical piece of evidence if you file a claim. The doctor's report can show the severity of your injuries and help pinpoint the cause.
Next, contact an experienced back injury lawyer who can help protect your rights and help you seek the maximum compensation. After a car wreck, insurance companies will often do all they can to avoid paying victims or pay them as little as possible. An insurance adjuster might show up at the accident or call you when you're still trying to recover from the accident and try to talk you into accepting a low settlement offer.
The insurance adjuster can use anything you say in these conversations to reduce the amount they owe you. For example, if you apologize to another driver at the accident scene, insurance can claim that you were mostly at fault for the accident and deny your claim. However, car wrecks are complicated, and it's difficult to truly know who was responsible without a full investigation.
When you are represented by an experienced Brownsville personal injury attorney, the lawyer can speak with the insurance company on your behalf. You don't have to risk accidentally saying something that could jeopardize your claim.
Your work injury attorney can gather evidence, such as the official police report, witness statements, photographs, and testimony from experts to help prove your claim and pursue the money you're owed.
Contact a Brownsville Spinal Cord Injury Attorney Today
If you have suffered a severe spinal cord injury, our Brownsville back injury attorneys are here to help you rebuild your life. Our trusted legal team will stand beside you and do all they can to fight for you.
Don't wait a moment longer to inform yourself about your legal rights to seek compensation. Call Herrman & Herrman right away at 361-882-4357 or chat live to schedule a free case evaluation. Our English- and Spanish-speaking professionals are available to speak with you 24/7.
Our firm has offices in the following locations: Corpus Christi, Corpus Christi South Side, Brownsville, McAllen, San Antonio, Houston, and Ft. Worth, TX.