Amarillo Truck Accidents Often Caused by Equipment Failures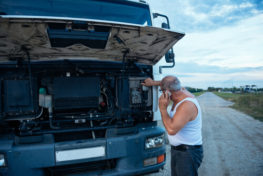 A recent report reminded us that many tractor-trailers and other commercial trucks barreling down the highway in Amarillo are not safe and that many truck accidents are caused by equipment failures.
A blog post by the National Law Review says truckers traveling at 75 mph or faster are knowingly risking a blowout and probable crash.
"Many, if not most, heavy truck tires are designed for a maximum sustained speed of 75 mph," the report says. "Driving a tire above its rated speed is a recipe for disaster, as the heat generated can cause the tire to break down and fail."
It further quotes the National Highway Traffic Safety Administration (NHTSA) statistics that say between 2009 and 2013, more than 14,000 crashes in the United States that involved heavy trucks and buses caused nearly 16,000 deaths. Tire failure was a reported factor in 198 of those crashes.
In some instances, blowouts are related to manufacturing problems. But NHTSA says the most likely cause in each instance was driver error, with drivers pushing truck tires beyond their speed rating.
Tires are just a starting point.
The Federal Motor Carrier Safety Administration's (FMCSA) landmark "Large Truck Crash Causation Study" cited vehicle failure as a factor in 10 percent of truck accidents.
Some of the pieces of equipment or systems most likely to fail prior to truck crashes are:
Tires and wheels
Steering
Trailer attachments
Suspension
Body, doors, hood
Transmission and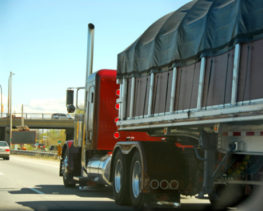 In other truck accidents, investigations show that missing mirrors or a lack of warning lights contributed to a collision, reflecting negligent truck maintenance. Defective tie-downs can allow cargo to shift, which can quickly move the center of gravity within a truck and cause the driver to lose control or even make the truck rollover.
But accidents involving defective equipment are preventable accidents and should not occur. FMCSA regulations Part 396 specifically address inspection, repair, and maintenance of all commercial motor vehicles and intermodal equipment subject to a trucking company's control.
The FMCSA's rules say that every trucking company, its drivers, representatives, and employees involved with the inspection or maintenance of commercial motor vehicles must comply with the rules.
To obtain a commercial driver's license (CDL) in Texas, a driver must conduct a vehicle inspection in the presence of a licensing examiner. The driver is required to walk around the vehicle and point to each item and explain to the examiner what is being checked and why, according to the Texas Commercial Motor Vehicle Drivers Handbook.
In other words, drivers know what is required of them to ensure their trucks will be safe to operate on the highway.
Trucking company owners, who invest hundreds of thousands of dollars in each truck they run, know what is required to inspect, maintain and repair the vehicles in their fleet. Motor carrier managers also know that they are responsible for ensuring that employees who do the hands-on work for them are properly trained and supervised.
When equipment failure is found to cause a truck accident, the investigation focuses first on the trucker and the trucking company. It is their responsibility to inspect the equipment and determine that it is in good condition.
In some cases, an equipment manufacturer may be held accountable if a piece of equipment was faulty as a result of its design or manufacture.
The truck accident law firm of Herrman & Herrman, P.L.L.C., is serious about doing what it can to assist Texans who have been injured or lost loved ones in commercial truck accidents. We investigate commercial motor vehicle accidents to determine who is responsible, and we aggressively pursue maximum compensation for our clients.
If you or a family member has been injured in a tractor-trailer accident in Texas, contact Herrman & Herrman, P.L.L.C., today.