Houston Exposure to Chemical Lawyer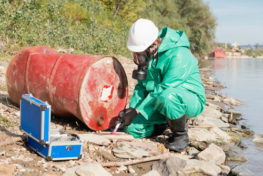 Toxic Chemical Exposure Lawyers in Houston, TX
Workers who are exposed to toxic chemicals, whether through inhalation or direct contact, face serious and lasting injuries. These injuries, including burns or hidden internal injuries, may take months or years to treat. In order to pursue the compensation that you deserve for your current treatment and any future consequences that may arise, it is important to speak with an experienced construction accident attorney.
At Herrman & Herrman, P.L.L.C., we represent clients who have suffered a serious injury due to toxic chemical exposure. Our chemical exposure lawyers provide advocacy for our clients and work to hold negligent companies and individuals accountable.
Causes of Chemical Exposure
Chemical exposure may be caused in a variety of ways, including:
Damage to the sinuses, throat, and lungs from inhalation of toxic smoke or fumes.
Nerve damage caused by contact with toxic agents.
Chronic or life-threatening illnesses, including metabolic disorders and cancer.
Oil and gas workers, construction workers, railroad workers, and others who are exposed to these chemicals deserve committed representation from a law firm with the experience and the resources to arrive at the best possible resolution.
Got injured due to chemical exposure in the workplace? Speak with our Houston chemical exposure attorneys for a no-obligation-free consultation.
To discuss your case in a free consultation with an experienced Texas personal injury lawyer who can help you with your workplace injury claim, please contact us for an appointment.
Our firm has offices in the following locations: Corpus Christi, Corpus Christi South Side, Brownsville, McAllen, San Antonio, Houston, and Ft. Worth , TX.