Houston Ladder Fall Accident Lawyers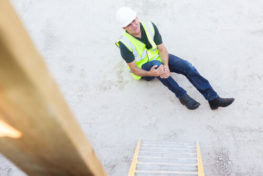 How can Houston workers recover from ladder falls?
Any Texas construction worker knows that construction sites are dangerous and that a fall from a ladder or other large height can result in serious injuries to the spinal cord, back, head and other areas of the body. Often these injuries can require extensive medical treatment, especially when ladder falls happen at large heights. It can be challenging for you and your family to pay for medical bills, lost wages and other expenses while you are unable to return to the job.
At Herrman & Herrman, P.L.L.C., our construction accident lawyers represent workers and their family members following serious construction accidents, including falls from ladders. Many times it is the negligence of others, including third parties, that results in these types of construction accidents and the consequences can be career and life-threatening for victims.
Houston Ladder Fall Accident Lawyers and Legal Options for Ladder Fall Injuries
Performing basic duties on ladders, on scaffolding and at other heights can result in catastrophic injuries. A fall from a ladder can result in serious brain injuries and spinal cord damage.
We combine our experience and legal knowledge by teaming up with a network of construction industry experts. A thorough investigation helps us get to the facts. Attending to all details of a construction accident claim can help our clients and their families get back on the road to recovery.
If you or a loved one has been in a construction accident that led to a serious injury or death, please contact us at Herrman & Herrman, P.L.L.C. Call our Houston office toll-free at (713) 565-1899
Our firm has offices in the following locations: Corpus Christi, Corpus Christi South Side, Brownsville, McAllen, San Antonio, Houston, and Ft. Worth, TX.