Truck Driver Fatigue Accidents Spring, TX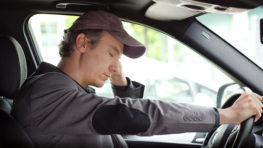 Drowsy Truck Drivers often Cause Truck Driver Fatigue Accidents in Spring.
One of the most common causes of commercial truck accidents is driver fatigue. Falling asleep at the wheel or being fatigued is the top truck driver impairment cited in the federal government report of truck crash statistics for 2013.
The Federal Motor Carrier Safety Administration (FMCA), which regulates interstate trucking in the United States, knows how widespread and dangerous the problem of commercial truck driver fatigue is.
FMCSA has multiple regulations and rules that address the problem of fatigued driving and limit the number of hours a trucker can be behind the wheel. Truck safety inspectors issued more than 250,000 violations of hours of services (HOS) regulations in 2014.
A trucker who skips breaks and much-needed sleep has made a conscious decision that he or she knows can easily lead to a crash that causes serious injuries or death.
If you or a family member of yours has been injured in a truck accident, a drowsy truck driver may have caused the accident. You may be eligible to obtain compensation for your medical expenses and other losses.
In Texas, the truck accident lawyers of Herrman & Herrman, P.L.L.C., bring decades of combined legal experience and a thorough understanding of federal rules and regulations governing the trucking industry to the development of a claim for compensation on your behalf.
The Problem of Spring Commercial Truck Driver Fatigue
The National Sleep Foundation compares fatigued or drowsy driving to driving under the influence of alcohol, saying sleepiness slows reaction time, decreases awareness, impairs judgment and increases the risk of crashing.
Driver fatigue may be caused by lack of adequate sleep, extended work hours, strenuous work or non-work activities, or a combination of factors, according to FMCSA. An FMCSA study found that 13 percent of commercial motor vehicle (CMV) drivers involved in truck accidents were considered to have been fatigued at the time of their crash.
In addition to warnings for drivers, the FMCSA has strict Hours of Service regulations with detailed descriptions of how much rest or sleep a trucker must have between work shifts.
In general, a driver may drive a maximum of 11 hours after 10 consecutive hours off duty and may not drive beyond the 14th consecutive hour after coming on duty (which includes non-driving time). Federal regulations also require truck drivers to maintain accurate logs of their time behind the wheel.
However, the Insurance Institute for Highway Safety (IIHS) says its surveys indicate that many truckers violate HOS regulations and work and or drive longer than permitted. Drivers also routinely record false information in their driving logs, the IIHS says.
The FMCSA reports that roadside checks in 2014 found more than 280,000 commercial truck drivers whose driving logs were not up to date or were falsified.
The agency also reported more than 49,000 violations for driving beyond the 14-hour on-duty maximum and more than 26,000 violations of the 11-hour consecutive driving limit.
These are just the violations that were found and reported. There were more than 33,000 commercial motor vehicle accidents in Texas in 2014 that resulted in personal injuries, including 457 in Hidalgo County (McAllen) and 278 in Nueces County (Corpus Christi). Fatigue was likely a contributing factor in many of these accidents.
We Pursue Truck Accident Caused by Fatigue Cases in Spring
Many commercial truckers drive when they are fatigued or drowsy and are not capable of safely operating these large trucks of 10,000-plus pounds. They cause crashes that injure innocent drivers in passenger cars and trucks, as well as pedestrians, motorcyclists, and bicyclists.
Truckers stay behind the wheel when they know they should be resting instead of making up time. Some may be trying to get through a metropolitan area before rush hour or trying to stay ahead of bad weather. Some just want to get home. Others have reported being pressured by their employers to make pickups or deliveries faster and sooner. Time is money, after all.
An investigation into the commercial truck accident you were injured in may show that fatigued driving was its cause. But you can be sure neither the trucker nor the trucking company will admit to this without proof.
Obtaining evidence of fatigued truck driving, such as from a trucker's logs or the wrecked truck's black box, requires a court order to be obtained before the information is lost or altered.
The truck accident lawyers of Herrman & Herrman, P.L.L.C., do the investigative work necessary to prove fatigued driving was a factor in a CMV accident and to hold at-fault drivers and trucking companies accountable.
We have pursued hundreds of truck accident cases. We work with consulting engineers who reconstruct truck accidents to show contributing factors, such as lack of braking or swerving, which are tell-tale signs of a driver who was unaware of an impending crash.
Do not speak to anyone from the trucking company's insurance company following a truck accident that has resulted in serious injury or death. The insurer wants to make a quick, cheap settlement. Herrman & Herrman, P.L.L.C., can serve as aggressive advocates for your interests.
Contact our Spring truck accident lawyers for a no-obligation-free consultation.
If you have been involved in a commercial truck accident in Texas that fell asleep at the wheel, contact Herrman & Herrman, P.L.L.C., for legal assistance.
We conduct thorough investigations and do the aggressive legal work required to secure justice for injured clients and grieving family members following catastrophic truck accidents.
Contact our attorneys at our Spring, Texas office at 361-882-4357.
Our firm has offices in the following locations: Corpus Christi, Corpus Christi South Side, Brownsville, McAllen, San Antonio, and Ft. Worth, TX.
Sources: