Texas Van Accident Attorney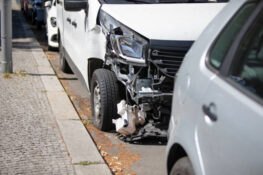 Vans are becoming quite popular lately. With the capacity to transport many passengers or more oversized items, it is no wonder why they are in such high demand. Vans have many uses that make them a hot vehicle in today's world. People are purchasing vans more and more. Some business owners buy vans so that they can transport employees or haul supplies to job sites. Even families are buying vans to have plenty of space in their vehicles and even for road trips. No matter the use, vans carry a higher risk of serious injuries.
Transporting Equipment for Business
Sometimes vans are not purchased to be used to carry passengers at all. Some businesses buy large vans so that they can haul their business materials and supplies. Many businesses can benefit from the capacity capabilities of vans. Painters, electricians, contractors, and many other similar business people may load vans with their heavy equipment used for various jobs daily. However, doing so brings many risks. 
The shifting of heavy items in a van can also cause the van to become imbalanced, running the risk of the van operator losing control. Losing control of the van can result in a rollover—the chances of a chain reaction of events to follow increase drastically. A rollover can then result in a collision with another vehicle. Unsecured heavy equipment can also spill out of a van in a rollover or accident, causing chain-reaction crashes.
Vans Are a Family Favorite
Some people do not buy vans because they run companies or organizations but because they have a larger than average family. Some people do not have larger families but simply just need or want more space. Families can benefit from vans as they can hold numerous family members, luggage, camping equipment, sporting equipment, and much more on family trips.
Causes of Van Accidents
There can be many things that contribute to car accidents.
Texas van accidents are potentially severe due to the design of vans and how people use them. Many vans are designed with high centers of gravity. Because of this design, they are more susceptible to rolling over when in an accident. Passengers in a van are also less likely to wear their seat belts while riding in a van than passengers of other motor vehicles. According to the National Highway Traffic Safety Administration (NHTSA), 47 percent of 22,215 passenger vehicle occupants who were not restrained were tragically killed in 2019.
While large vans have many uses, there are many factors to consider. There are numerous ways of how a person can get into a van accident. Some of the more common reasons or causes of van accidents in Texas car accidents range from driver error to van malfunctions.
Untrained Drivers
There is no requirement for a different type of driver's license needed to operate a van like there is for operating commercial vehicles or motorcycles. Since driving a van does not require a particular driver's license, people have a misconception of the added dangers of operating a van. For that reason, many drivers who operate large vans have little to no training on how to drive such large vehicles. Many are not familiar with the typical requirements of vans or common risks such as driving too fast on curves or making sudden maneuvers that could cause the van to roll over. It is all too common for groups of people to unknowingly put their lives into the hands of untrained van drivers.
Driving with one passenger can be distracting, but driving with several passengers increases the risk of distractions. With so many passengers, different conversations occurring all at once can easily divert the driver's attention, creating a potentially dangerous situation. Pair this distraction with other common distractions such as eating on the road, using a smartphone, or changing the radio.
Vans are often purchased and utilized for traveling on the roads for extended periods. Along with fun road trips, traveling simply to transport people and equipment to other towns or events often comes with fatigue. Many drivers will overestimate their ability to drive long distances. Traveling for an extended amount of time without taking enough essential breaks along the way can significantly increase a driver's chance of becoming fatigued. Becoming overfatigued can also become a dangerous factor in the probability of getting into a van accident. Being overly fatigued can decrease a driver's ability to focus on the road and may even cause them to fall asleep at the wheel while traveling.
Like any other driver, van drivers may operate a van after consuming too many drinks or even mind-altering drugs. Impaired driving often occurs while a group of people are operating a van while out on vacation, winery touring, really any other sort of outing that may involve drinking. Drivers may decide that they feel okay and take to the wheel after consuming a couple of drinks. Unfortunately, this is a common occurrence that leads to some severe van accidents.
Drivers of vans can break the law while driving just like any other driver of other motor vehicles. Drivers could be tempted to speed to arrive at their destination on time if they are running late. They could follow other motor vehicles on the road too closely while in a rush as well. Some drivers making unsafe lane changes, failing to use signal lights, running through traffic lights, and failing to yield the right of way while traveling may also lead to a van accident.
Periodically, recalls are sent out due to defective parts in vehicles. Like any other motor vehicle manufactures, van manufacturers unknowingly sell vans with defective parts. These defective parts can malfunction while a driver is operating the van on the road. The brakes of a van may suddenly fail, or a tire may be defective and can cause a blowout while the driver of the van is traveling. If something like that happens, and the van's driver is unskilled, it will likely result in a van accident, causing injuries to the driver and passengers of the van and anything else the van may collide with.
People who own vans or vans owned by companies may fail to care for or maintain the van properly. Vans require regular inspection, maintenance, and repair. This should especially be done prior to any trips when a driver may travel for an extended amount of time and transporting large groups of people. Failure to upkeep or maintain a van can lead to mechanical malfunctions that may cause serious accidents.
Overloading
Vans are infamous for their cabin space and capacity to carry multiple passengers. What van drivers may forget is that, like all other vehicles, vans also have weight limits. In addition to the weight limit, vans only have enough seatbelts for a set number of passengers. Axles and brakes can be affected by an excess amount of weight from an overloaded van. Additionally, when a van is overloaded with more passengers than seat belts, passengers then face the risk of injury.
Common Injuries
When passengers of a van are involved in an accident, injuries are usually quite common. Some injuries may be easier to heal from, while others may be more severe and sometimes even fatal. Unfortunately, victims of van accidents may suffer from burn injuries, lacerations, head trauma, broken bones, and spinal cord injuries that could lead to a lifetime of disability.
According to the U.S. Fire Administration (USFA), over two million burn injuries occur in the U.S. each year. An estimated 171,500 highway vehicle fires occurred in the U.S., resulting in 345 deaths and 1,300 injuries. When vans are involved in rollover accidents, there is the probability of a fire or explosion caused by the impact of the accident. These often cause severe burns to the victims. Some van accident victims may also suffer from friction burns caused by scraping their skin against the van's interior or from being ejected from the van upon impact.
Lacerations
Lacerations and puncture wounds to the face and other limbs are also common. Because of the high probability of vans to rollover, the chances of lacerations and puncture wounds are increased. These injuries are often caused by shattered glass, sharp metal, hard interiors plastics, and dash panels. Lacerations on the face are usually the most severe since the face is the most exposed.
Traumatic brain injuries (TBIs) are among the most common and severe injuries suffered by van accident victims. These injuries can be caused by a sudden or sharp impact on the head that damages the brain. Some TBIs may result in open head injuries, while others are internal. TBIs can drastically change an accident victim and their ability to function independently for the rest of their lives.
Broken Bones
While broken bones aren't necessarily life-threatening, broken bones could significantly affect a person's life and their ability to perform regular activities they could enjoy previous to the accident. Broken bone injuries may also require surgery and lengthy rehabilitation, such as physical therapy. The costs affiliated with these types of injuries may add up fairly quickly and may not be covered by your insurance.
One of the most severe injuries is a spinal cord injury. This type of injury occurs when the spinal cord is damaged or severed in some way. It is also known as most of the most severe injuries because this type of injury can result in total or partial paralysis at or below the point of injury. These injuries leave some victims unable to walk, and in other more severe cases, the victim may be left with quadriplegia. A condition in which the victim loses the use of all of their extremities.
If you or someone you love is injured in a van accident you need an attorney that you can trust to fight for you. Herrman and Herrman is a company built on trust and compassion. The attorneys are experienced in tackling even the most complicated accident cases for their clients. Choosing an attorney you can trust and rely on in such a stressful and challenging time doesn't have to be complicated. Herrman and Herrman has offices located in Brownsville, McAllen, San Antonio, and Houston. We also have four (4)  different offices throughout Corpus Christi. For a free consultation, you to find out how one of Herrman and Herrman's attorneys can assist you with your Texas van accident. You can call one of their offices or schedule an appointment to speak with an attorney in person.
Our firm has over 100 years of combined experience handling personal injury cases across Texas. Our outstanding record of favorable settlements and verdicts includes over 20,000 successfully resolved cases. As a result, we are relentless, and you can rely on us to pursue total compensation for you.
We have the ability to dispatch the Herrman & Herrman Accident Investigative Team to the crash scene to start an investigation and preserve critical evidence.
Contact Our Collision Attorney
Contact our dedicated van accident attorneys at Herrman & Herrman, P.L.L.C. for help. You want the experience of our van attorneys on your side.
We have offices in Corpus Christi, Corpus Christi South Side, Brownsville, McAllen, San Antonio, Houston, and Ft. Worth, TX.
The quicker we start working on your truck case, the better able we will be to protect your rights to seek full compensation. Contact us at (361) 882-4357 for a free initial consultation.