REPUBLIC OF TEXAS MOTORCYCLE RALLY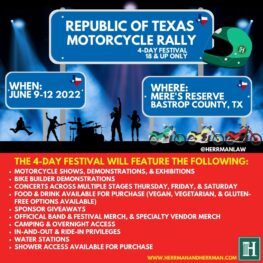 June 9th through June 12th 2022 our Law Tigers representatives will be at the Republic of Texas Motorcycle Rally! The Republic of Texas Motorcycle Rally is a 4-day festival at Mere's Reserve in Bastrop County, Texas.
Stop by the Law Tigers table to get some free merch!
The 4-day festival will feature:
Motorcycle shows, demonstrations, & exhibitions
Bike builder demonstrations
Concerts across multiple stages Thursday, Friday, & Saturday
Food & drink available for purchase (Vegan, Vegetarian, & Gluten-free options available)
Sponsor Giveaways (Go see the Law Tigers table!)
Official band & festival merch, and specialty vendor merch
Camping & overnight access
In-and-out & ride-in privileges
Water stations
Shower access available for purchase
Live music will be playing all day long on the main stage located on the rally Midway. Here is the current lineup!
Thursday:
Ray Wylie Hubbard
Jesse Dayton
Friday:
X the band
Reverend Horton Heat
Saturday:
Foghat
The Mike Eldred Trio
The festival will also feature musicians:
Giovanni and The Hired Guns
Joshua Ray Walker
Black Smoke Sinners
The Last Knife Fighter
If you are interested in going, purchase tickets here
Planning a motorcycle road trip soon? Read our pack list blog to make sure you do not forget anything!
Motorcycle Road Trip Pack List
When was the last time you inspected the safety of your motorcycle? Read our Motorcycle Safety Inspection Guideline to confirm you are riding safely!
Motorcycle Safety Inspection Guideline
ABOUT HERRMAN AND HERRMAN
With over 100 years of combined experience among the legal team of Herrman & Herrman, P.L.L.C., our Texas personal attorneys have successfully resolved over 20,000 cases. When representing injured Texas residents, we fight for justice against wrongdoing and aggressively pursue the best resolution to complex personal injury claims. Start down the road to recovery by contacting us for a free initial consultation and case evaluation.