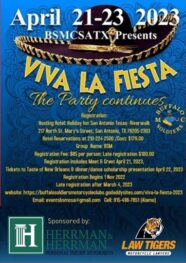 Our motorcycle crash attorneys are back at Viva La Fiesta for 2023!
This year's celebration will feature a meet and greet, a hospitality room, multiple Dominos tournaments, vendors, a taste of New Orleans, plus a special dinner and dance!
Book your reservation here! LINK
About Viva La Fiesta
Viva La Fiesta is an all day event dedicated to honoring the memory of the heroes of the Alamo and the Battle of San Jacinto. While that historic commemoration still takes place, Fiesta has grown into a celebration of San Antonio's rich and diverse cultures and today is one of the nation's premier festivals with an economic impact of more than $340 million. Funds raised by Fiesta events provide services to San Antonio citizen all year long.
The Fiesta San Antonio Commission Inc. is a nonprofit, volunteer, self-supporting organization that plans, promotes, coordinates, and preserves Fiesta San Antonio through its participating member organizations by presenting a safe and educational annual celebration of the diverse heritage, culture, and spirit of San Antonio.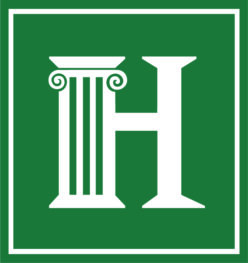 DO YOU NEED MOTORCYCLE CRASH ATTORNEYS?
If you are in a motorcycle accident that results in a personal injury- no matter the severity—and you are not at fault, you may be eligible for compensation. If this may be your case, you should consult with a personal injury attorney with experience in motorcycle accidents so that you can better your chances of a payout in court.
OUR MOTORCYCLE CRASH ATTORNEYS CAN HELP YOU
If a motorcyclist is injured in an accident due to the negligence of another driver, the motorcyclist can recover compensation for losses that result through a personal injury lawsuit. Compensable losses include property loss, medical expenses, lost wages, loss of future earning capacity, and pain and suffering.
Furthermore, if a loved one was killed in a motorcycle accident, family members may be able to recover damages in a wrongful death lawsuit. If you are a loved one was injured in a motorcycle accident, do not hesitate to contact a Texas motorcycle accident attorney at Herrman & Herrman, P.L.L.C., who will review the facts of your case and represent you through this difficult period.
CONTACT OUR MOTORCYCLE ATTORNEYS
For more information or to schedule an appointment with an experienced Texas lawyer regarding a motorcycle accident injury or death, please contact us first!
Our firm has offices in the following locations: Corpus Christi, Corpus Christi South Side, Brownsville, McAllen, San Antonio, Houston, and Ft. Worth , TX.