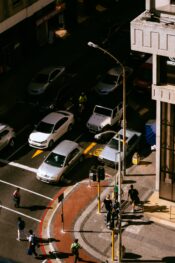 Pedestrians face a certain danger level every day, even when they use sidewalks and other designated foot traffic areas. There is always a risk of being in a dangerous pedestrian-involved auto accident.
Pedestrian-involved car accidents are one of the most dangerous types of car accidents possible. Considering that pedestrians are not wearing any safety gear and are not protected by the same safety mechanisms as cars are. In a vehicle-on-vehicle collision, there are safety features to protect the driver and passengers. this includes airbags, seat belts, and anti-lock braking systems. If you're a pedestrian, you do not have the same kind of safety gear.
What Should I Do if I'm in an Accident?
As with all car accidents, the first thing you should do is make sure that the safety of all involved takes priority. Make sure that you, those around you, and the driver or drivers involved are safe. Get everyone out of the danger area. Call 911 to alert emergency medical services and local police or fire personnel of where you are and what your emergency is. You should always cooperate fully with the first responders on the scene.
You should also make sure that you retain a record of as much evidence as possible. Whether through photos or through eyewitnesses who are nearby and can give their account of events. Make sure you comply with police and all their directions and answer any questions they may have. The police responders will help you file an official report of the accident.
If you were a pedestrian involved in an auto accident. Make sure that you get into contact with a pedestrian-car accident attorney after you tend to any injuries. A skilled attorney who has experience in vehicle and pedestrian-car collisions can help you win compensation for any injuries or other costs you may have incurred. If you have been severely injured or lost out on income from your pedestrian-car accident injury, this is especially important.
Contact Herrman & Herrman P.L.L.C. at 361.882.4357
Our firm is equipped with over 100 years of combined experience handling personal injury cases across Texas. Our outstanding record of favorable settlements and verdicts includes over 20,000 successfully resolved cases. Once we take on a case, we are relentless, and you can rely on us to pursue full compensation for you.
You can trust our attorneys to be compassionate and professional.
We will fight hard to obtain a fair settlement for you.
Our firm represents the injured and families who have lost a loved one due to others' negligent acts.
We serve as counsel in a range of injury cases – including car, truck, motorcycle, bicycle, pedestrian accidents, premises liability cases, product liability cases, and medical malpractice claims.
We have the ability to dispatch the Herrman & Herrman Accident Investigative Team to the crash scene to start an investigation and preserve critical evidence.