Traumatic Brain Injury Lawyer in San Antonio, TX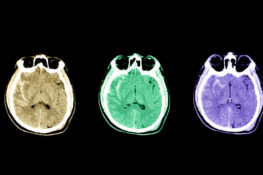 A traumatic brain injury ranks among the most serious injuries that a person can suffer in an accident. A severe TBI can have long-lasting effects on a victim's quality of life. A TBI accident survivor may need extensive medical treatment and rehabilitation to regain as much function and independence as possible.
If a person sustains a traumatic brain injury as a result of someone else's negligence, recklessness, or misconduct, the victim may seek compensation from the at-fault individual or business that caused the injury. The victim may seek compensation to help recoup financial losses.
With more than 100 years of combined legal experience, the personal injury attorneys at Herrman & Herrman have successfully resolved more than 20,000 cases. The attorneys at Herrman & Herrman help TBI victims and their families seek fair and full compensation for injuries caused by others' negligence.
If you've suffered a brain injury through no fault of your own in San Antonio, contact the traumatic brain injury attorneys of Herrman & Herrman today for a free case evaluation. We will review the details of your accident and discuss how we may help you pursue a claim for monetary compensation for your injuries and damages. Give us a call at (361) 882-4357 or fill out the contact form on our website to get in touch with us.
The numerous reviews on Facebook, Google, and other platforms from the clients we've successfully helped speak to our track-record of success. When you've been the victim of a traumatic brain injury due to somebody else's actions or omissions, Herrman & Herrman stands ready to help you and your family.
What Is a Traumatic Brain Injury?
A traumatic brain injury involves disruption of brain function caused by a jolt or blow to the head, or a penetrating head injury. Not all injuries to the head will result in a TBI. Moreover, a TBI can involve a "mild" injury, known as a concussion. A concussion usually involves a brief change in consciousness or mental state.
A TBI can result in a more severe injury, leading to a more extended period of unconsciousness or memory/cognitive disruption.
Fortunately, most TBIs that occur are classified as mild injuries.
Symptoms of a Traumatic Brain Injury
A brain injury may produce a wide variety of symptoms. TBIs can worsen if left untreated.
Among the most common symptoms of a traumatic brain injury are:
Unconsciousness, which can last for a few seconds to a few minutes for a mild injury, or much longer for a serious injury
Nausea and vomiting
Persistent and/or worsening headache
Fatigue
Coordination and balance issues
Numbness or weakness
Sudden changes in mood, personality, or affect
Sleep disturbances, such as insomnia, or excessive sleeping
Sudden onset of confusion
Problems speaking or understanding speech
Even when a person is diagnosed with a mild TBI, he or she should continue to be monitored in the hours and days following the injury for any persistent or worsening symptoms, which may indicate a more severe injury or further damage. Symptoms can worsen, if left untreated.
If you or someone you know has been involved in an auto accident, sporting accident, or another sudden impact, you should always be on the lookout for signs of potential traumatic brain injury, or TBI. Here are six signs to keep in mind.
Loss of Consciousness
Someone who has had a traumatic brain injury may fall in and out of consciousness after their collision. Concussions often cause this specific symptom of brain injury.
Persistent Headache
Headaches are unfortunately a common problem of everyday life. However, having persistent headaches after a traumatic accident or large fall can be a sign of something deeper going on. If persistent headaches continue or worsen over time, you should seek medical attention.
Confusion
Confusion or disorientation following an injury or fall can point to a larger brain injury. People experiencing confusion may have trouble stinging together sentences or doing everyday tasks. If someone's confusion does not get better with time, it could be a sign of brain damage.
Memory Loss
If someone is experiencing memory loss that is associated with brain damage, it is likely to manifest as more than simply being a bit forgetful throughout a hectic day. It is more likely that their memory loss would be larger chunks of time or periods of "blackout" in their memories. Memory loss is a serious symptom of brain injury or damage.
Slurring or Slow Speech
If someone who has just been in an accident or sports injury experiences slurred or slowing speech, it can be a symptom of brain damage from that incident. These speech anomalies can come in different forms, so it is important to pay attention to your friend's speech to correctly ascertain what is happening.
Mood Swings
Brain damage can change the way people interact with each other and the world, depending on the type and the severity of the injury. This is more than simply being emotional, this is drastic changes in a person's behavior.
Benefits of Hiring a Brain Injury Lawyer
Recovering from a significant TBI can be a lifelong battle. When you suffer a brain injury in an accident or other incident caused by someone else, you may be entitled to pursue financial compensation. You will be at a great disadvantage if you try to negotiate with an insurance company on your own. Hiring an experienced brain injury lawyer will almost always make the process of pursuing your legal claim go more smoothly and make it more likely that you secure maximum financial recovery.
A knowledgeable San Antonio traumatic brain injury attorney can help you by:
Thoroughly investigating your accident to gather evidence showing how your TBI occurred and who may have been at fault for causing your accident and injuries
Identifying all at-fault parties and potential sources of compensation for your financial damages such as insurance policies
Working with medical specialists to help build a strong, persuasive case on your behalf
Negotiating with the insurance companies and defense lawyers to secure fair and full compensation
Preparing your claim to go to court and to trial if necessary, and presenting your case to the jury and judge
Ultimately, having an experienced brain injury lawyer from Herrman & Herrman representing you means that you have a trusted legal team that can handle the task of gathering evidence, preparing a case and negotiating with the insurance companies on your behalf to pursue maximum compensation for you. That allows you to focus your energy on your physical and emotional recovery and getting back to your normal life.
How Is Fault Proven in a Traumatic Brain Injury Case?
Most cases involving a TBI arise from an accident such as a car crash, a motorcycle accident or a fall. In order to prove someone's liability for your traumatic brain injury, you will typically need to establish that the person or entity committed an act of negligence.
Proving fault for negligence requires establishing four elements:
Duty – First, you must show that the parties who caused your TBI owed you some duty of care. For example, in a motor vehicle accident, the at-fault driver owes a duty of care to operate his or her vehicle in a careful manner and observe traffic laws. In a slip and fall accident, the property or business owner owes a duty to use reasonable efforts to keep the premises free of hazards
Breach – Next, you must show that the at-fault party committed an act or omission and failed to fulfill his or her legal responsibility
Causation – Most importantly, you must show that the at-fault party's breach of his or her duty of care was the direct and proximate cause of your injury
Damages – Finally, you must show that you have suffered some sort of compensable damages, such as medical and rehab bills, lost wages and loss earning capacity, or loss of enjoyment or quality of life
Long-Term Damages from a Traumatic Brain Injury
Although most people can recover from a mild traumatic brain injury, a more serious TBI can result in long-term damage, even if appropriate treatment is quickly administered.
Long-lasting consequences of brain injuries may include:
Cognitive difficulties, such as short-term memory loss, amnesia, inability to form new memories, difficulties with concentration, writing, reading, or understanding speech or numbers
Alterations to the senses, including touch, taste (often a bad or metallic taste in the mouth), smell, or hearing (often a persistent ringing noise)
Seizures
Motor skills problems, including difficulties with fine motor skills, or balance and coordination issues
Abrupt changes in mood, including increased anger or agitation
Difficulties controlling emotions
Victims of TBIs often become aware of the physical, mental, and emotional effects that their injury has. That can lead to further mental health issues such as withdrawal, anxiety, and depression.
Common Causes of Brain Injuries
TBIs are caused by a blow or other force directly to the head, or a force to the body that can cause the head to whip around.
Here are several accident types that commonly lead to traumatic brain injuries:
Motor vehicle accidents, including bicycle and pedestrian accidents
Falls from heights
Being struck by falling objects
Swimming pool accidents
Sports and recreational accidents, particularly in contact sports such as football or hockey
Assaults, including blunt-force trauma or gunshot wounds to the head
Contact an Experienced San Antonio Brain Injury Lawyer
If you or a loved one has suffered a brain injury due to someone else's negligent or reckless actions, contact a San Antonio brain injury attorney from Herrman & Herrman to schedule a free, no-obligation initial consultation to discuss the details of your case and to learn more about your legal rights and options and about how our skilled brain injury lawyers can help you and your family obtain the financial compensation you need and deserve.
Our firm has offices in San Antonio, Corpus Christi, Corpus Christi South Side, Brownsville, McAllen, Houston, and Ft. Worth to assist you. We have an Accident Investigation Team that we can deploy to begin investigating your case as soon as possible, including immediately following your accident. We also have a bilingual staff to help us serve the Spanish-speaking members of our community.
Our firm also believes in giving back to the communities that we serve, including sponsoring innovation scholarships to assist students with education expenses and sponsoring family-oriented activities such as 5Ks and 10Ks and fishing tournaments.
Call us at (361) 882-4357 or fill out the contact form on our website to schedule your consultation.