San Antonio, TX Car Accident Lawyer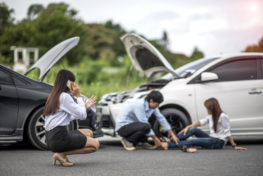 Were you injured in a car accident in the San Antonio area? Was your loved one killed in a crash because of a reckless driver? Throughout Bexar County, people rely on cars to get to work, school, family events, and Spurs games. Drivers have a legal responsibility to obey traffic laws and drive with reasonable care to avoid putting others at risk. When they fail to do so, they cause serious and sometimes fatal injuries.
If you or a loved one has been injured because of someone else's reckless behavior, contact the San Antonio car accident attorneys at Herrman & Herrman, P.L.L.C. We have helped thousands of clients across Texas win millions of dollars in their personal injury claims.
We want to use our decades of experience to help you. As demonstrated by our numerous awards from respected organizations like the Better Business Bureau and the National Association of Distinguished Counsel, our skilled car accident lawyers have the knowledge you need on your side.
A trusted San Antonio car accident lawyer can help you seek maximum compensation for your injuries. Call us today at (361) 882-4357, chat with us live 24/7, or fill out our online contact form to set up a free consultation.
Motor Vehicle Accident Stats in Bexar County
Auto accidents involving cars, trucks, and other motor vehicles are one of the leading causes of preventable death in the United States and a cause for concern for Bexar County residents. Car crashes occur far too frequently on Texas roads and highways. In fact, one person was killed on a Texas road every 2 hours and 25 minutes in 2018, according to the Texas Department of Transportation.
Drunk drivers, distracted drivers, and speeders caused many serious crashes. In 2018, there were almost 50,000 crashes in Bexar County. Many of these crashes caused serious injuries. They also resulted in nearly 200 deaths. In San Antonio alone, there were over 42,000 crashes in 2018, causing 139 deaths.
You cannot prevent another driver from acting carelessly and causing a crash. But after an accident, you can work with a skilled car accident injury lawyer to hold the careless driver accountable and seek full compensation for the losses you have suffered.
Dangerous Intersections, Roads, and Highways in Bexar County
Bexar County roads are dangerous, especially with the never-ending road construction on highways in our area. No matter how safely you drive, you can be injured because of these hazardous road conditions and irresponsible drivers around you. 
According to News4 San Antonio, the most deadly intersection in the San Antonio area is the Interstate 35 and Highway 90 interchange, just south of downtown.
Other dangerous intersections include:
West Commerce near Buena Vista
Fredericksburg Road at Fresno
Culebra Road at North Zarzamora
Braun Road and Loop 1604
I-10 and Loop 1604
Bandera Road and Loop 1604
Culebra Road and Loop 1604
Ingram Road and Loop 410
Loop 410 and Marbach Road
Loop 1604 and San Pedro Ave
Loop 410 at Rigsby Ave
Culebra Road and Loop 410
Loop 410 and West Ave
These are all heavily trafficked areas, and crashes sometimes occur because roads are congested. However, crashes are also caused by distracted or reckless drivers, as well as hazardous road conditions like poorly marked road work zones.
Types of Motor Vehicle Accident Claims We Handle in San Antonio, TX
At Herrman & Herrman, our experienced car accident lawyers have handled auto accidents involving many causes.
We've represented people who've been hurt in car accidents caused by:
Tailgating
Failure to yield
Improper lane changes
Defective auto parts or design
What to Do if You Are in a Car Accidents in San Antonio, TX
After an accident, it is important to stay on the scene and report the accident to the police. Leaving the scene of a crash – called a "hit and run" – is illegal and can lead to fines or even jail. On the scene, check yourself and other drivers for injuries.
If the accident wasn't serious, move your car to a safe area and turn on your hazard lights to help reduce the chance that you or your car will be hit again while you're dealing with the original crash. If the crash caused injuries or damages, call 911 to get help and request an ambulance if emergency assistance is needed.
If you didn't require emergency treatment, go to the doctor and seek prompt medical evaluation. Inform the doctor that you were in a car crash. A doctor can help evaluate your condition and may diagnose injuries that were not apparent immediately after the accident. The doctor's records will serve as an important piece of evidence if you file an injury claim with insurance or if you later need to file a lawsuit because of your crash.
There are some other important steps to take to protect your rights after a San Antonio car accident:
Document the scene of the accident: Take pictures of your injuries and damage to your car or other vehicles. Take photos of road conditions around you, such as skid marks, traffic lights, road signs, construction, or potholes. Identify witnesses who saw the accident. Write down what they saw and get their contact information. Additionally, get contact, insurance, and license plate information for the other driver(s). This information will be important if you file a Crash Report.
Be careful what you say: When you're speaking to other people about the crash, don't tell them that the crash was your fault. Many factors can contribute to a crash, so a full investigation is needed to know the actual cause. However, anything you say to the police or the other driver's insurance company may be used against you. Don't speak with the other driver's insurance company without consulting a lawyer. The insurance company may try to talk you into a settlement that is much lower than the fair value of your claim. Don't sign any kind of release presented by the other driver's insurance.
Report the accident: Many insurance policies require that you report the crash as soon as possible. If the police weren't called to the scene, you might need to file a Crash Report. Texas law requires that you file a Crash Report if there were any injuries, fatalities, or property damage worth more than $1,000.
Keep good records: Take notes on your medical visits, including days, times, how you're feeling, and what the doctor said. Keep a record of anyone you speak with about the accident, including your insurance company. If the police were dispatched to the scene, get a copy of the official accident report.
Contact an experienced attorney: Dealing with the aftermath of a car crash is complicated. You must prove liability in order to get all the money you're owed, and insurance companies will do everything they can to try to avoid paying. Recovering from a car wreck is stressful enough without having to deal with insurance companies and Bexar County courts. A skilled San Antonio car accident lawyer can reduce this stress by gathering the evidence you need for your case, negotiating with insurance companies on your behalf, and representing you in court if needed. Learn more about what you should do after a car accident in San Antonio.
Do I Need to File a Police Report?
You don't always have to file a police report after a car accident. If the crash was minor and no one was hurt, you might be able to deal with the incident without involving the police. However, there are some instances in which you want to or might be legally required to file a report.
If the police come to the scene of the accident, the police will file a car accident report. Even in minor accidents, call the police if the other driver fled the scene if you suspect the other driver is under the influence of alcohol or drugs, or the other driver doesn't have insurance.
If the police weren't called to the car accident scene, you, the car's owner, your lawyer, or your insurance can file a "Crash Report" (form CR-2, known as the blue form) by taking the completed form to the DMV within ten days of the crash. The form asks for all drivers' information, a description of what happened, and details on weather and road conditions at the time of the crash.
In Texas, you are legally required to file a Crash Report if the accident caused injuries, death, or property damage that is anticipated to cost $1,000 or more. However, you don't need to file a Crash Report if police were called to the scene and issued an official accident report.
Contact a San Antonio Car Accident Attorney Today
Although you may think that your accident was minor or you do not need a lawyer, there are many ways that our law offices can help. Let the compassionate lawyers at Herrman & Herrman, P.L.L.C. work for you. We have deep roots in Texas and care about protecting the rights of our fellow Texans. We'll do everything we can to help you win your case.
Our English- and Spanish-speaking staff at our offices in San Antonio and elsewhere in Texas are ready to assist you. Don't delay in getting a clear understanding of your legal rights. Call us today at (210) 405-7039, chat with us live 24/7, or fill out our online contact form to set up a free consultation. Our firm has offices in the following locations: San Antonio, Corpus Christi, Corpus Christi South Side, Brownsville, McAllen, Houston, and Ft. Worth, TX