Rules of Truck Drivers in Amarillo, TX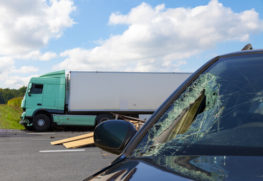 Truck drivers and trucking companies are required to comply with a complex set of state and federal rules and regulations that govern all aspects of their operations. The goal is to ensure the safe operation of trucks to prevent catastrophic injuries.
The Federal Motor Carrier Safety Administration (FMCSA) enforces regulations through compliance reviews, roadside inspections, complaint investigations, audits of trucking terminals, and other investigations. Violations may result in fines, and federal inspectors may order trucks or truck drivers off the road for serious or repeated violations.
Commercial truck drivers and trucking companies have no excuse for not knowing what is required of them. Yet, the FMCSA says in the Fiscal Year 2014, it closed 5,085 "enforcement cases" and collected $36.2 million in fines.
If a truck driver or a trucking company has violated one or more established rules or regulations, it is solid evidence of negligence after a collision. This evidence can support a personal injury case brought to obtain compensation for medical expenses and other losses for the victim of an accident caused by a truck driver.
A truck accident attorney of Herrman & Herrman, P.L.L.C., with offices in Corpus Christi, Corpus Christi South Side, Brownsville, McAllen, San Antonio, Houston, and Ft. Worth, can help you pursue a truck accident claim in Texas.
The Scope of FMCSA Truck Driving Regulations
FMCSA regulations for commercial trucks, including tractor-trailers, tanker trucks, and other commercial vehicles, address such topics as:
FMCSA Truck Driving Rules Violation
As of 2013, there were 8,126,007 single-unit commercial trucks and 2,471,349 tractor-trailers registered in the United States, according to the FMCSA. As of December 2014, 532,024 interstate motor carriers and intrastate hazardous material (HM) motor carriers were operating in the United States.
They employed approximately 5.7 million licensed commercial drivers.
State and federal officials conducted 3.38 million roadside inspections in 2014. Violations lead to fines, and serious violations result in vehicle or driver out-of-service order issuance. Violations must be corrected before the cited driver or vehicle can resume operations.
Top 5 Driver Violations of FMCSA Truck Drivers Rules
Top 5 Vehicle Violations of FMCSA Regulations According to Texas Truck Driving Laws
Contact our Amarillo truck accident attorneys to know more about the rules for truck drivers.
Violations of rules and regulations may be evidence of negligence after a truck accident. Truck drivers and/or their employing trucking companies may be held liable if their negligence contributes to a truck accident, including driver error or neglected maintenance of the truck, its parts, and/or systems.
The attorneys at Herrman & Herrman, P.L.L.C., can help if you or a loved one has been injured in a commercial truck accident in Texas.
Records that show a pattern of violations at the trucking company involved in your crash, or an investigation that uncovers driver error or faulty vehicle maintenance, will support your compensation claim.
For help holding a trucker and/or truck owner accountable for your injuries in a truck accident, contact Herrman & Herrman, P.L.L.C., today in Corpus Christi or McAllen, TX, at 844-426-5000.
Our firm has offices in the following locations: Corpus Christi, Corpus Christi South Side, Brownsville, McAllen, San Antonio, Houston, and Ft. Worth, TX.
Resources: