TX Pedestrian Accident Lawyer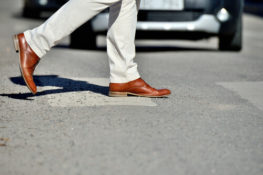 Walking is the most basic form of transportation. At some point during the day, nearly all of us are pedestrians. While vehicles are getting safer, people on foot remain just as vulnerable to serious or fatal injuries if struck by a car or truck. Unfortunately, pedestrians represent an increasing portion of the total traffic accident injuries and deaths.
At Herrman & Herrman, P.L.L.C., our compassionate attorneys help pedestrians who have been hurt in automobile accidents caused by motor vehicle drivers. Our pedestrian injury lawyers will review the details of the accident and discuss your legal options during a free consultation.
Herrman & Herrman, P.L.L.C. is a highly regarded local law firm with more than 100 years of combined legal experience.
We have served thousands of people across Texas. If we accept your pedestrian accident case, we will handle it on a contingency fee arrangement so that you will not owe any upfront costs.
Whether your pedestrian accident was caused by a drunk driver, a distracted driver, a driver who was speeding or breaking traffic laws, or someone who simply failed to exercise caution, you can count on our experienced pedestrian accident attorneys to be dedicated to advocates for you. Call Herrman & Herrman P.L.L.C. to obtain a free review of your case.
What To Do If You Are In a Pedestrian – Involved Car Accident?
Pedestrians face a certain danger level every day, even when they use sidewalks and other designated foot traffic areas. There is always a risk of being in a dangerous pedestrian-involved auto accident.
Pedestrian-involved car accidents are one of the most dangerous types of car accidents possible. Considering that pedestrians are not wearing any safety gear and are not protected by the same safety mechanisms as cars are. In a vehicle-on-vehicle collision, there are safety features to protect the driver and passengers. this includes airbags, seat belts, and anti-lock braking systems. If you're a pedestrian, you do not have the same kind of safety gear.
What Is The Law Surrounding Pedestrians in Texas?
There are many legalities that prove to be complex and confusing, especially when they are state-specific. Because the United States is orchestrated in such a way that the federal, state, and local governments have the power to influence legislature, it can often feel overwhelming for the average citizen. How does one keep up with all of the laws that impact their existence? One of the most controversial and debated topics of legality in the country is the concept of transportation as it applies to pedestrians. The rule of thumb many have simply adopted out of necessity is to assume that pedestrians have the right of way, but each state may have different regulations. In the state of Texas, a citizen need only look to the Texas Transportation Code Chapter 552 on Pedestrians.
Chapter 552 Restrictions & Regulations
Pedestrians are legally required to adhere to the traffic signals unless they have a specially designated signal. If the light is yellow or red, pedestrians are not legally allowed to cross the road.
If the light is green, the pedestrian has the right of way, especially if there is a WALK signal. Oncoming traffic must yield to the pedestrian.
Pedestrians are not legally permitted to cross the road without a green light or a WALK signal. If there is a WAIT signal or a DON'T WALK signal, then the pedestrian has to remain stationary.
Vehicles are not allowed to pass other cars when they are stopped at a crosswalk.
Pedestrians are required to stay on the right side of the crosswalk.
If crossing at a point that is not a designated crosswalk, then the pedestrian does not have the right of way and must yield to oncoming traffic. Pedestrians are not allowed to walk along roadways when there is a provided sidewalk, and they must stay on the left side of the road facing oncoming traffic if there is no sidewalk provided.
Fatalities & Injuries for Pedestrians Resulting from Illegal Actions
There has been a steady increase in the number of pedestrian fatalities in the state of Texas for the past few years. The entire United States faces a sharp uptake in the number of pedestrian casualties as well, with the average percentage of fatally wounded pedestrians exceeding 14%. Texas is seriously contributing to that standard by boasting a solid 13.5%, which is roughly 476 pedestrians annually.
What Should I Do If I'm In An Accident?
As with all car accidents, the first thing you should do is make sure that the safety of all involved takes priority. Make sure that you, those around you, and the driver or drivers involved are safe. Get everyone out of the danger area. Call 911 to alert emergency medical services and local police or fire personnel of where you are and what your emergency is. You should always cooperate fully with the first responders on the scene.
You should also make sure that you retain a record of as much evidence as possible. Whether through photos or through eyewitnesses who are nearby and can give their account of events. Make sure you comply with police and all their directions and answer any questions they may have. The police responders will help you file an official report of the accident.
If you were a pedestrian involved in an auto accident. Make sure that you get into contact with a pedestrian-car accident attorney after you tend to any injuries. A skilled attorney who has experience in vehicle and pedestrian-car collisions can help you win compensation for any injuries or other costs you may have incurred. If you have been severely injured or lost out on income from your pedestrian-car accident injury, this is especially important.