Biker Rally Thunder in the Hill Country 2023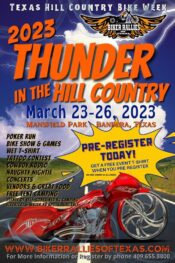 March 23 through March 26, 2023,  Thunder in the Hill Country is back! Biker Rallies of Texas will be presenting the three-day biker rally full of fun!
About the Thunder in the Hill Country 2023 Biker Rally
Come visit our South Texas Law Tigers representative for some free merch and enjoy the biker rally!
The motorcycle rally will feature tons of fun activities through the three days!
The activities include;
A poker run
bike show
bike games
wet t-shirt contest
tattoo contest
cowboy rodeo
naughty nightie
live concerts
great food,
tons of vendors!
There will even be two live performances by the famous Bag Lady Sue! She is a hilarious comic who has shared the stage with artists like Kid Rock, Lynyrd Skynyrd, Bad Company, and many more. She has performed for well over 1,000,000 people at national motorcycle rallies, rock concerts, veteran events, military bases, Hard Rock Cafes, and even private venues.
HOW TO GO TO THE BIKER RALLY
Wanting to go to the biker rally? It will take place Mansfield Park in Bandera, Texas.
You can register for the biker rally here! https://www.bikerralliesoftexas.com/registration/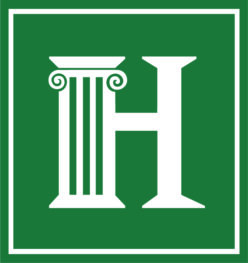 DO YOU NEED MOTORCYCLE ACCIDENT LAWYERS?
If you are in a motorcycle accident that results in a personal injury- no matter the severity—and you are not at fault, you may be eligible for compensation. If this may be your case, you should consult with a personal injury attorney with experience in motorcycle accidents so that you can better your chances of a payout in court.
OUR MOTORCYCLE ACCIDENT LAWYERS CAN HELP YOU
If a motorcyclist is injured in an accident due to the negligence of another driver, the motorcyclist can recover compensation for losses that result through a personal injury lawsuit. Compensable losses include property loss, medical expenses, lost wages, loss of future earning capacity, and pain and suffering.
Furthermore, if a loved one was killed in a motorcycle accident, family members may be able to recover damages in a wrongful death lawsuit. If you are a loved one was injured in a motorcycle accident, do not hesitate to contact a Texas motorcycle accident attorney at Herrman & Herrman, P.L.L.C., who will review the facts of your case and represent you through this difficult period.
CONTACT OUR MOTORCYCLE ACCIDENT LAWYERS
For more information or to schedule an appointment with an experienced Texas lawyer regarding a motorcycle accident injury or death, please contact us first!
Our firm has offices in the following locations: Corpus Christi, Corpus Christi South Side, Brownsville, McAllen, San Antonio, Houston, and Ft. Worth , TX.