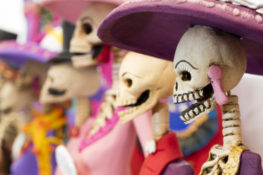 Corpus Christi welcomes their 9th annual Dia de los Muertos Festival tomorrow October 29th, inviting all to be a part of this amazing cultural experience! Organized by Electra Art Axis Tattoo and K Space Contemporary in partnership with House of Rock, the festival has exploded as one of Corpus Christi's biggest events. The festival was started in an effort to create a connection to the city's past, as well as honoring loved ones who have passed away.
By presenting the Dia de los Muertos in Corpus Christi they provide educational programming about the city's cultural diversity and an opportunity for everyone to learn about this rich cultural tradition of Mexico. What started as a single block party has expanded to include ten blocks downtown on Starr, Peoples, Chaparral, Taylor and Mesquite streets.
Entertainment:
Three stages with live entertainment:

One for popular Latin-influenced music
One for more traditional cultural performances
One for up-and-coming Texas bands

Kid's Corner
Includes craft activities, games, and a rock-climbing wall
Student Art Associations from TAMUCC & Del Mar College
Hecho-a-Mano Art Expo
Featuring many Dia de los Muertos themed craft items, jewelry, and artworks by over 90 vendors.
Be sure to swing by and admire the wonderful works of many local artists. K Space Contemporary will host an exhibition for remembering people who have made a difference in our lives and in the world. The losses of 2016 were the inspiration for this year's Dia de los Muertos Exhibition entitled, The Remembered: Innovators and History Makers.
Altars of Remembrance at the Ritz Theater
Piñatas de Calaveras Gigantes at K-Space Contemporary
Free Park & Ride:
The RTA will be offering free rides to passengers for the festival at the City Hall parking lot. The pick-up location is on the Leopard Street side of City Hall. RTA will drop off Festival passengers at Upper Broadway between Buffalo & Antelope near House of Rock.
Those with a disability will be dropped off at Lower Broadway and Schatzell.
Remember to be safe and have fun at the festival and if you or someone you know should suffer an injury due to the negligence of someone else, call our office at 361-792-2358 to schedule a free consultation.