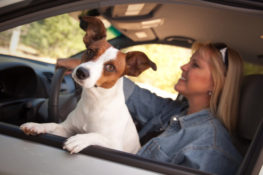 This month Herrman and Herrman, P.L.L.C., will be working with the People Assisting Animal Control (PAAC) to provide free spayed and neutering for local pets. Having your pet spayed or neutered can be beneficial in a number of ways. Here are a few reasons from the humane society as to why you should think about getting your cat or dog spayed/neutered.
Reduce number of homeless pets killed:
There are about 6-8 million homeless animals entering animal shelters every year! Only half are ever adopted, and the other half are sadly euthanized. Almost 3 million healthy dogs and cats are killed in shelters annually.
Improve your pet's health
By having your pet altered they can live longer, healthier lives.
Reduced risk of certain types of cancer.
Part of unaltered pet's shorter lifespan due to their increased urge to roam, and with altered pet's that urge significantly decreases. With your pet less likely to roam there is a less chance for exposure to fights with other animals, and getting struck by cars.
Reduce Bad Behavior
Reduction in urine marking.
Reduced barking and less territorial.
The longer you wait the greater the risk of your pet no being able to calm down their behavior due to it being so engrained. So the sooner the better.
Save on pet care
With reproductive cancer treatment costing thousands of dollars and other medical issues such as testicular cancer, or prostate cancer being prominent in unaltered pets, it is beneficial to both you and your loved one to have them spayed or neutered and avoid all unnecessary illnesses.
Deadly fighting is more common between pets of the same gender who have not been altered which can incur very high veterinary costs.
Renewing your pet's license will also decrease as many counties charge more for license renewals for unaltered pet's.
Some are afraid that their dog or cat may gain extra weight or in turn become completely docile. This is completely false! It is a dog's natural instinct to protect its home and family. A dog's personality is shaped more by genetics and its environment than by sex hormones. And as for the gaining of weight, usually, it is due to their owners feeding them too much and not giving them enough exercise. The benefits outweigh the cost when spaying and neutering your pet. Especially since the PAAC is doing them for free. Please mark your calendars for these events and stay tuned as more dates will be announced.
Only the first 30-35 pets will be accepted!
When: May 27th @ 7:00 am
Where: Misty Winds Mobile Home Community 5902 Ayers St.