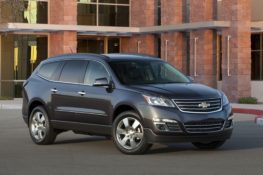 General Motors has announced a new recall on nearly 32,000 of their 2016 SUVs. The company has requested that owners of these vehicles do not use their windshield wipers because of an electrical short that could cause the wiper motor to burst into flames.
While no fires have happened outside of the GM plant, the problem was discovered when a wiper motor overheated inside the Michigan factory where SUVs are made. GM investigated five days after the incident through their "Speak up for Safety" program.
The recall includes the following models: Buick Enclave, Chevrolet Traverse and GMC Acadia SUVs.
6,400 vehicles are sold and the rest are being held at dealerships until they can be repaired.
GM has offered to pick up the vehicles from owners for service. They will also arrange rental cars if parts are not available.
Dealers will replace faulty wiper motor covers that allow some electrical terminals to come in contact with each other. Parts are being shipped and will be used first to fix customer vehicles and those that have been sold.
Owners may contact Chevrolet customer service at 800-222-1020, Buick customer service at 800-521-7300, and GMC customer service at 800-462-8782.