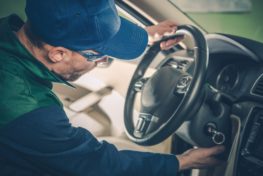 Although it has been almost nine months since General Motors issued its first recall on 2.6 million vehicles equipped with a defective ignition switch, The New York Times reports nearly half of all recalled GM vehicles have yet to be repaired.
The article goes on to state that one of the main problems with getting the recall repairs completed is many dealers are not adequately equipped to handle the sheer volume of recalled vehicles in their areas. Even if they could, GM has not had the necessary replacement parts on hand to allow them to make the repairs. This has left many drivers at risk of sustaining serious injury or death.
Since the recall, at least one accident claiming the life of a young woman was allegedly caused as a result of an unrepaired GM vehicle. Relatives of the young woman state dealers continually turned her away despite multiple attempts to get her vehicle fixed.
Out of concern for their own safety, and the safety of others, many customers have begun to write to federal regulators inquiring about the serious delay in completing the recall repairs. According to USA Today, at least 24 deaths are conclusively linked to the defective GM ignition switch, with more than 100 investigations of GM ignition switch fatalities still pending. Close to 1,000 people have submitted requests to receive compensation for injuries they claim were caused as a result of the faulty ignition switch. Vehicles owners are worried and rightfully so.
Average Time It Takes for an Automaker to Complete Recall Repairs
GM's website on Ignition Recall Safety Information states that service correction time on this particular recall repair is estimated to be 90 minutes. In most cases, dealers will do what they can during the course of one service visit to replace the ignition switch, lock cylinder, and keys. Actual time your vehicle may need to be at the dealer will vary depending on service scheduling. When you call to schedule your repair, speak with your dealer to find out the amount of time they will need to fix your vehicle, based on their existing service hours and pending repairs.
What GM is Doing to Entice Vehicle Owners to Respond to the Recall
A spokesman for General Motors said the automaker has stepped up its efforts to entice vehicle owners to bring their recalled GM vehicles in for repair as soon as possible. Efforts by the automobile manufacturer include creating a new call center with more than 70 employees contacting owners of vehicles that are still unrepaired. USA Today also reports that GM recently sent letters to vehicle owners letting them know they can receive a $25 gift card as long as they get their recalled vehicles repaired by Jan. 1, 2015. Owners can choose a $25 gift card for Amazon, AMC, Appleby's, Bass Pro Shops, Red Robin, Starbucks or Walmart.
If your GM vehicle is included in the list of recalled vehicles, it is important you take action to get your recall repairs completed right away.
Sources: