San Antonio Construction Accident Attorneys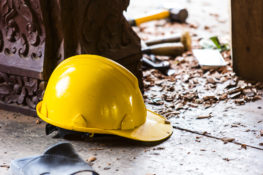 Were you hurt in an accident while on a construction job in San Antonio? If you suffered an injury while working construction in Bexar County or elsewhere in Texas, you may be entitled to workers' compensation benefits.
If your employer is disputing your right to collect workers' compensation or doesn't have workers' compensation insurance, talk to a San Antonio construction work injury lawyer about the steps you can take to claim compensation.
Our construction accident attorneys in San Antonio can review the construction accident in which you were injured and discuss your legal options. Many construction workers in Texas speak Spanish as their primary language.
At Herrman & Herrman, we have attorneys and staff who speak Spanish and English. We can discuss your construction injury in your preferred language. We offer a free consultation to review your accident and answer your questions.
Herrman & Herrman, P.L.L.C., has over seven decades of combined legal experience and has resolved more than 20,000 cases. If we believe that you have a valid injury claim that we can help with, we will offer to represent you on a contingency fee basis.
We only receive a legal fee if we obtain compensation for you. Hire a San Antonio construction accident lawyer to help you get the benefits and compensation you're owed. Call (844) 426-6000 or contact us online to receive a free consultation and case evaluation.
Construction Industry in San Antonio
San Antonio construction never stops. The construction industry in the San Antonio-New Braunfels metropolitan area employs more than 53,000 workers, according to the Bureau of Labor Statistics. "Evidence of never-ending construction is visible throughout San Antonio wherever you drive," the San Antonio Express-News commented in a recent article.
The many major construction projects in San Antonio include a new $320 million San Antonio State Hospital, a $56 million five-building, 323-unit apartment complex on San Pedro Creek, $850,000 in improvements to Wolff Stadium, and a 10-lane expansion of U.S. Highway 281.
Unfortunately, construction work is extremely dangerous and has one of the highest rates of workplace injuries. Construction workers who have been injured on the job may find themselves out of work for weeks or months, or unable to return to the physical demands of construction work.
For injured employees, some injuries may be exclusively covered by an employer's workers' compensation insurance, if such coverage is in place. When workers' comp doesn't apply, then the worker may have a right to file a personal injury claim to demand compensation from the business or individual that caused the job site injury. Our construction accident law firm in San Antonio can evaluate your accident and discuss the appropriate legal route for you to take.
If you have suffered severe injuries or your loved one has been killed in a construction accident in the Bexar County area, obtaining the help of a skilled construction accident injury lawyer should be a top priority. An experienced construction accident attorney in San Antonio can help you seek full compensation for your medical bills and accident-related losses.
Examples of Common Construction Accidents
Construction sites are busy, dangerous places with heavy equipment moving in close proximity to workers on foot. Workers can be hurt in many different ways.
Certain accidents may be caused by malfunctioning equipment. But many accidents stem from errors by co-workers or other subcontractors working on the same construction site. Some accidents may be the result of an employer's or property owner's failure to provide a safe work environment.
Some of the many possible causes of construction accidents can include the following:
Fires
Explosions
Falling objects
Defective machinery or equipment
Motor vehicle accidents
Slip and fall accidents
Ladder accidents
Crane accidents
Forklift accidents
Elevator accidents
Welding accidents
Demolition accidents
Saw accidents and nail gun injuries
Scaffolding failures
Structure collapses
Collapsing floors
Trench collapses
Falls from unguarded heights
Exposure to harmful substances
Lead poisoning
Heat stroke
Operator negligence
Chemical spills
Repetitive motion injuries
Electrocutions
Heavy machinery accidents
Acts of violence by co-workers
Not all injuries are immediately apparent. For example, certain illnesses relating to exposure to toxic substances may result in a person being diagnosed several years after their original exposure. An employer or property owner may be held liable if they failed to adequately protect an employee from this kind of hazard.
In certain situations, workers' compensation is your only avenue of recovery for a workplace accident or workplace exposure. In other situations, you may have a right to bring legal action against the party that caused your injury.
Common Types of Injuries Caused by Construction Accidents
Construction accidents such as falls from heights or being struck by a piece of heavy equipment often cause more severe injuries than other types of accidents. Injured workers often require extensive medical care including hospitalization.
Common construction injuries include:
Lacerations
Fractures
Sprains
Muscle strains
Traumatic brain injuries (TBIs)
Spinal cord injuries
Paralysis
Internal organ injuries
Neck injuries
Injured construction workers are frequently unable to return to work for an extended period of time, resulting in loss of household income and other hardships. Some people who have suffered particularly serious injuries may be permanently disabled and incapable of regaining any form of employment. You need a strong San Antonio worker injury attorney fighting on your behalf for full compensation for you.
A trusted construction injury lawyer in San Antonio at Herrman & Herrman will take the time to understand the impact that your injury has had on your life. We'll work to ensure that you receive all the necessary treatment you need.
Certain construction accident injuries could prove to be fatal. When a worker is killed in a construction accident in Texas, the family of the deceased person may be entitled to death benefits through workers' compensation and, in some cases, may be able to file a wrongful death lawsuit against the negligent party or parties.
The immediate family of a construction worker who has been killed only has two years from the date of death to file a wrongful death lawsuit in court. Other legal deadlines may apply to a workers' compensation claim. It is important to seek the guidance of an experience personal injury lawyer about the appropriate steps to take. You want to seek the guidance of an attorney as soon as possible if you're hurt at work.
When to Hire a Personal Injury Lawyer if Involved in a Construction Accident
Construction accident lawyers in San Antonio can advise you of your legal rights to workers' compensation benefits and/or for personal injury damages, depending upon which applies.
One of the most important reasons to hire a San Antonio construction accident lawyer to handle your case is that you are likely to be contacted by an insurance company, representing the at-fault party or parties. Instead of providing any information to the insurer, refer the insurer to your attorney to speak on your behalf.
After an accident, seek medical attention and report the incident to your employer. Both provide formal documentation that you've been hurt on a construction site. Keep in mind that your claim could be undermined by not seeking immediate treatment.
If you do hear from an adjuster after a construction accident, remember that the insurance company is never on your side. Its primary goal is to protect its bottom line, usually by paying as little as possible to resolve your claim. Again, refer all such inquiries to your lawyer instead of making any statements that could weaken your claim.
One of the common ways that insurance companies minimize their costs of doing business is by aggressively pressuring victims to accept a lump sum settlement. While these offers do provide immediate funds and may sound tempting to some people, most initial settlement offers are much too low to cover your medical and financial needs.
A construction injury lawyer near San Antonio instead can negotiate for a fair and full settlement that covers all of your past, present, and future expenses.
A construction injury attorney can conduct an independent investigation of your accident. The lawyer will determine the cause of your accident, identify the potentially liable parties and gather evidence to support your claim.
Keep in mind that construction accidents can be very complex. Certain cases could involve defective machinery or other mechanical parts that could make certain manufacturers or sellers liable in some cases in addition to an employer.
Contact Herrman & Herrman San Antonio Construction Accident Lawyers
Did you sustain injuries or was your loved one harmed or killed in a construction accident in San Antonio? Do not wait another moment to seek legal guidance.
At Herrman & Herrman, we pride ourselves on helping hardworking construction workers and their family members after a serious accident. We have attorneys and staff who speak both Spanish and English, so we can review your accident and legal options in the language that you are most comfortable discussing legal matters.
Our construction work injury attorneys in San Antonio handle cases on a contingency fee basis, which means you don't pay us anything unless we obtain compensation for you through a settlement or court award. Call (361) 882-4357 or contact Herrman & Herrman online to schedule a free consultation.
Our firm has offices in the following locations: San Antonio, Corpus Christi, Corpus Christi South Side, Brownsville, McAllen, Houston, and Ft. Worth, TX