Tyler Truck Accidents Caused by Poorly Loaded Truck Cargo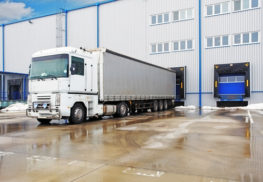 The cargo carried by a tractor-trailer in Tyler may weigh tens of thousands of pounds, depending on the truck.
If this kind of tonnage is not adequately secured and is allowed to shift, the truck's center of gravity may change abruptly and cause the truck to overturn or crash out of control.
Truck accidents such as rollovers and jackknife accidents are often caused by a failure to properly load a truck or secure its cargo. Occasionally, improperly secured cargo can spill and cause property damage or secondary trigger accidents. Like other truck accidents, cargo-shift or -spill accidents can cause death, serious injury, and/or property damage.
In Texas, the truck accident lawyers of Herrman & Herrman, P.L.L.C., can help if you or a family member has been injured because of a cargo shift or spill by a tractor-trailer, tanker, or other commercial truck.
Our attorneys thoroughly understand the truck accident lawyers of Herrman & Herrman, P.L.L.C., who can help if you or a family member has been injured because of a cargo shift or spill by a tractor-trailer, tanker, or other commercial truck.
Our attorneys thoroughly understand the truck drivers' rules and regulations governing the trucking industry when loading, securing, and transporting cargo. We can help you pursue compensation for medical expenses, property damage, and other losses if you have been harmed in an accident caused by a trucking company's negligence.
Responsibility for Securing Transfer Truck Cargo in Tyler
The Federal Motor Carrier Safety Administration (FMCSA), which regulates the U.S. trucking industry, updated its rules for securing cargo with new regulations effective in 2004.
The FMCSA says the new requirements are intended to reduce the number of accidents caused by cargo shifting on or within, or falling from, commercial motor vehicles (CMVs).
In general, the FMCSA requires that cargo be firmly secured by structures of sufficient strength such as tie-downs, inflatable dunnage bags that fill space between articles of cargo or between cargo and the wall of the vehicle, shoring bars, or a combination of these.
Cargo that is likely to roll must be secured and held in place by wedges, chocks, a cradle, or other means that will not come unfastened or loose while the vehicle is in transit.
Specific regulations address such factors as:
The cargo securement system's load limit is about the cargo's weight.
Positioning of anchor points and the minimum number of tie-downs used to secure cargo.
Detailed requirements for the securement of:

Logs
Dressed lumber
Metal coils
Paper rolls
Concrete pipe
Shipping containers

Automobiles, light trucks, and vans
Heavy vehicles, equipment, and machinery
Flattened or crushed vehicles
Roll-on and roll-off containers
Large boulders.
The regulations for the Inspection of Cargo, Cargo Securement Devices and Systems say that every trucking company, its officers, agents, and employees responsible for driving commercial motor vehicles or hiring, training, or dispatching drivers, shall comply with the rules.
The Importance of Properly Securing Tyler Tractor-Trailer Cargo
Cargo that has not been properly loaded and secured in a transfer truck may break free and move while in transit. Such a cargo shift can throw a large truck off balance and result in an accident.
Trucks already have a high center of gravity compared to passenger vehicles, which makes them less stable. A cargo shift that abruptly transfers weight within the vehicle can cause a truck driver to lose control and crash.
Two common types of truck accidents that indicate a cargo shift may have occurred are rollovers, in which the truck falls onto a side, and jackknife accidents, in which the cab and trailer of a large truck slide toward one another like a folding pocketknife.
In a truck accident, any motorists or pedestrians in the vicinity may be harmed. An out-of-control truck and its trailer rolling, skidding or sweeping across a crowded highway can leave a trail of enormous damage, including severe injuries or death.
If cargo that has not been properly secured spills from a truck, it can hit or become obstacles to other vehicles on the highway and cause them to crash. A piece of unsecured cargo falling from a truck onto another vehicle can be deadly.
Drivers of tanker trucks and trucks transporting hazardous materials may be required to have extra training and special endorsements on their commercial driver's license. Tanker trucks have a higher center of gravity than other commercial trucks and may overturn if a driver rounds a curve too quickly and causes a liquid load to shift.
Cargo spills that involve toxic chemicals can harm people and property and may do lasting damage to real property. HazMat spills are costly to clean up as well as dangerous, and their effects can be widespread, particularly if they affect bodies of water or the water table.
We Investigate Cargo-Shift and Cargo-Spill Truck Accidents in Tyler
In some cases, a truck's loss of cargo in an accident is obvious and can be readily identified as a significant contributing factor in a crash. In some crashes, such as a rollover or jackknife, the trucking company may argue that cargo was loosened and shifted because of the crash.
In many instances, it requires an independent investigation by knowledgeable analysts to determine that a cargo shift caused a truck accident.
This investigation includes:
obtaining and examining the trucker's cargo inspection records, the carrier's bills of lading, and other records referring to loading
securing and inspecting the truck's cargo.
Work to explain the crash itself may require the assistance of experts in mechanical design, engineering, and automotive accident reconstruction.
Herrman & Herrman, P.L.L.C., does the investigative work required to build a compelling case and settle large truck crashes on behalf of injured motorists in Texas. We help truck accident victims obtain compensation for their medical expenses, lost income, property damage, pain and suffering, and more.
It is important for truck crash victims to engage experienced personal injury attorneys quickly after an accident. Evidence required to make a case can be lost or destroyed if not secured promptly, which usually requires a court order.
Obtaining legal help also ensures you have an advocate on your side when the trucking company and its insurer contact you to settle your claim for less than what you deserve for your injuries and other losses.
Contact Our Tyler Truck Accident Lawyers About a Crash Caused by a Cargo Shift
If you were involved in a commercial truck accident in Texas that a cargo shift or spill may have caused, attorneys from Herrman & Herrman, P.L.L.C., can move promptly to assist you.
It is crucial to obtain records and access to the wrecked truck to conduct a forensic analysis that may explain the crash.
You have the right to hold a motor carrier accountable if its negligence has caused harm to you. Contact us today to make an appointment at our Houston office!
Our firm has offices in the following locations: Corpus Christi, Corpus Christi South Side, Brownsville, McAllen, San Antonio, Houston, and Ft. Worth, TX.
Sources and More Information: