PET OF THE MONTH – FONDUE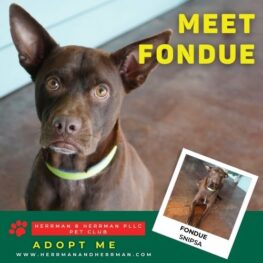 MEET FONDUE!
Have you ever met anyone who doesn't love Fondue? This delicious pup will melt your heart. Fondue is a young girl with the best personality – She is confident, easygoing, friendly, and loyal. Not to mention, she has the most incredible smushy face! She is a smart dog with excellent house manners, and she will sit when prompted. She does well with other dogs and loves to meet new people. Fondue's idea of a perfect day includes a couple of treats, an afternoon stroll, and a Netflix cuddle sesh. While it may sound cheesy, life will be cheddar when you're together! Apply at https://snipsa.org/fondue/ to meet her today.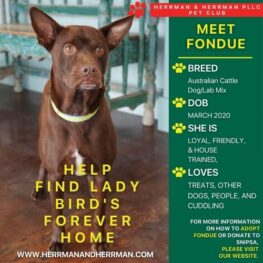 Fondue stays at SNIPSA, located in San Antonio, Texas.
About SNIPSA
SNIPSA is an organization formed by a group of veterinarians and caring people dedicated to helping homeless and unwanted animals in San Antonio and the nearby area. SNIPSA does not have a standing shelter and depends on a group of volunteers to foster and rehab animals in their homes. This unique position allows us to learn firsthand about the animal's needs and behavior to enable the perfect adoption. SNIPSA was incorporated in 2006 and has re-homed more than 19,000 animals.
The majority of the animals SNIPSA helps originate from high kill shelters. San Antonio impounds more than 27,000 animals yearly, about 74 dogs and cats per day. The city also picks up 20,000 carcasses annually. 
 SNIPSA makes weekly trips to area shelters to remove animals whose "time is up." Many of these animals suffer from heartworm infection, fractures, mange, and neglect.