MEET GUERO
Guero is a handsome, smiling, adorable five-year-old, fifty-pound of love! His foster describes him as "an adult dog that already does everything right!" Guero loves dogs and children, but he is not always good with cats. Guero's foster family believes he fits into families with ease. Guero has all his shots and is spayed. All Guero needs is love and loyalty, and he will bring the same to his forever home!
Adopt Guero at the Footbridge Foundation. Visit their website here to find out how to adopt Guero!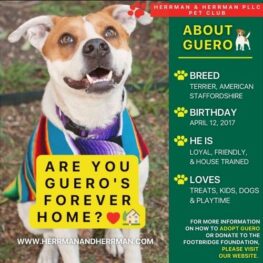 ABOUT THE FOOTBRIDGE FOUNDATION
After walking countless foster dogs across the footbridge in her neighborhood, it struck Wendy Black one day that the bridge was becoming quite symbolic. It seemed that once the dogs got the hang of their claws touching the metal surface as they crossed and once they became immune to fact that they were walking over water, it was about the same time they were forgetting their past and moving full force into their future. A new life of walks along the San Antonio river, veterinary care, nutritious meals and treats that come without fail each and every day.  Noticing all the good coming out of this, an application was made for a 501c3 and Footbridge Foundation was born.
Wendy's rescue efforts in San Antonio had been in full swing for about five years. The daunting statistics of San Antonio's animal problem kept her passionate to save more lives. Many friends became more aware of the San Antonio situation through seeing the work she was doing at various rescue events and through social media and asked how they could help if they couldn't foster a cat or dog. As friends donated to her individual rescue pets' needs such as Blanca's eye surgery or Buster's heart worm treatment, it seemed like a non-profit would eventually form. In helping hundreds of kittens, cats, puppies and dogs it became evident that there is an endless need to help individuals and rescues.
Donations are used to help strays and fosters with items such as low cost spay/neuter surgery, x-rays, dental care, emergency care, surgeries for amputation,  broken bones, deformities, hospice care, eye care, heart worm/lyme disease test for dogs, treatment for parasitic diseases, FIV/FeLV testing for adoptable cats, TNR trapper fees, dewormer & vaccinations, monthly flea & heart worm prevention, microchips, intake fees, transport costs, pet food, kitty litter, collars, tags, cones, leashes, harnesses, training treats, bowls, beds, crates, carriers, traps, puppy pads, formula, bottles, blankets, towels, cleaning supplies and more.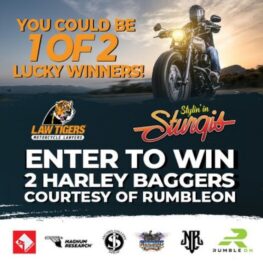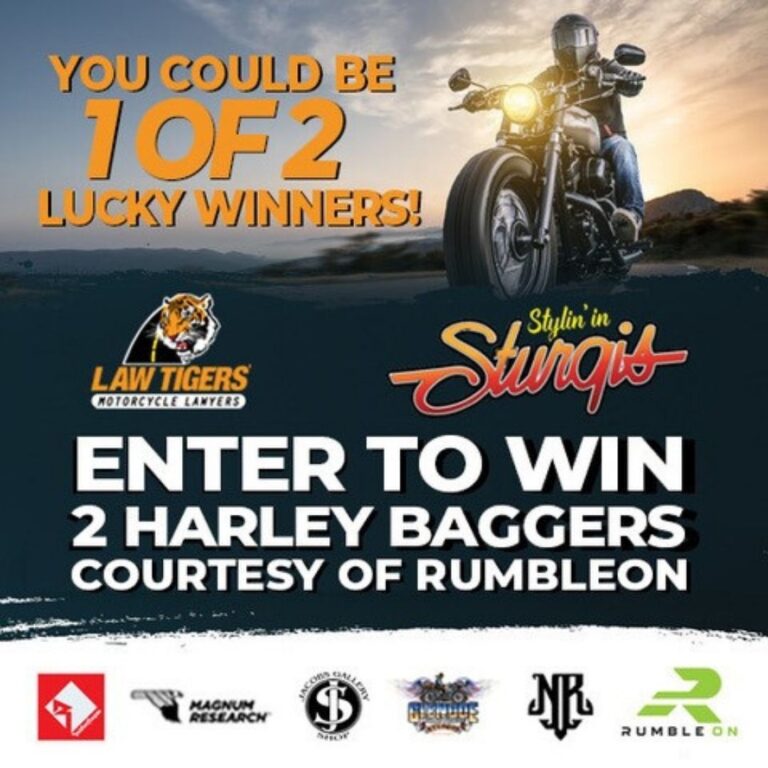 While you are here, please read some of our blogs and enter a giveaway to win a Harley Davidson motorcycle!
How to take pictures after a car accident
Injured and unsure if you have a claim?
What to do if a drunk driver hits you
How to deal with drunk drivers
Medical bills and lost wages in the state of Texas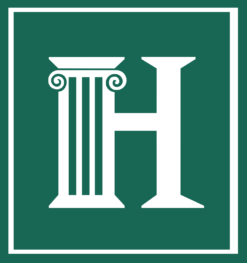 ABOUT HERRMAN AND HERRMAN PLLC
With over 100 years of combined experience among the legal team of Herrman & Herrman, P.L.L.C., our Texas personal attorneys have successfully resolved over 20,000 cases. When representing injured Texas residents, we fight for justice against wrongdoing and aggressively pursue the best resolution to complex personal injury claims.
We remain by our clients' side, handling all aspects of their claims and attending to all legal, medical, and financial needs. That dedication is combined with experience, legal knowledge, and insight from a former insurance adjuster and several former insurance defense attorneys. Whether our clients are suffering from physical pain from an accident or the emotional grief of death, we treat clients with compassion. We put their mind at ease during difficult times by answering their questions concerning the length of their claim, medical bills, financial compensation, and their overall need for a lawyer.
Start the road to recovery by contacting us for a free consultation and case evaluation.
Our law firm has locations across Texas! Connect with any of our law firms here.
Corpus Christi Office location
Corpus Christi Southside Office location